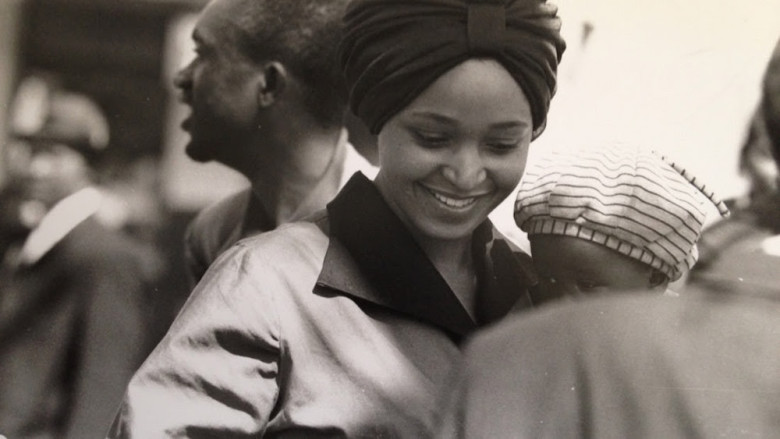 The wife of Nelson Mandela kept the battle against apartheid going in South Africa all those decades when he was jailed. Winnie Mandela had a history of activism when she was still Winnie Madikizela and was vilified by her enemies late in life. She may still be one of the most misunderstood figures in the struggle, according to Pascale Lamche's documentary "Winnie," making its broadcast debut on "Independent Lens" (PBS, 10 p.m., check local listings.).
To get you ready for the games this week in South Korea, here's "The Best of U.S. – The 2018 Winter Olympics" (NBC, 10 p.m.).
A quick turnaround comes in the special "Breaking Their Silence: Inside the Gymnastics Scandal" (Lifetime, 10 p.m.), in which some of the victims of Larry Nassar speak out.
An internet black market for drugs is explored on "Silk Road: Drugs, Death & the Dark Web" (A&E, 9 p.m.).
The 1990s British series "Doctor Finlay" (Acorn, streaming) gets a replay online.
Shaun tries to understand a transgender girl cancer patient on "The Good Doctor" (ABC, 10 p.m.).
New evidence leads to the team to discover a key element to the case on "The Alienist" (TNT, 9 p.m.).
Finally "The Bachelor" (ABC, 8 p.m.) goes to Paris.
A death notification dos to the wrong family on "The Resident" (Fox, 9 p.m.).
The second season of "Better Late Than Never" (NBC, 9 p.m.) concludes in Morocco.
The fourth season of "Vanity Fair Confidential" (Investigation Discovery, 9 p.m.) starts by revisiting a report on campus sexual assault.
"Supergirl" (The CW, 8 p.m.) is still trying to defeat Reign.
They're still in New Orleans on "Antiques Roadshow" (PBS, 8 p.m., check local listings).
Kevin tries to get some publicity for himself on "Kevin Can Wait" (CBS, 8 p.m.).
"Love & Hip Hop" (VH1, 8 p.m.) is still in St. Maarten. On "Love & Hip Hop: Miami" (VH1, 9 p.m.) Trina gets in the middle of Joy and Trick Daddy's divorce.
Ella tries to prove her brother wasn't a diamond thief on "Lucifer" (Fox, 8 p.m.).
"Man With a Plan" (CBS, 8:30 p.m.) agrees on no presents for Valentine's Day.
It's Valentine's Day too on "Scorpion" (CBS, 10 p.m.).
"Man v. Food" (Travel, 9 p.m.) goes to Tennessee.
Kelsey and Madisson go to New York from "Siesta Key" (MTV, 10 p.m.).
Stasi holds a party for the namesake of the show "Vanderpump Rules" (Bravo, 9 p.m.).
Tensions are already high at the "Summer House" (Bravo, 10 p.m.).
Black History Month is marked on "Superior Donuts" (CBS, 9 p.m.).
Josh's ex writes a book on the first season finale of "9JKL" (CBS, 9:30 p.m.).
Turner Classic Movies' 31 Days of Oscar looks at previous documentary nominees and winners, with "The Sorrow and the Pity" (6:45 a.m.), "The Battle of Midway" (11:15 a.m.), "The Sea Around Us" (noon), "On the Bowery" (1:15 p.m.), "Freedom on My Mind" (3:45 p.m.) and "Four Days in November" (5:45 p.m.). Winners at prime time include "An Inconvenient Truth" (8 p.m.), "The Times of Harvey Milk" (9:45 p.m.), the four hour director's cut of "Woodstock" (11:30 p.m.), "Hearts and Minds" (3:30 a.m.) and "The Secret Land" (5:30 a.m.).
Men's college basketball includes Syracuse at Louisville (ESPN, 7 p.m.), Bucknell at Lehigh (CBS Sports, 7 p.m.), Hampton at North Carolina Central (ESPNU, 7 p.m.), West Virginia at Oklahoma (ESPN, 9 p.m.) and Southern at Jackson State (ESPNU, 9 p.m.).
Women's games include South Carolina at Mississippi State (ESPN2, 7 p.m.), Texas at West Virginia (Fox Sports 1, 7 p.m.) and Oklahoma at Baylor (Fox Sports 1, 9 p.m.).
Pro games include Portland at Detroit (NBA, 7 p.m.), Utah at New Orleans (NBA, 8 p.m.) and Dallas at Clippers (NBA, 10:30 p.m.).
Daytime Talk
Kelly Ripa and Ryan Seacrest: Heather Graham, Arie Luyendyk Jr., In Real Life. The View: Claire Danes, Ana Navarro. The Talk: Ashley Graham, Arie Luyendyk Jr., In Real Life. Harry Connick: Rita Moreno. Steve Harvey: Forest Whitaker, Cat Deeley. Ellen DeGeneres: Melissa McCarthy, Gus Kenworthy. Wendy Williams: Caitlyn Becker. The Real: Angela Rye.
Late Talk
Stephen Colbert: Claire Danes, Bernadette Peters, Lil Uzi Vert. Jimmy Kimmel: Clint Eastwood, Alek Skarlatos, Anthony Sadler, Spencer Stone, Cheat Codes with Fetty Wap. Jimmy Fallon: Saoires Ronan, Timothee Chalamet, Camila Cabello (rerun). Seth Meyers: Billy Eichner, China Anne McClain, Nafessa Williams, Bedouine, Alan Cage. James Corden: Margot Robbie, Domhnall Gleeson, Lo Moon. Carson Daly: Chris Jericho, Makeness, Antonia Thomas. Trevor Noah: Jessica Williams, Phoebe Robinson. Jordan Klepper: Ijeoma Oluo. Conan O'Brien: Bill Burr, Chelsea Peretti, Seen Walsh.