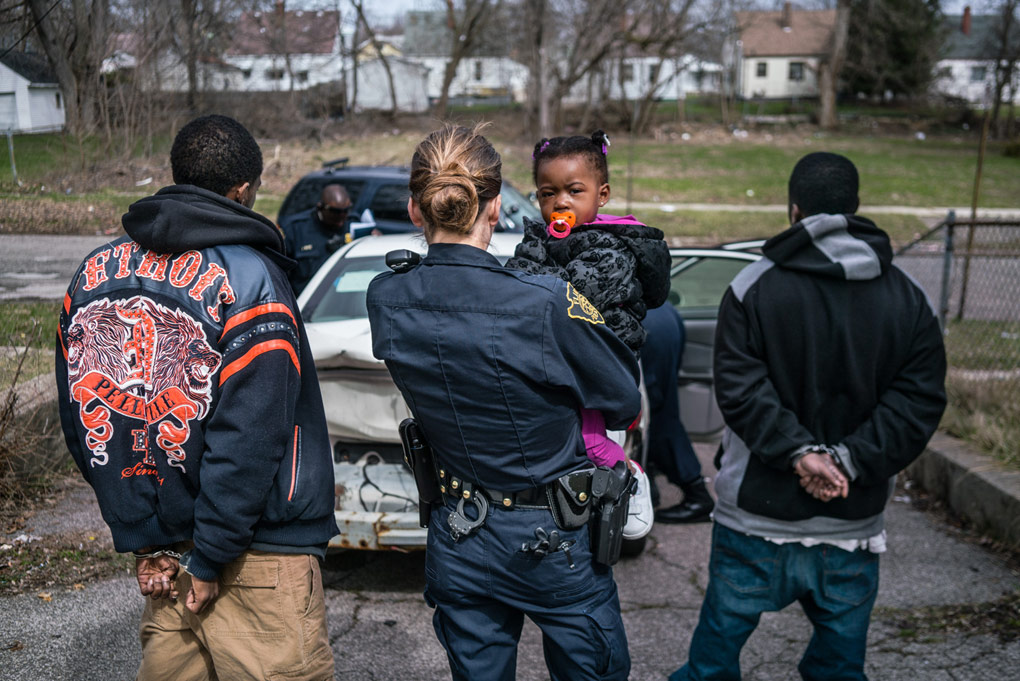 It's not just the water that's bad in Flint. There's also a crisis on the police department, which has been cut deeply because of budgetary constraints while crime has risen. The new eight-episode documentary series "Flint Town" (Netflix, streaming) is like a more artful episode of "Live PD" (A&E, 9 p.m.) as it mostly follows the police side of community conflict.
A special night of "Frontline" (PBS, 9 p.m., check local listings) reviews the case against Hollywood's Harvey Weinstein immediately after the fifth episode of "#MeToo, Now What?" (PB, 8:30 p.m., check local listings).
The new series "Laurieann Gibson: Beyond the Spotlight" (Lifetime, 10 p.m.) follows the choreographer as she heads to New York to create a Bad Boys Records reunion for Sean "Puffy" Combs.
Forty hopeful kids begin the sixth season of "MasterChef Junior" (Fox, 8 p.m.), dividing into teams by gender. Twelve from each group will remain at the end of the two hour premiere.
The seventh and final season starts for "Once Upon a Time" (ABC, 8 p.m.) and things come to a head between Victoria and Ivy.
"Bring It!" (Lifetime, 9 p.m.) begins its fifth season with a search for a new captain.
The season ends for the documentary series "The Trade" (Showtime, 9 p.m.), with Skyler going in for long-term treatment.
"Jane the Virgin" (The CW, 9 p.m.) wants to pursue writing full time and Rogelio goes after Eva Longoria.
Parker wants his own claim on "Gold Rush" (Discovery, 9 p.m.).
Adam's life is on the line on "Hawaii Five-0" (CBS, 9 p.m.).
Toya and Eugene pay off their tax debt on "Married to Medicine" (Bravo, 9 p.m.).
"Masters of S.H.I.E.L.D." (ABC, 9 p.m.) set out to change the fate of humanity.
Danny considers getting a new job on "Blue Bloods" (CBS, 10 p.m.).
A new season starts for "Bridezillas" (WeTV, 10 p.m.).
A dangerous piece of technology is stolen from the NSA on "Blindspot" (NBC, 8 p.m.).
"MacGyver" (CBS, 8 p.m.) poses as a honeymooner to find out more about a Serbian war criminal.
A patient hallucinates on "Untold Stories of the E.R." (TLC, 9 p.m.).
Marjory Stonemason Douglas High School students David Hogg and Cameron Kasky are guests on a new "Real Time with Bill Maher" (HBO, 10 p.m.) with Yale professor Amy Chua, former attorney general Eric Holder and historian Jon Meacham.
A fitness studio gets a turnaround on "Relative Success with Tabitha" (Bravo, 10 p.m.).
"Josh Gates' Destination Truth" (Travel, 9 p.m.) goes to Brazil and Zambia.
More best picture winners and nominees on the penultimate day of Turner Classic Movies' 31 Days of Oscar with "Five Star Final" (6 a.m.), "Lost Horizon" (7:45 a.m.), "The Nun's Story" (10 a.m.), "The Great Dictator" (12:45 p.m.), "Foreign Correspondent" (3 p.m.), "The Guns of Navarone" (5:15 p.m.), "Annie Hall" (8 p.m.), "Kramer vs. Kramer" (10 p.m.), "A Man for All Seasons" (midnight), "The Great Ziegfeld" (2:15 a.m.) and "Naughty Marietta" (5:15 a.m.).
NBA action includes Toronto at Washington (ESPN, 8 p.m.) and Minnesota at Utah (ESPN, 10:30 p.m.).
In preseason baseball it's Boston vs. St. Louis (MLB, 1 p.m.).
Men's college basketball includes Eastern Michigan at Toledo (CBS Sports, 6 p.m.), Buffalo at Bowling Green (ESPNU, 6 p.m.), Texas Arlington at Texas State (ESPN2, 7 p.m.), Rhode Island at Davidson (CBS Sports, 8 p.m.), Murray State vs. Jacksonville State (ESPNU, 8 p.m.), Iowa State at Oklahoma (ESPN2, 9 p.m.) and Belmont vs. Austin Peay (ESPNU 10 p.m.).
NASCAR has its Stratosphere 200 (Fox Sports 1, 9 p.m.).
And in men's college hockey it's Miami at Denver (CBS Sports, 10 p.m.).
Daytime Talk
Kelly Ripa and Ryan Seacrest: Ellen Burstyn, Carson Kresrsley. The View: Jimmy Buffett, Ana Navarro. The Talk: Valerie Bertinelli, Duff Goldman. Harry Connick: Cyndi Lauper, Jason Mitchell, Peggy Whitson, Joy Bauer (rerun). Steve Harvey: Holly Robinson Peete (rerun). Ellen DeGeneres: Jennifer Lawrence, Laverne Cox, Meghan Trainor. Wendy Williams: Tamar Braxton (rerun). The Real: Bobby Brown, Mel B.
Late Talk
Stephen Colbert: Steve Buscemi, Sebastian Meniscal. Jimmy Kimmel: Allison Janney, Maisie Williams, Kent Jones (rerun). Jimmy Fallon: Lin-Manuel Miranda, Weird Al Yankovic, Macaulay Culkin, U.S. Men's Olympic Curling Champions, Francis and the Lights. Seth Meyers: Rachel Maddow, Dyan McDermott, Rita Ora (rerun). James Corden: Helen Mirren, J.K. Simmons (rerun). Carson Daly: Chris Jericho, Makeness, Antonia Thomas (rerun).