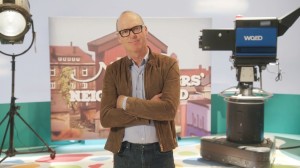 Michael Keaton returns to the Pittsburgh public TV station where he was a member of the crew on one of the more beloved children's shows of TV history as the special "Mister Rogers: It's You That I Like" (PBS, 8 p.m., check local listings) marks the 50th anniversary of Fred Rogers' kindly experiment communicating with kids.
Judd Apatow, Sarah Silverman, John Lithgow and Yo Yo Ma are among the stars who pop up with memories of the show. And (a young) Tony Bennett sings Rogers' signature song.
This season's dim bachelor knelt before one girl Monday with a (network-provided) ring only to rescind it hours later. They milked the tears in a cruel three-hour display, bumping "The Bachelor: After the Final Rose" (ABC, 8 p.m.) to an excruciating two hours tonight. I'm afraid Becca might not yell at him as much as he deserves, and Lauren may actually take him back. Ug.
Christine invites Martha to a women's business conference and they end up at a strip club on "Baskets" (FX, 10 p.m.).
Agatha Christie and D.B. Cooper are among the topics on a mystery-laden "Drunk History" (Comedy Central, 10 p.m.).
A new standup comedy special comes from the Moroccan French comic in "Gad Elmaleh: American Dream" (Netflix, streaming).
"Black Lightning" (The CW, 9 p.m.) continues to pursue Tobias.
Leslie Jones guest stars on the first season finale of "Kevin (Probably) Saves the World" (ABC, 10 p.m.).
Colin is served with divorce papers on "L.A.>Vegas" (Fox, 9 p.m.).
Michigan is the site of treasure according to the new series "The Curse of Civil War Gold" (History, 10 p.m.).
Lisa Vanderpump has a birthday party on "The Real Housewives of Beverly Hills" (Bravo, 9 p.m.).
Randall and Beth welcome visitors to their home on "This is Us" (NBC, 9 p.m.).
Ben covers up a bedwetting incident on "The Mick" (Fox, 9:30 p.m.).
A connection is sought between the two cases on "Unsolved: The Murders of Tupac and The Notorious B.I.G." (USA, 10 p.m.).
"The Flash" (The CW, 8 p.m.) goes to work against a nuclear bomb in Central City.
Contestants on "America's Next Top Model" (VH1, 8 p.m.) are fitted in a parachute.
On "Lethal Weapon" (Fox, 8 p.m.), someone is killed at a construction site.
Whitney re-evaluates on "My Big Fat Fabulous Life" (TLC, 8 p.m.).
Cyanide is found in care packages on "NCIS" (CBS, 8 p.m.).
A congressional aide goes missing on "NCIS: New Orleans" (CBS, 10 p.m.).
A neighbor is stabbed on "Chicago Med" (NBC, 10 p.m.).
An anti-merger protest turns into a violent clash with the alt-right on "The Quad" (BET, 10 p.m.).
Some of the interlopers are discovered on "Undercover High" (A&E, 10 p.m.).
"Bull" (CBS, 9 p.m.) tries to get a new trial for an old client convicted to murder.
Mariana choses between dates on "The Fosters" (Freeform, 8 p.m.).
Blind auditions continue on "The Voice" (NBC, 8 p.m.).
Couples explore their fantasies on "Married at First Sight" (Lifetime, 8:30 p.m.).
"Bizarre Foods with Andrew Zimmern" (Travel, 9 p.m.) explores Aztec Mexico.
"Bethenny & Fredrik" (Bravo, 10 p.m.) squabble about the renovation budget.
The two day look at mental illness in the movies concludes with "The Cobweb" (8 p.m.), "Lilith" (10:15 p.m.), "The Prince of Tides" (12:30 a.m.), "Bedlam" (3 a.m.) and "Shock Corridor" (4:30 a.m.).
NBA action includes Houston at Oklahoma City (TNT, 8 p.m.) and New Orleans at Clippers (TNT, 10:30 p.m.).
Hockey includes Detroit at Boston (NBC Sports, 7 p.m.).
Spring baseball includes Houston at Mets (MLB, 1 p.m.) and Colorado at Seattle (MLB, 8:30 p.m.).
Men's college basketball includes Boston vs. Georgia Tech (ESPN2, noon), Notre Dame vs. Pittsburgh (ESPN2, 2 p.m.) and Syracuse vs. Wake Forest (ESPNU, 7 p.m.) in the ACC first round; Northeastern vs. Charleston (CBS Sports, 7 p.m.) in the CAA final; Cleveland State vs. Wright State (ESPN, 7 p.m.) in the Horizon League final; LIU-Brooklyn vs. Wagner (ESPN2, 7 p.m.) in the Northeast Conference final; BYU vs. Gonzaga (ESPN, 9 p.m.) in the West Coast final and South Dakota vs. South Dakota State (ESPN2, 9 p.m.) in the Summit League final.
Women's games include Green Bay vs. Wright State (ESPNU, noon) in the Horizon League final; South Dakota vs. South Dakota State (ESPNU, 2 p.m.) in the Summit League final; Gonzaga vs. San Diego (ESPNU, 4 p.m.) in the West Coast final; Connecticut vs. South Florida (ESPN2, 5 p.m.) in the AAC final; and DePaul vs. Marquette (Fox Sports 1, 7 p.m.) in the Big East final.
Daytime Talk
Kelly Ripa and Ryan Seacrest: Luke Bryan, Jussie Smollett. The View: Chelsea Clinton, Amber Tamblyn. The Talk: Ricky Martin, Janee Bolden, Dianna De La Garza. Harry Connick: Rita Moreno (rerun). Steve Harvey: Tom Cavanagh, Keri Hilson, Christine Larkin, Dr. Tiffanie Davis Henry (rerun). Ellen DeGeneres: Hugh Jackman, Demi Lovato (rerun). Wendy Williams: Quvenzhane Wallis (rerun). The Real: Marcc Rose, Wavy Jonez, Amara La Negra.
Late Talk
Stephen Colbert: Oprah Winfrey, Justin Hartley. Jimmy Kimmel: Neil Patrick Harris, Arie Luyendyk Jr., Jon Pardi. Jimmy Fallon: John Oliver, Lucy Hale, Marshmello & Anne-Marie. Seth Meyers: Luke Bryan, Mayor Eric Garrett, Zach Danziger. James Corden: Eric Bana, Padma Lakshmi, Anders Holm. Carson Daly: Phil Rosenthal, Two Feet, Roy Wood Jr. Trevor Noah: Malcolm Jenkins. Jordan Klepper: Dass Sustein. Conan O'Brien: Martin Short, Natalie Zea, Michael Longfellow.