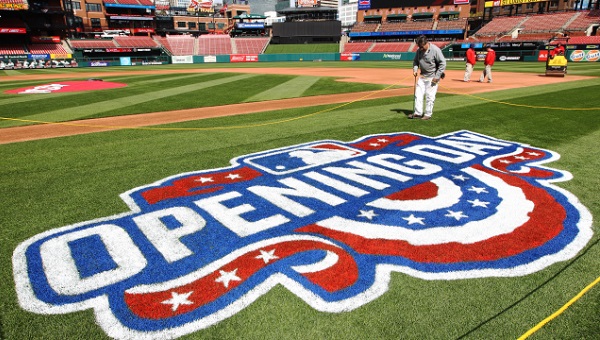 Baseball season begins at last with Cubs at Miami (ESPN, 12:30 p.m.), Houston at Texas (ESPN, 3:30 p.m.), San Francisco at Dodgers (ESPN, 7 p.m.) and Cleveland at Seattle (ESPN, 10 p.m.).
On the new "Siren" (Freeform, 8 p.m.) Eline Powell plays a new person to town who just might be a mermaid, and instead of luring men with her looks, wreaks havoc on the town.
Earn and Alfred go to the barbershop on a new "Atlanta" (FX, 10 p.m.).
Bill Gates guest stars on a new episode of "The Big Bang Theory" (CBS, 8 p.m.). On a new "Young Sheldon" (CBS, 8:30 p.m.), Jason Alexander is guest star, portraying a drama teacher.
A second season starts for the underrated comedy "Nobodies" (Paramount, 10 p.m.).
Halsey and Padma Lakshmi are guest judges on "RuPaul's Drag Race" (VH1, 8 p.m.).
A student's house is the suggested site of a fundraiser on "A.P. Bio" (NBC, 8:30 p.m.).
"Arrow" (The CW, 9 p.m.), tries to locate a mysterious box left behind.
"Champions" (NBC, 9:30 p.m.) focuses on membership problems at the gym.
Turner Classic Movies digs into the Disney vaults for "The Sword and the Rose" (8 p.m.), "In Search of the Castaways" (8 p.m.), "In Search of the Castaways" (10 p.m.), "The One and Only, Genuine Family Band" (midnight), "The Journey of Natty Gann" (2:15 a.m.) and "Rob Roy, the Highland Rogue" (4:15 a.m.) as well as a few cartoons.
It's the contemporary pop singers Charlie XCX vs. Rita ora on a new "Lip Sync Battle" (Paramount, 9:30 p.m.).
NBA action includes Oklahoma City at San Antonio (TNT, 8 p.m.) and Milwaukee at Golden State (TNT, 10:30 p.m.).
Hockey has Dallas at Minnesota (NBC Sports, 8 p.m.).
In the NIT championship game of men's college basketball, it's Penn State vs. Utah (ESPN2, 7 p.m.).
And there's a college slam dunk and three point championship (ESPN2, 9 p.m.).
In tennis the Miami Open (ESPN2, Tennis, 1 p.m.; ESPNews, 7 p.m.) has semifinals and quarterfinals tonight.
Daytime Talk
Kelly Ripa and Ryan Seacrest: Ben Affleck, Tyra Banks, Cole Sprouse. The View: Neil Patrick Harris, Nancy Grace, Dan Abrams. Harry Connick: Chris Meloni, Michael McDonald (rerun). Steve Harvey: Burt Reynolds, Lena Waithe, Rachel Lindsay, Tanya Rad, Garcelle Beauvais. Ellen DeGeneres: Steph Curry, Ayesha Curry (rerun). Wendy Williams: Matthew Knowles.
Late Talk
Stephen Colbert: Emily Blunt, John Heinemann, Alex Wagner, Kacey Musgraves. Jimmy Kimmel: Kobe Bryant, Mike Epps, Noel Gallagher's High Flying Birds (rerun). Jimmy Fallon: Bill Hader, Jimmy Buffett, Troye Sivan (rerun). Seth Meyers: Alan Cumming, Christiane Amanpour, Beth Ditto, Brendan Canty (rerun). James Corden: Helen Hunt, Ben Schwartz, Chris O'Dowd, the Slo Mo Guys. Carson Daly: David Oyelowo, Lauv, Wesley Morris, Jenna Wortham (rerun). Trevor Noah: Rosie Perez. Jordan Klepper: Alan Dershowitz. Conan O'Brien: Sean Penn, Claudia O'Doherty.