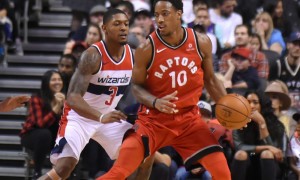 The NBA Playoffs begins its months-long campaign today with a number of first round games: San Antonio at Golden State (ABC, 3 p.m.), Washington at Toronto (ESPN, 5:30 p.m.), Miami at Philadelphia (ESPN, 8 p.m.) and New Orleans at Portland (ESPN, 10:30 p.m.).
The Stanley Cup Playoffs qualify for Saturday Night prime time hockey with Toronto at Boston (NBC, 8 p.m.). Other games include New Jersey at Tampa Bay (NBC, 3 p.m.) and San Jose at Anaheim (NBC Sports, 10:30 p.m.).
"48 Hours" (CBS, 10 p.m.) looks at the 1979 disappearance of Etan Patz.
Eric and Zara are taken hostage at a bank on "Ransom" (CBS, 8 p.m.), the only new scripted show on broadcast TV tonight.
The only living polar bear in New York City is a focus on "The Zoo" (Animal Planet, 9 p.m.).
A "CNN Special Report" (CNN, 8 p.m.) on the Penn State hazing scandal was planned, breaking news willing.
"Amanpour: Sex and Love Around the World" (CNN, 10 p.m.) examines how the religious city of  Accra, the capital of Ghana, deals with sex and relationships.
The special "Boston Marathon Bombing: What Happened" (Reelz, 10 p.m.) marks the fifth anniversary of the tragedy.
Boats depart Dutch Harbor for Alaska's 2017 crab season on three hours of "Deadliest Catch" (Discovery, 8 p.m.).
On the made for TV "A Dangerous Date" (Lifetime, 8 p.m.), a single father years the pitfalls of online dating. Jilian Murray, Brianna Joy Chomer and David Chokachi star.
"UFC Fight Night" (Fox, 8 p.m.) goes prime time.
I thought it was just last week's premiere of "Trading Spaces" (TLC, 8 p.m.) that would be two hours. Wrong: Tonight's is two hours as well.
"Iylanla: Fix My Life" (OWN, 9 p.m.) works with a woman fired over a racist rant on social media.
"The Book of John Gray" (OWN, 10 p.m.) works with a couple about to divorce.
The Green River Killer is profiled on "Murder Made Me Famous" (Reelz, 8 p.m.).
"All Saints" (Starz, 8 p.m.) makes its premium cable debut.
A 16 year construction project gets a boost by "Nate and Jeremiah by Design" (TLC, 10:07 p.m.).
"Ghost Adventures" (Travel, 9 p.m.) investigates a jail and courthouse in Globe, Ariz.
In an era of new wartime, Turner Classic Movies has a couple of aviation battle films from the war of a century ago, "The Eagle and the Hawk" (8 p.m.), and "Hell's Angels" (9:30 p.m.).
Baseball includes Yankees at Detroit (MLB, 1 p.m.), Texas at Houston (Fox Sports 1, 4 p.m.), Angels at Kansas City (Fox Sports 1, 7 p.m.) and Arizona at Dodgers (MLB, 10 p.m.).
College football comes alive with spring games including one from Clemson (ESPN, 2:30 p.m.).
In golf, third round play in the Heritage tournament (Golf, 1 p.m.; CBS, 3 p.m.).
College baseball includes Texas at Oklahoma (ESPNU, 9 p.m.); softball has Alabama at Arkansas (ESPNU, noon), LSU at Tennessee (ESPN2, 1 p.m.) and Kentucky at Texas A&M (ESPN2, 3 p.m.). 3
There is also Harvard at Princeton (ESPNU, 10:30 a.m.) in women's college water polo and the NCAA championship in women's college bowling (ESPNU, 6:30 p.m.).
James Taylor plays a 2015 session on "Austin City Limits" (PBS, 11 p.m.).
Former staff writer John Mulaney returns to host "Saturday Night Live" (NBC, 11:30 p.m.) for the first time; Jack White is musical guest.