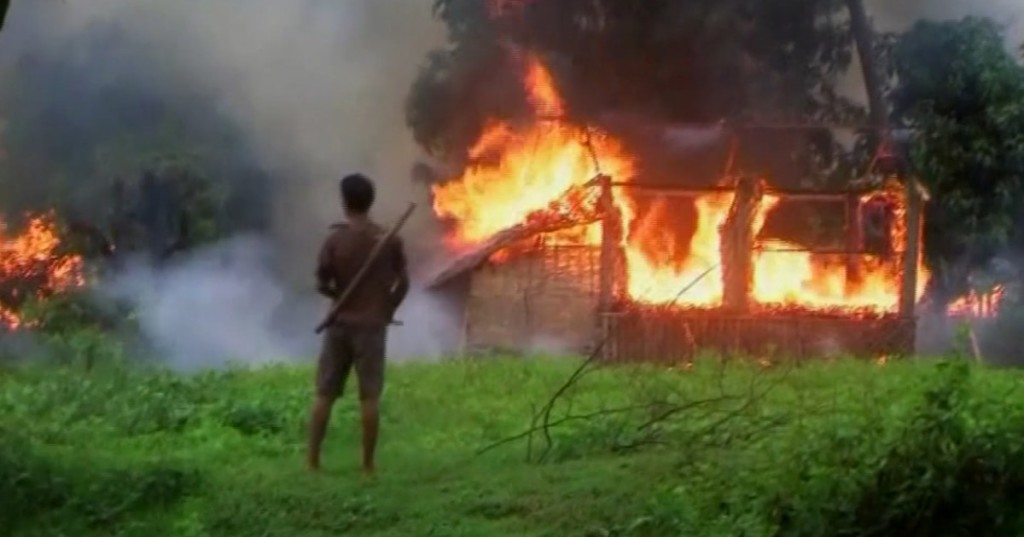 For uncomfortable viewing, there's nothing close to tonight's "Frontline" (PBS, 10 p.m., check local listings), and Evan Williams reporting on the Myanmar military's violent attacks on its Rohingya Muslims that has the appearance of ethnic cleansing and genocide.
The most chilling parts of the report, "Myanmar's Killing Fields," are based on footage taken by citizen activists. Burmese State Counsellor Aung San Suu Kyi has been a disappointment in preventing the violence, UN officials say.
Pauley Perrette's beloved character Abby was one of the best things about "NCIS" (CBS, 8 p.m.) and tonight is her last episode. Fans worry whether she'll be killed off or reassigned, though the description of the episode speaks of an NCIS member who is a hitman's target.
It's not just about Apu any more: The comedian has a new standup comedy special, "Hari Kondabolu: Warn Your Relatives" (Netflix, streaming).
On "Civilizations" (PBS, 8 p.m., check local listings), the intersections of civilizations centuries ago were captured in art.
A threat is made on Riggs' life on the second season finale of "Lethal Weapon" (Fox, 8 p.m.).
"Roseanne" (ABC, 8 p.m.) goes to their Muslim neighbors when their wifi goes out.
All we know about tonight's episode of "Legion" (FX, 10 p.m.) are the words "Madness visits Division Three."
A third season starts for the Brian Cranston-voiced stop-motion animated superhero series "SuperMansion" (Crackle, streaming).
The Top 10 trims down on "The Voice" (NBC, 8 p.m.).
"Bull" (CBS, 9 p.m.) tries to fight a death sentence for his client.
On "The Last O.G." (TBS, 10:30 p.m.) Tray tries to teach his son to be a man.
The development of cities are the focus of "First Civilizations" (PBS, 9 p.m., check local listings).
"The 100" (The CW, 9 p.m.) has been renewed for a new season, as this one goes along.
Sue and Brick scheme to get a trip to the royal wedding for their Mother's Day gift on "The Middle" (ABC, 8:30 p.m.).
Opening night looms on "Rise" (NBC, 9 p.m.). And Mae wins the lead in her own school musical on "Splitting Up Together" (ABC, 9:30 p.m.).
Things aren't settled yet for mom and dad on "Blackish" (ABC, 9 p.m.).
"Grace vs. Abrams" (A&E, 10 p.m.) is still talking about Laci Peterson.
Dwayne Pride gets bad press on "NCIS: New Orleans" (CBS, 10 p.m.).
On "Deadliest Catch" (Discovery, 9 p.m.), a flooding collision void threatens.
Winston is anxious about becoming a dad on "New Girl" (Fox, 9 p.m.).
Magnus, Alec and Isabelle try to reach Jace inside the Owl on "Shadowhunters" (Freeform, 8 p.m.).
"The Flash" (The CW, 8 p.m.) rushes to disable DeVoe's enlightenment device.
Carol Burnett is on "The Jim Jeffries Show" (Comedy Central, 10:30 p.m.).
There's a third reunion episode for "The Real Housewives of Beverly Hills" (Bravo, 9 p.m.), without a doubt the cheapest way to shoot an episode.
"The Zimmern List" (Travel, 9 p.m.) goes to Chicago.
A dead panda is involved on one of the cases on "For the People" (ABC, 10 p.m.).
"Chrisley Knows Best" (USA, 10 p.m.) makes an unwelcome return for its sixth season. Aren't they empty nesters yet?
A boy has life threatening flu on "Chicago Med" (NBC, 10 p.m.).
Gwen and Tracy defend a mother accused of child abuse on "In Contempt" (BET, 10 p.m.).
The man of the jungle takes over the series spotlight on Turner Classic Movies with "Tarzan the Ape Man" (8 p.m.), "Tarzan and His Mate" (10 p.m.), "Tarzan Escapes" (midnight), "Tarzan Finds a Son!" (1:45 a.m.), "Tarzan's Secret Treasure" (3:15 a.m.) and "Tarzan's New York Adventure" (4:45 a.m.). And it keeps going through Wednesday afternoon.
NBA playoffs have Utah at Houston (TNT, 8 p.m.) and New Orleans at Golden State (TNT, 10:30 p.m.).
Baseball includes Minnesota at St. Louis (MLB, 1:15 p.m.) and Boston at Yankees (MLB, 7 p.m.).
In hockey's IIHF world championships, it's Slovakia vs. Austria (NHL, 10 a.m.) and Czech Republic vs. Switzerland (NHL, 2 p.m.).
College baseball includes Nebraska at Creighton (CBS Sports, 7:30 p.m.).
Daytime Talk
Kelly Ripa and Ryan Seacrest: Maura Tierney, Sugarland. The View: Gabrielle Union. The Talk: Tom Select, Kevin Frazier. Harry Connick: Carla Hall, Christine Evangelista. Steve Harvey: Antonio Banderas, Luann de Lesseps, Keri Hilson, Natalie Martinez. Ellen DeGeneres: Woody Harrelson, Gayle King, Panic at the Disco. Wendy Williams: The Chrisleys, Bevy Smith, Robert Verdi, Lloyd Boston. The Real: Ne-Yo, Jasmine Brand.
Late Talk
Stephen Colbert: Michael B. Jordan, Matt Walsh, Heather Pasternak. Jimmy Kimmel: Woody Harrelson, Sara Gilbert, Bazzi. Jimmy Fallon: Trevor Noah, Gabrielle Union, Chromeo with Dram. Seth Meyers: Tracee Ellis Ross, Cameron Monaghan, Joe Pera, Aaron Spears. James Corden: Melissa McCarthy, Chris Parnell, Wallows. Carson Daly: Phoebe Robinson, the Oh Hellos, Ryan Kwanten. Trevor Noah: Jon Meecham. Jordan Klepper: Mary and Jay Duplass. Conan O'Brien: Eva Longoria, Luke Hemsworth.