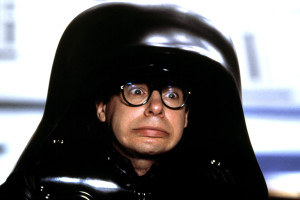 Following a self-imposed retirement to raise a family, comedy's Rick Moranis hasn't starred in a movie since the second  "Honey, I Shrunk the Kids" sequel, which went straight to DVD in 1997.
Though he's been heard from only sporadically since (as voice of a mouse on "Brother Bear" and a couple of comedy albums) he returns to network TV tonight, in voice only, on an episode of "The Goldbergs" (ABC, 8 p.m.).
Moranis reprises his voice as Dark Helmet that first appeared in Mel Brooks' 1987 spoof "Spaceballs" in a dream sequence of young Adam Goldberg, who wants to make a sequel.
Among other guest stars, Nathan Fillion appears as himself on the second season finale of "American Housewife" (ABC, 9:30 p.m.) ends its second season with Katie and crew tracking down Nathan Fillion at a "Firefly" convention to ask if he can come to their school's spring gala.
On the fifth season end of "Chicago P.D." (NBC, 10 p.m.), Woods looks to take down Voight.
A baby shower changes Offred's relationship with Serena Joy on "The Handmaid's Tale" (Hulu, streaming).
Philip and Elizabeth join for an unusual operation on "The Americans" (FX, 10 p.m.).
Haley meets Arvin's parents on "Modern Family" (ABC, 9 p.m.).
"Survivor" (CBS, 8 p.m.) is sweetened by loved ones' visits.
Promiscuous prairie dogs are among the species examined on an episode of "Nature" (PBS, 8 p.m., check local listings) looking at mating practices.
The name Michael Cohen may pop up on "Full Frontal with Samantha Bee" (TBS, 10:30 p.m.).
"Brockmire" (IFC, 10 p.m.) goes on an epic bender.
"America Inside Out with Katie Couric" (National Geographic, 10 p.m.) looks at gender equality.
Who knew there were North and Southside sectors of "Riverdale" (The CW, 8 p.m.)? They're warring tonight.
"NOVA Wonders" (PBS, 9 p.m., check local listings) looks at advances in artificial intelligence, even as "BattleBots" (Science, 7 and 9 p.m.) rage on.
A White House staffer is at risk on "Designated Survivor" (ABC, 10 p.m.).
On "The Blacklist" (NBC, 8 p.m.), Samar is targeted and Red goes to Costa Rica.
"SEAL Team" (CBS, 9 p.m.) are pursued after a helicopter crash.
Klaus takes hostages on "The Originals" (The CW, 9 p.m.).
On "Code Black" (CBS, 10 p.m.), Jesse's ailing brother visits.
Cookie settles scores with her mother on "Empire" (Fox, 8 p.m.).
"Star" (Fox, 9 p.m.) seizes an opportunity to stand out.
The baby is born on "Being Serena" (HBO, 10 p.m.).
Will and Katie try to make contact with the resistance on "Colony" (USA, 10 p.m.).
On "The Expanse" (Syfy, 9 p.m.), Admiral Souther's men plan for a mutiny.
There's a resistance movement forming, too, on "Krypton" (Syfy, 10 p.m.).
"Law & Order: Special Victims Unit" (NBC, 9 p.m.) investigates a gang rape.
Paige and Jake feel further apart on "Famous in Love" (Freeform, 8 p.m.).
Alex uses a voice translator to see what his wife is saying about him under her breath on "Alex, Inc." (ABC, 8:30 p.m.).
"Iron Chef Gauntlet" (Food, 9 p.m.) reaches its second season finale.
Carole has some news about her relationship with Adam on "The Real Housewives of New York City" (Bravo, 9 p.m.).
It's bad enough to be on "The Real Housewives of New Jersey"; worse to get your bad boob job fixed on "Botched" (E!, 9 p.m.), returning with new episodes.
Beverley and Christine find their shared nanny once did porn on "Hollywood Darlings" (Pop, 8 p.m.).
Josh Gates isn't the first guy to look for the Ark of the Covenant on "Expedition Unknown" (Travel, 9 p.m.).
The jungle hero swings all day on Turner Classic Movies with "Tarzan Triumphs" (6 a.m.), "Tarzan's Desert Mystery" (7:30 a.m.), "Tarzan and the Mermaids" (8:45 a.m.), "Tarzan's Magic Fountain" (10 a.m.), "Tarzan and the Slave Girl" (11:15 a.m.), "Tarzan's Peril" (12:45 p.m.), "Tarzan's Savage Fury" (2:15 p.m.), "Tarzan and the She-Devil" (3:45 p.m.), "Tarzan's Hidden Jungle" (5:15 p.m.) and "Tarzan and the Lost Safari" (6:30 p.m.).
Then comes the more succinct Jungle Jim series with Johnny Weissmuller with "Jungle Jim" (8 p.m.), "The Lost Tribe" (9:30 p.m.), "Mark of the Gorilla" (11 p.m.), "Captive Girl" (12:30 a.m.) and "Pygmy Island" (2 a.m.). Still, there's one more jungle series with "Bomba the Jungle Boy" (3:30 a.m.) and "Bomba the Jungle Boy" (4:45 a.m.).
The NBA Playoffs have Philadelphia at Boston (TNT, 8 p.m.) in game five.
Baseball includes Mets at Cincinnati (MLB, 1 p.m.), Angels at Colorado (MLB, 4 p.m.), Boston at Yankees (ESPN, 7 p.m.) and Arizona at Dodgers (MLB, 10 p.m.).
Daytime Talk
Kelly Ripa and Ryan Seacrest: Chadwick Boseman, Barenaked Ladies. The View: Jake Tapper. The Talk: Gayle King. Harry Connick: Luann de Lesseps, Laila Ali, Lynette Khalfani-Cox. Steve Harvey: Bethenny Frankel, Keri Hilson, Diann Valentine, Kristine Leahy. Ellen DeGeneres: Rob Lowe, Jon Dorenbos. Wendy Williams: Michael Bolton, Lidia Bastianich. The Real: Boris Kodjoe.
Late Talk
Stephen Colbert: Gayle King, Anna Wintour. Jimmy Kimmel: Aiden Ehrenreich, Ben Falcone, 2 Chainz with YG and Offset. Jimmy Fallon: Jennifer Lopez, Phoebe Waller-Bridge, Car Seat Headrest.  Seth Meyers: Michelle Wolf, Zach Woods, Jessie Ware, Aaron Spears. James Corden: Heidi Klum, Thandie Newton, Slatan Ibrahimovic, Alice Merton. Carson Daly: Tom Arnold, Absofacto, Ella Purnell. Trevor Noah: Diane Guerrero. Jordan Klepper: Neil Scovell. Conan O'Brien: Brian Posen, James Viech.