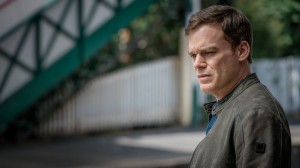 Michael C. Hall adopts an English accent as he returns to long form TV for the first time since "Dexter" to star in "Safe" (Netflix, streaming), portraying a dad investigating with the disappearance of his 16 year old daughter in a series written by bestselling author Harlan Coben.
A month-long Thursday night showcase of Marlene Dietrich on Turner Classic Movies begins with "The Blue Angel" (8 p.m.), "The Scarlet Empress" (10 p.m.), "Shanghai Express" (midnight), "Morocco" (1:45 a.m.) and "Blonde Venus" (3:30 a.m.).
"Atlanta" (FX, 10 p.m.) ends its superlative second season.
Sheldon and Amy finally get married on the season 11 finale of "The Big Bang Theory" (CBS, 8 p.m.), while on the first season finale of "Young Sheldon" (CBS, 8:30 p.m.), the lad tries to set ground rules for his grandma's dating.
Finales also come for "Mom" (CBS, 9 and 9:30 p.m.) and "Chicago Fire" (NBC, 9 p.m.).
A cartel kingpin is targeted on "Quantico" (ABC, 10 p.m.).
"Marcia Clark Investigates the First 48" (A&E, 9 p.m.) digs up the case of the Billionaire Boys Club.
The new captain still hasn't been announced for "Station 19" (ABC, 9 p.m.).
It's taping night for the revamped show on "Nobodies" (TV Land, 10 p.m.).
Andrew Rannells and Billy Eichner raise the decibel level as guest judges during Cher night on  "RuPaul's Drag Race" (VH1, 8 p.m.).
"Gotham" (Fox, 8 p.m.) falls into chaos.
Someone at the hospital is seriously injured on "Grey's Anatomy" (ABC, 8 p.m.).
Armed mercenaries ambush the team on "S.W.A.T." (CBS, 10 p.m.).
Vinny tries to pick up a stripper while on "Jersey Shore Family Vacation" (MTV, 8 p.m.).
On "Siren" (Freeform, 8 p.m.), Bristol Cove mourns a loss.
Jack wrestles with the consequences of his decision on "Supernatural" (The CW, 8 p.m.).
Women fight over men on "Ex on the Beach" (MTV, 9 p.m.).
Naomie prepares to open her family's new restaurant on "Southern Charm" (Bravo, 9 p.m.).
On "Imposters" (Bravo, 10 p.m.), Maddie tracks down the man that could set her free.
IN the Stanley Cup playoffs, it's game seven of Winnipeg at Nashville (NBC Sports, 8 p.m.).
Baseball includes Boston at Yankees (MLB, 7 p.m.) and Minnesota at Angels (Fox Sports 1, 10 p.m.).
Daytime Talk
Kelly Ripa and Ryan Seacrest: Mayim Bialik, Ben Falcone. The View: Laurie Metcalf. The Talk: Maxim Bialik. Harry Connick: Michelle Bateau, Aubrey and Bristol Marunde, Chef JJ Johnson. Steve Harvey: Terry Dubrow, Paul Nassif. Ellen DeGeneres: Jennifer Garner, Kym Douglas. Wendy Williams: Rita Moreno.
Late Talk
Stephen Colbert: Annette Bening, Wyatt Cenac, Leon Bridges. Jimmy Kimmel: Donald Glover, Molly Gordon, Angelique Kidjo. Jimmy Fallon: Alex Rodriguez, Jamie Parker, Arctic Monkeys. Seth Meyers: Michael Shannon, August Union, X Ambassadors. Carson Daly: Gillian Jacobs, I'm With Her, Holly Taylor. Trevor Noah: Rep. Joaquin Castro. Jordan Klepper: Amy Chozick. Conan O'Brien: Traue Ellis Ross, Bush.