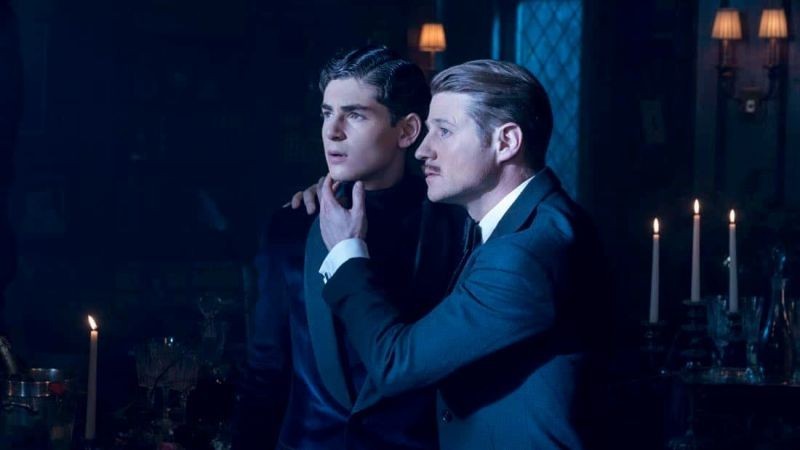 Another seven shows have season finales — happy ones though, since they're all coming back next season.
After tonight, there's just one more season of "Gotham" (Fox, 8 p.m.), so they'll likely accelerate the transition of Bruce Wayne to the Caped Crusader.
It's the sixth season ending on "Arrow" (The CW, 9 p.m.), with an epic final battle between Oliver and Diaz.
A terrorist is poised to bomb on the season one finale of "S.W.A.T." (CBS, 10 p.m.).
It's also the first season end for "Station 19" (ABC, 9 p.m.) where a captain may well be chosen.
The longest running drama on TV will be "Grey's Anatomy" (ABC, 8 p.m.), which ends its 14th season tonight with the last of Kate Capshaw and Sarah Crew, whose characters Arizona and April are being written off the show.
Close behind it is "Supernatural" (The CW, 8 p.m.), ending its 13th season.
"Life in Pieces" (CBS, 9 and 9:30 p.m.) ends its third season with a pair of episodes. In the first, Sophia wanting to get a second piercing; then Samantha's birthday goes a different direction.
Before the new season starts, there's an all-stars special of "American Ninja Warrior" (NBC, 9 p.m.).
On "Siren" (Freeform, 8 p.m.) Donna comes ashore with two members of her colony to bring Ryn home.
Snooki gets caught stealing from a stripper on "Jersey Shore Family Vacation" (MTV, 8 p.m.).
"Royal Wedding Watch" (PBS, 10 p.m.) reaches fever pitch. Regarding the last royal wedding, there is "Kate: The Making of a Modern Queen" (BBC America, 8 p.m.) and "The Royal Wedding: Prince William and Catherine Middleton" (BBC America, 9 p.m.).
The Bumblers hide out at Jules' cabin on "Imposters" (Bravo, 10 p.m.).
Laura Benati pops up on "Beat Bobby Flay" (Food, 10 p.m.).
Not looking forward to the "RuPaul's Drage Race" (VH1, 8 p.m.) production of "Breastworld." But Ilana Glazer and Abbi Jacobson of "Broad City" are guest judges and Stephen Colbert stops by.
On a new season of "The Carbonaro Effect" (truTV, 10 p.m.), magician Michael Carbonaro returns to freak out everyday people with his illusions.
A cold front hits the "Swamp People" (History, 9 p.m.).
Turner Classic Movies' month-long Thursday night Marlene Dietrich showcase continues with "Angel" (8 p.m.), "The Devil is a Woman" (10 p.m.), "Desire" (11:45 p.m.) and "Knight Without Armour" (1:30 a.m.). Earlier all day, it's the remainder of the medical marathon with "Dr. Kildare's Strange Case" (6 a.m.), "Dr. Kildare Goes Home" (7:30 a.m.), "Dr. Kildare's Crisis" (9 a.m.), "The People vs. Dr. Kildare" (10:30 a.m.), "Dr. Kildare's Wedding Day" (noon) and "Dr. Kildare's Victory" (1:30 p.m.).
Then his shift is over and it's "Calling Dr. Gillespie" (3:15 p.m.), "Dr. Gillespie's New Assistant" (4:45 p.m.) and "Dr. Gillespie's Criminal Case" (6:15 p.m.).
It's game four of the Stanley Cup Eastern conference finals, with Tampa Bay at Washington (NBC Sports, 8 p.m.).
The NBA has its draft combine (ESPN2, 3 p.m.) which sounds like a farming event.
Baseball includes Dodgers at Miami (MLB, noon) and Cubs at Atlanta (MLB, 7:30 p.m.).
Cycling's Tour of California (NBC Sports, 4:30 p.m.) reaches stage five.
College baseball includes LSU at Auburn (ESPNU, 7 p.m.) and TCU at Texas (Fox Sports 1, 7:30 p.m.).
Daytime Talk
Kelly Ripa and Ryan Seacrest: Scott Foley, Yara Shahidi, Peter Gros. The View: Bret Baier, Alan Cumming. The Talk: Candice Bergen, Chef Curtis Stone, Carrie Ann Inaba. Harry Connick: Scotty McCreery, Parker Schnabel, Stephanie Arne. Steve Harvey: Sugar Ray Leonard, Dr. Tiffanie Davis Henry, Summer Sanders, Tamar Braxton. Ellen DeGeneres: Sandra Bullock, Shawn Mendes. Wendy Williams: Rob Shuter, Jackie Miranne. The Real: Jane Kaczmarek.
Late Talk
Stephen Colbert: Jake Tapper, Liam Payne with J. Balvin. Jimmy Kimmel: Will Arnett, Lilly Singh, MGMT. Jimmy Fallon: Tina Fey, Paul Bettany, Courtney Barnett. Seth Meyers: Kate McKinnon, Candice Bergen, Andre Leon Tally, Matt Byrne. James Corden: Steven Tyler, Morena Baccarin, Kacey Musgraves. Carson Daly: Bill Nye, Marlon Williams, Graham McTavish. Jordan Klepper: Justin Simien (rerun).