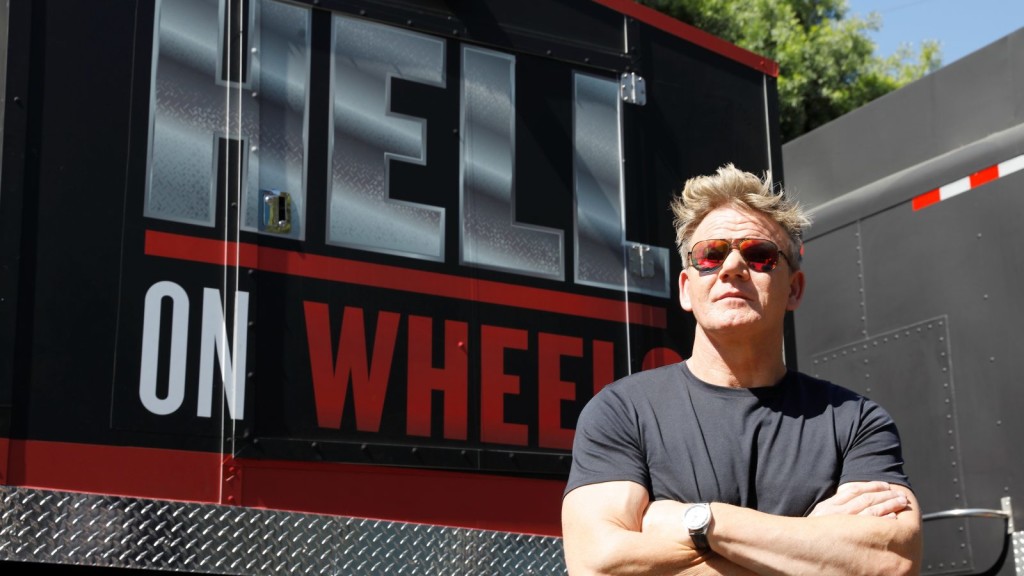 Gordon Ramsay has hosted some 15 or so shows in the past decade – and a handful of them are still running on Fox, such as "MasterChef" (Fox, 8 p.m.). Now, there's yet another to add to them. "Gordon Ramsay's 24 Hours to Hell and Back" (Fox, 9 p.m.) sounds a little like "Hell's Kitchen" but plays out more like "Kitchen Nightmares" in that the gruff-talking chef from the U.K. comes in and re-arranges American eateries on the brink. The catch this time is that he has just a day to do so. The command post for the work with his team on the turnarounds is a giant truck called Hell on Wheels — which could be the name of a future Ramsay show.
A fourth season starts for the Mexican wrestling saga "Lucha Underground" (El Rey, 8 p.m.).
"Archer" (FXX, 10 p.m.) enters a deadly temple.
A Marjory Stonemason Douglas High School teacher competes in the Miami qualifiers of "American Ninja Warriors" (NBC, 8 p.m.).
"Code Black" (CBS, 10 p.m.) deals with a boat crash.
An extramarital dating website is hacked on "The Split" (Sundance, 11 p.m.).
I thought last week's apology edition of "Full Frontal with Samantha Bee" (TBS, 10:30 p.m.) was one of its strongest yet.
Luann is sprung from rehab on "The Real Housewives of New York City" (Bravo, 9 p.m.).
"My 600-Lb Life" (TLC, 8 p.m.) has a similarly bloated, three hour, 15 minute episode.
A two hour series premiere looks at "Navy SEALs: America's Secret Warriors" (History, 8 p.m.).
On "The Expanse" (Syfy, 9 p.m.), Holden is able to see the past, present and future.
The Mikaelson siblings have to work together to find an escape on "The Originals" (CW, 9 p.m.).
"Drugs, Inc.: The Fix" (National Geographic, 9 p.m.) looks at activity in Puerto Rico.
A family man turns bank robber while on "Reverie" (NBC, 10 p.m.).
"Wahlburgers" (A&E, 10 p.m.) begins its ninth season. Also returning tonight is "Ozzy & Jack's World Detour" (A&E, 9 p.m.), beginning its third season.
All back for second seasons are "Speed is the New Black" (Velocity, 9 p.m.), "Caribbean Pirate Treasure" (Travel, 10 p.m.), "The Deed" (CNBC, 10 p.m.) and "Reasonable Doubt" (Investigation Discovery, 10 p.m.).
A high-powered ambassador is taken hostage on "Six" (History, 10 p.m.).
Darla and Ralph Angel come face to face on "Queen Sugar" (OWN, 10 p.m.).
Katie helps a refugee family on "Colony" (USA, 10 p.m.).
Turner Classic Movies runs Clint Eastwood's spaghetti Western trilogy from the 60s, "A Fistful of Dollars" (8 p.m.), "For a Few Dollars More" (10 pm.) and "The Good, The Bad and the Ugly" (12:30 a.m.).
Baseball includes Toronto at Tampa Bay (MLB, 1 p.m.), Pittsburgh at Arizona (MLB, 4 p.m.), Washington at Yankees (ESPN, 7 p.m.) and Texas at Dodgers (MLB, 10 p.m.).
WNBA action has Washington at Connecticut (MLB, 10 p.m.).
Something called the World of X Games begins with the Vans Park Series (ESPN2, 10 p.m.) in Brazil.
Track and field has its IAAF World Challenge (NBC Sports, 1 p.m.).
Daytime Talk
Kelly Ripa and Ryan Seacrest: Claire Danes, Kelly Preston, Calum Scott. The View: Jon Hamm. The Talk: Donnie Wahlberg. Harry Connick: Jussie Smollet, Todd Wilbur, Ms. Pat (rerun). Steve Harvey: Jon Taffer, Dr. Habib Sadegh. Wendy Williams: En Vogue (rerun). The Real: Kim Fields, Pooch Hall (rerun).
Late Talk
Stephen Colbert: Anthony Scaramucci, Michael Avenatti, Betty Gilpin, Chromeo with DRAM. Jimmy Kimmel: Jamie Foxx, Gallant with A$AP Ferg. Jimmy Fallon: John Travolta, Sophia Bush, Dierks Bentley. Seth Meyers: Claire Danes, Hannibal Buress, Amber Mark, Brian Frazier-Moore. James Corden: Bob Odenkirk, Sarah Silverman. Carson Daly: Shaquille O'Neal, Elisa New, Creeper, Tommy Wiseau, Greg Sister (rerun). Trevor Noah: Ian Bremmer. Jordan Klepper: Hari Kondabolu. Conan O'Brien: Nick Offerman, Moshe Kasher, Reel Battle.