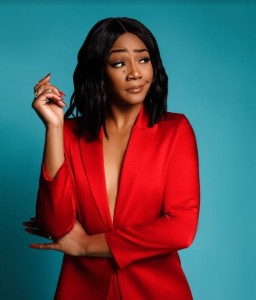 The 2018 MTV Movie and TV Awards (MTV, VH1, BET, CMT, Comedy Central, TV Land, 9 p.m.) will be enlivened by its host, Tiffany Haddish, who is also nominated for Best Comedic Performance. .and Scene Stealer.  "Black Panther" and "Stranger Things" lead nominations with seven each. Chris Pratt will win the Generation Award; Lena Waithe will get the Trailblazer Award. Performers include Nick Jonas with Mustard and Chloe x Hall.
The experience of migration in the Mediterranean is seen from several perspectives in the documentary "It Will Be Chaos" (HBO, 8 p.m.) by Lorena Luciano and Fillippo. It includes two Syrian refugees en route to Germany and the arrival of thousands of immigrants in Italy.
In another documentary on "POV" (PBS, 10 p.m., check local listings), filmmaker Jonathan Olshefski focuses on a Philadelphia family raising a teen during the Obama years.
"Bachelor" producer Mike Fleiss seems to be exploding the conceit of his shows by having what happens over the course of a season flattened into a single hour on the new series "The Proposal" (ABC, 10 p.m.) in which ten even more desperate women line up in hopes of connecting with a single man who will propose to one of them by the end of show.
Taking more time with the choice, still, is "The Bachelorette" (ABC, 8 p.m.) on which Becca has time to test their lumberjacking skills.
An island proposal occurs on "Disney's Fairy Tale Weddings" (Freeform, 8 p.m.).
Plum embarks on The New Baptist Plan on "Dietland" (AMC, 9 p.m.).
Don Cheadle goes "Running Wild with Bear Grylls" (NBC, 8 p.m.). But a grizzly bear attacks on "I Was Prey: Survivor Stories" (Animal Planet, 9 p.m.).
"So You Think You Can Dance" (Fox, 8 p.m.) moves auditions to New York.
An epic battle versus Serena brings the third season to a close on "Supergirl" (CW, 8 p.m.).
"The Untold Story of the 90s" (A&E, 9 p.m.) covers the rise of gay rights and fall of traditional news media in the move online.
A woman is found encased in cement on "Elementary" (CBS, 10 p.m.).
"American Ninja Warrior" (NBC, 9 p.m.) holds a qualifier in Indianapolis.
Jonathan Mangum is guest on "Whose Line Is It Anyway?" (CW, 9 p.m.).
"Escaping Polygamy" (Lifetime, 10 p.m.) returns for a fourth season.
Last week's summit is discussed on "Inside North Korea: The Great Game" (National Geographic, 10 p.m.).
Fredrik takes on a penthouse listing on "Million Dollar Listing New York" (Bravo, 9 p.m.).
It's all about chocolate on "Best Baker in America" (Food, 9 p.m.).
"People Magazine Investigates: Cults" (Investigation Discovery, 9 p.m.) looks at the Word of Life Cult.
Sunken treasures are found when you "Drain the Oceans" (National Geographic Channel, 9 p.m.).
BK tries to win Sierra back on "Love & Hip Hop Atlanta" (VH1, 8 p.m.).
"Naked and Marooned with Ed Stafford" (Animal Planet, 10 p.m.) sure sounds like another series on another network.
The Monday night Leslie Howard salute on Turner Classic Movies continues with "Berkeley Square" (8 p.m.), "Secrets" (9:30 p.m.), "The Animal Kingdom" (11:15 p.m.), "The Love I'm After" (12:45 a.m.) and "Smilin' Through" (2:30 a.m.). It's topped by the documentary "Leslie Howard: The Man Who Gave a Damn" (4:30 a.m.).
World Cup games have Sweden vs. South Korea (Fox Sports 1, 8 a.m.), Belgium vs. Panama (Fox Sports 1, 11 a.m.) and Tunisia vs. England (Fox Sports 1, 2 p.m.).
Monday night baseball has Arizona at Angels (ESPN, 10 p.m.).
The College World Series has Oregon State vs. Washington (ESPN, 2 p.m.) and North Carolina vs. Mississippi State (ESPN, 7 p.m.).
Daytime Talk
Kelly Ripa and Ryan Seacrest: James Corden, Science Bob Pflugfelder. The Talk: Ray Lotta, Valentine, Fergie. Harry Connick: America Ferrera, Valerie & Imani Francis (rerun). Steve Harvey: Boy George, Heather & Terry Dubrow. Wendy Williams: Vanessa Bell Calloway, Milly Almodovar (rerun). The Real: Dawn-Lyen Gardner, Tina Gifford, Bianca Lawson, Tiffany Aliche, Brooke Valentine (rerun).
Late Talk
Stephen Colbert: Benicio Del Toro, Alison Brie, Robin Thede. Jimmy Kimmel: Jeff Goldblum, Jermaine Fowler, Granger Smith. Jimmy Fallon: Jared Leto, Alessa Cara. Seth Meyers: Jesse Tyler Ferguson, Louie Anderson, Cold War Kids. James Corden: Orlando Bloom, Cate Blanchett, Niall Horan, Andrew Lloyd Webber. Carson Daly: Bill Nye, Marion Williams, Graham McTavish (rerun). Trevor Noah: Rep. Karen Bass. Jordan Klepper: Dan Pfeiffer. Conan O'Brien: David Oyelowo, Jimmy Pardo, Margo Price (rerun).