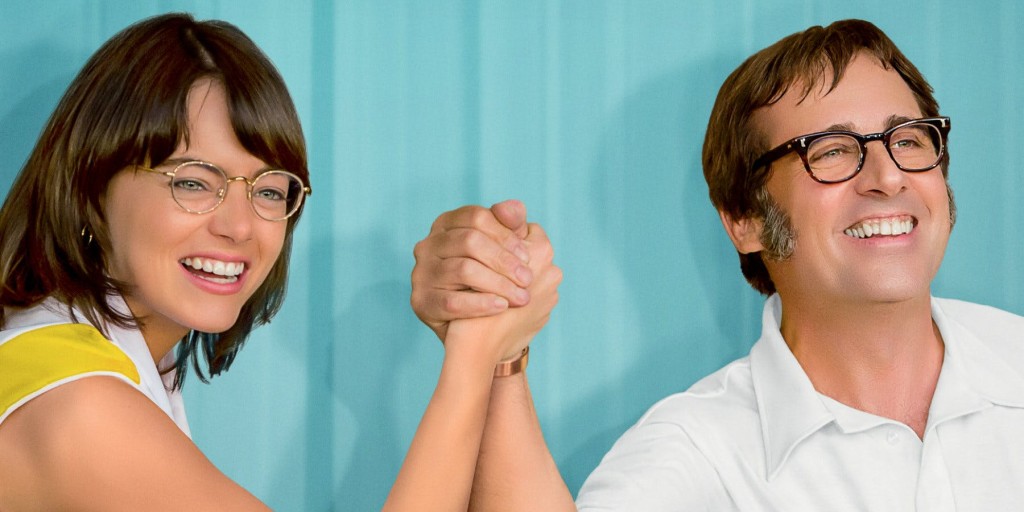 On the day of the women's final and men's semifinal at Wimbledon (ESPN, 8 a.m.), here's the premium cable premiere of "Battle of the Sexes" (HBO, 8 p.m.), the recreation of the 1973 tennis match between Billie Jean King and Bobby Riggs starring Emma Stone and Steve Carell. Carell can later be seen tonight in "40 Year Old Virgin" (Bravo, 10:56 p.m.); Stone in "Easy A" (Comedy Central, 11 p.m.).
"Planet Earth: South Pacific" (BBC America, 9 p.m.) explores the ocean islands.
A woman tries to help the loneliest chimp in the world on "Dodo Heroes" (Animal Planet, 9 p.m.).
More unseen episodes of canceled comedies are seen in double plays of "Me, Myself and I" (CBS, 8 and 8:30 p.m.) and "Living Biblically" (CBS, 9 and 9:30 p.m.).
A sing-along version of "Mamma Mia!" (NBC, 8:30 p.m.) sounds like a good idea (though everybody knows the lyrics already). It's here to promote its own sequel "Mamma Mia! Here We Go Again" in theaters next week.
More big screen sequel promo comes with the return of "Hotel Transylvania" (FX, 9 p.m.) and "Hotel Transylvania" (FX, 11 p.m.).
The two hour "Truth and Lies: The Family Manson" (ABC, 9 p.m.) gets a replay.
"Dr. Jeff: Rocky Mountain Vet" (Animal Planet, 8 p.m.) helps a puppy kicked in the head by a donkey.
The scourge of broken tail lights continues on "Live PD" (A&E, 9 p.m.).
The made for TV movie "My Husband's Double Life" (Lifetime, 8 p.m.) is sort of self-explanatory.
A woman's complicated family dynamics confounds the staff on "Say Yes to the Dress: Atlanta" (TLC, 8 p.m.).
Everybody's spending too much money on "I Want THAT Wedding" (TLC, 9 p.m.), even the supposed cheapskates.
It's a wizarding weekend on USA with "Harry Potter and the Sorcerer's Stone" (7:30 a.m.), "Harry Potter and the Chamber of Sectrets" (10:52 a.m.), "Harry Potter and the Prisoner of Azkaban" (2:23 and 10:41 p.m.), "Harry Potter and the Goblet of Fire" (5 p.m.), "Harry Potter and the Order of the Phoenix" (8 p.m.).
The weirdness that is Hallmark brings in a bunch of holiday movies from the other side of the calendar: "My Christmas Dream" (8 a.m.), "A Wish for Christmas" (10 a.m.), "A December Bride" (noon), "A Gift to Remember" (2 p.m.), "Marry Me at Christmas" (4 p.m.), "With Love, Christmas" (6 p.m.), "Christmas Next Door" (8 p.m.), "Christmas in Evergreen" (10 p.m.), "The Mistletoe Inn" (midnight), "Enchanted Christmas" (2 a.m.), "A Bride for Christmas" (4 a.m.) and "A Dream of Christmas" (4 a.m.).
On the other hand, there is also "Office Christmas Party" (TMC, 7 p.m.).
Maybe about the thing that kicked off July 4: "Captain America: Civil War" (TNT, 8 p.m.).
"Ghost Adventures" (Travel, 9 p.m.) goes to Utah.
Savannah, Ga., is one of the "Haunted Towns" (Travel, 10 p.m.).
It's a Maximilian Schell double feature on Turner Classic Movies tonight with "The Odessa File" (8 p.m.) and "Return from the Ashes" (10 p.m.) follow by the noir film "Roadblock" (12:15 a.m.).
Then Dylan goes electric in two films, with D.A. Pennebaker's documentary of Bob Dylan's 1965 tour of England, "Don't Look Back" (TCM, 2 a.m.), paired with Murray Lener's chronicle of the Newport Folk Festivals from 1963-65, "Festival" (TCM, 4 a.m.). Donovan and Joan Baez also appear in both films.
With the final set for Sunday, here's the third-place patch of England vs. Belgium (Fox, 10 a.m.).
Baseball includes Toronto at Boston (MLB, 1 p.m.), Arizona at Atlanta (MLB, 4 p.m.), Texas at Baltimore (Fox, 7:15 p.m.) and Cubs at San Diego (MLB, 10 p.m.).
In golf, there is third round play in the John Deere Classic (CBS, 3 p.m.) and second round play in the American Century Championship (NBC, 3 p.m.).
The second round of the NBA Summer League playoffs have Detroit vs. Chicago (NBA, 4 p.m.), Cleveland vs. Houston (ESPN2, 4:30 p.m.), Toronto vs. Charlotte (NBA, 6 p.m.), Miami vs. Boston (ESPN2, 6:30 p.m.), Philadelphia vs. Milwaukee (ESPN2, 8:30 p.m.) and Memphis vs. Utah (ESPN2, 10:30 p.m.).
Arena football has Albany at Washington (CBS Sports, 7 p.m.).
Auto racing includes the New York City ePrix (Fox, 3:30 p.m.) and NASCAR's Quaker State 400 (NBC Sports, 7:30 p.m.).
Celebrate Bastille Day with Stage 8 of the  Tour de France (NBC, 7:30 a.m.) from Dreux to Amiens.
Jason Isbell & His 400 Unit and Amanda Shires are on a replay of "Austin City Limits" (PBS, 11 p.m., check local listings) from last year.
Bill Hader got an Emmy nomination this week for his work hosting the episode of "Saturday Night Live" (NBC, 11:30 p.m.) that is rerun tonight. Arcade Fire is musical guest.