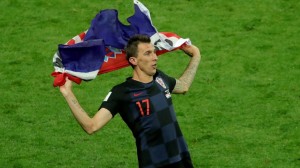 The day's biggest sporting event begins this morning: Croatia vs. France (Fox, 11 a.m.) in the World Cup final.
Just behind it is the men's championship at Wimbledon (ESPN, 9 a.m.) with Kevin Anderson vs. Novak Djokovic.
As if he's not enough with us already, the slightly exaggerated "Our Cartoon President" (Showtime, 10:30 p.m.) is back with new episodes, in which he tries to survive the Russia investigation.
Camille searches for clues at the funeral and wake for the latest victim on "Sharp Objects" (HBO, 9 p.m.). Also, she has a couple of drinks.
"The Affair" (Showtime, 9 p.m.) lives up to its name with two scenes from the point of view of the ailing Vic and the wayfaring Cole.
Logan agrees to a family therapy session at a New Mexico ranch on "Succession" (HBO, 10 p.m.).
Uzo Aruba goes "Running Wild with Bear Grylls" (NBC, 7 p.m.) in Spain's Pyrenees Mountains.
Ahead of next week's 30th anniversary event, here's an overview of  "Shark Week's 50 Best Bites" (Discovery, 8 p.m.).
Last week, he was sitting on the block for eviction. This week Scottie takes his control as Head of Household, nominating two others for eviction on "Big Brother" (CBS, 8 p.m.).
A perpetrator lashes out on "The Tunnel: Vengeance" (PBS, 10:30 p.m.).
On "Power" (Starz, 8 p.m.) Ghost and Tasha figure out how to grieve Raina.
A model is found dead on "Endeavour" on "Masterpiece" (PBS, 9 p.m., check local listings).
On "Pose" (FX, 9 p.m.), the House of Abundance is evicted.
The team on "Ghosted" (Fox, 9:30 p.m.) have to share a case with the FBI and FAA.
Angelville brings out a darker side of Jesse on "Preacher" (AMC, 10 p.m.).
Tufo pulls away from the crew on "Shades of Blue" (NBC, 10 p.m.).
A man thinks he is being stalked by Bigfoot on "These Woods are Haunted" (Travel, 10 p.m.).
"The Real Housewives of Potomac" (Bravo, 8 p.m.) are on the French Riviera.
Nikki plans a bachelorette party on "Total Bellas" (E!, 9 p.m.).
"The 2000s" (CNN, 9 p.m.) marks George W. Bush's premature declaration "Mission Accomplished."
Desna and Dean take a road trip on "Claws" (TNT, 9 p.m.).
A camcorder is one of the "Haunted Things" (Travel, 9 p.m.).
"Kandi Koated Nights" (Bravo, 9 p.m.) reaches its first season finale with guest Jussie Smollet.
"Celebrity Family Feud" (ABC, 8 p.m.), features Sherri Shepherd, Ian Ziering, Tommy Chong, Derk Fisher and Gloria Govan.
It's Kathy Najimy, Yvette Nicole Brown, Gary Cole and Vanessa Williams on "The $100,000 Pyramid" (ABC, 9 p.m.).
"To Tell the Truth" (ABC, 10 p.m.) has Oliver Hudson, Candace Cameron Bure, Kal Penn and Ross Matthews.
The 1943 "The More the Merrier" (TCM, 8 p.m.) is followed by its 1966 remake, "Walk, Don't Run" (TCM, 10 p.m.). They are followed by the silent "The Sea Hawk" (TCM, 12:15 a.m.).  Then comes two from Jean-Luc Godard: "Vivre Sa Vie" (TCM, 2:30 a.m.) and "Le Petit Soldat" (TCM, 4 a.m.).
It's not quite the All-Star break, with games such as Yankees at Cleveland (TBS, 1 p.m.) this afternoon. But tonight has the All-Star Futures Game (MLB, 4 p.m.).
The NBA summer league playoffs reach their quarterfinals (ESPN2, 4, 6, 8 and 10 p.m.).
Arena football has Baltimore at Philadelphia (CBS Sports, 6 p.m.).
Final rounds are played in the John Deere Classic (Golf, 1 p.m.; CBS, 3 p.m.) and the American Century Championship (NBC, 3 p.m.).
The Lacrosse FIL world championships have U.S. vs. Canada (ESPN2, noon).
The championship game is played in the USA Softball International Cup (ESPN, 8 p.m.).
WNBA action has Chicago at New York (NBA, 3 p.m.), Phoenix at Indiana (NBA, 5 p.m.) and Connecticut at Minnesota (NBA, 7 p.m.).
In auto racing there is race 2 of the New York City ePrix (Fox Sports 1, 2:30 p.m.) and Indy Toronto (NBC Sports, 3:30 p.m.).
The Tour de France (NBC Sports, 6:30 a.m.) reaches Stage 9 with a cobblestone-filled route from Arras to Roubaix.
Sunday Talk
ABC: National Security Adviser John Bolton, Sen. Chris Murphy. CBS: Raps. Trey Gowdy and Joe Crowley, Sen. John Cornyn. NBC: Ambassador Jon Huntsman, Sens. Mark Warner and Dan Sullivan. CNN: Warner, Sen. Rand Paul, Rep. Adam Schiff. Fox News: Huntsman, Sen. Chris Coons.