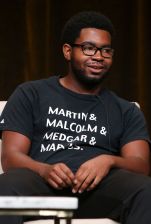 It was a session for a Starz documentary called "America to Me," covering an academic year at a suburban Chicago high school and how issues of race and privilege affect education.
And on the panel, one of its articulate subjects, a spoken word artist named Charles Donalson III couldn't get over the opulent setting of the TV Critics Association summer press tour.
"Jesus Christ, do you all know how much food there is out there?" he exclaimed, referring to the lavish breakfast buffet that had been offered outside the ballroom doors.
All this just after talking about his friends from a disadvantaged neighborhood who weren't lucky enough to make it to his school, "just because their parents couldn't afford to live in this neighborhood."
"I'm being dead serious right now," he snapped, when some reacted to his food observation.
"Do you all know how much food it is out there?" he repeated. "You all see all this stuff? When I was in here yesterday, and I'm watching all the money it probably take to just set up this room, and you — like there is literally situations like this where we're hoarding wealth.
It's the same thing that's happening at his school, Donalson said. "And that's same thing this entire country is doing. .. It's because the people in power don't wanna give us the money that they have. They don't want to give us the privileges they have. . They don't even wanna give us books!
"You all heard them talk about, 'We don't have the same tools to compete with.' Why is it a competition? I went to that school for four straight years. And I've been in the college prep classes, I've been in the honors classes, I've been in the AP classes, and I stopped seeing people who looked like me in the honors classes."
So he had a suggestion for the TV writers.
"I want each and every one of you all to go write something about it. I don't care what you all do. Go to your neighborhoods, go help somebody that look like me, go help somebody that look like you, but take away from this that this doesn't need to happen anymore."
It involved more than writing a blurb about his docs-series. And in the short term, no one went to the buffet for seconds.
"America to Me" premieres Aug. 26 at 10 p.m. on Starz.