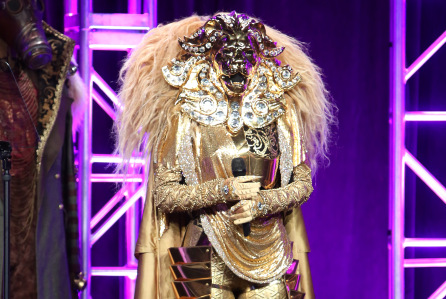 BEVERLY HILLS, Calif. — Things were already getting squirrelly a week into the TV Critics Association summer press tour, after the usual dizzying barrage of cable, streaming and public television panels. The parade of broadcast networks was only just getting started.
Then all of a sudden, a woozy surrealism broke through, complete with a 12-foot bunny in a straight jacket, the one eyed-blue monster and the antlered thing in a gas mask and cape.
It was all in the service for a just-announced Fox midseason reality show, "The Masked Singer." Based on a popular Korean show, it involves hiding a popular singer inside one of these costumes as a panel of celebrities trying to guess who is inside.
If this is the kooky pop music version of To Tell the Truth, then panelists Ken Jeong, Robin Thicke, Jenny McCarthy and Nicole Scherzinger must be the new Tom Poston, Orson Bean, Peggy Cass and Kitty Carlisle.
And as weird as it was to take that all in, it only got more strange when one of the singers, hidden in elaborate golden lion costume came out to answer questions in a bizarrely disguised voice like a robotic baby.
But they're supposed to be familiar names, producers say. The 12 costumed performers, who continue throughout the ten episodes, share a total of "65 Grammy nominations, 16 Emmy Award nominations, 16 Multi Platinum Awards, and four Super Bowl titles," host Nick Cannon promised.
Said the Lion, in the robotic baby voice:  "I really wanted to do this show because I thought it was unique opportunity to be able to share a specific talent that's solely based on that talent, not based on your Grammys or your Super Bowl titles or any other achievements in your life. It's just about you singing and connecting with the judges and the audience."
But the Lion added, she didn't know the identities of her competitors either.
"I could be standing right next to someone who I could know," she said in that crazy voice, "and I would have no idea who they are. So as much as it's a mystery for all of you, it's a mystery for me as well."
Indeed, all of television was becoming a mystery.
No start date was given for "The Masked Singer."
xxx
The impending merge with ABC loomed over Fox's presentation day at the TV Critics Association summer press tour.
"Not since my kids were little have I been asked so many times about going to Disney," Fox TV chair and CEO Dana Walden quipped.
A week after stockholders approved the transaction, she vowed to stop using the phrase they kept repeating in January, "Business as Usual."
But she explained first outlines of what she called New Fox, a network with the independence to pick shows from any production company "with no studio agenda."
Fox, like ABC, decided to bring back a family sitcom aimed at Midwestern audiences. In its case it was "Last Man Standing," the Tim Allen vehicle, whose star is an outspoken conservative, as was the star of ABC's similar, and very successful reboot, "Roseanne."
But since its star Roseanne Barr was canned after a racist tweet, Fox said it was trading lightly over whether Allen's character on "Last Man Standing" would be, like Roseanne, wear the figurative Make America Great Again cap.
"Right now the producers' plans are simply not to address whether or not he might be a Trump supporter," said Fox exec Gary Newman. "Clearly, he's a character with a conservative viewpoint. They think of the character as a fairly centrist viewpoint."
But he added, "Of course, that could change during the season. But there are no plans at this time."
Allen, during a session for the reboot described his character, which ran xx seasons on ABC, as "a practical guy. He owns a big business. If it's helping his business, he's probably pro Trump. He probably doesn't defend him."
"Man Without a Plan" won't be like "Roseanne," executive producer Kevin Abbott said. "The 'Roseanne' reboot handled a lot of topical issues. They were kind of the "issue of the week" kind of thing. We don't really do issues of the week. We consider ourselves a family show with a traditional character at the center of it, which is only unusual in today's environment."
Allen took a moment to remind reporters "I'm not the character I play. If you want to know what I really believe, come to see me [perform] at the Mirage in Las Vegas. You'll be a little startled with the comedian, who I am."
xxxxx
The thirst for reboots is robust. Fox announced it is developing two different variants of "24,"
Fox Television CEO Dana Walden said  longtime "24" executive producers Howard Gordon and Brian Grazer have started working both a prequel to the original that involves "24" creators Joel Surnow and Bob Cochran, and a second show that would be "a whole new take on the franchise, set in the legal arena.
"The mechanism of telling a show set in real time is unique to "24," and we think it still has a lot of power and a lot of legs," says Fox exec Gary Newman. And, ever since the show went off the air, we've talked about "How do you reimagine '24'?"
The first incarnation of "24" was famously held back a couple of weeks because it coincided with 9/11.
But Newman said, "the times are fraught now. These are emotional times. Security continues to be a big issue. So in terms of the prequel, people loved Jack Bauer, and you want to tell a story that the audience would very much connect with how did that character become who he was? It would be set in the same world of security, which I think continues to be very relevant."
He said moving the franchise focus from terrorism and security into the legal world is something they've been talking about "probably as far back as season three or four of '24,' when, from time to time, there would be discussions of spinoffs.
"You have you to look for an arena where the stakes are high and time matters. So that particular show deals with an execution of a prisoner, and there's just 24 hours left before the execution is supposed to take place. So the stakes are high, and it potentially carries a lot of the same values you would find in the old '24.' There are real emotional stakes involved," he said.
"So regardless of the political climate, the time is always right for a show of that type, and we've got terrific writers involved who, I'm sure, will make it feel relevant for this particular time."
xx
Among other news was the development of two new comedies. One, from Rob McElhenney from "It's Always Sunny in Philadelphia" and Rob Rossell of "New Girl" starring Kaitlin Olson of "Sunny" (and McElhenney's wife) and Leah Remini.
The other is from "New Girl" creator Liz Meriwether and Lake Bell, who will also star in "Bless This Mess." Both are under consideration for midseason starts.
And there were a couple of comings and goings in Fox series. Connie Britton is leaving the cast of "9 – 1 – 1" after one season, though the door is open for her return. Added to the cast is Jennifer Love Hewitt and Ryan Guzman.
And though Kelsey Grammer's appearance on the panel for the upcoming drama "Proven Innocent" may have been his first work for the series. He's replacing Brian d'Arcy James who had a role as prosecutor in the pilot many critics had seen.
Grammar, Newman said, "became available and expressed interest in doing the show. And we've worked with Kelsey before. He's an incredible actor, beloved by the audience, and we just felt it was an opportunity we couldn't pass up."
"It seemed like an interesting world for me to play around in," Grammer says.