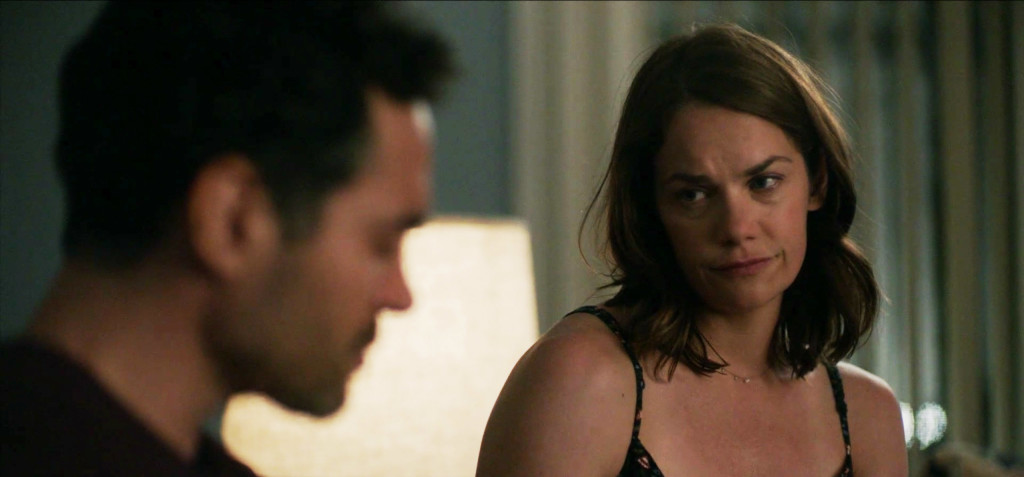 "The Affair" (Showtime, 9 p.m.) has been especially good this season, getting back to its roots about infidelities and consequences, which by now has spread to beyond its four central characters. Recent episodes have involved a cross-country road trip and the shocking death of a main character. In the fourth season finale, Anton and Noah finally reach Princeton, Cole faces his wife and Helen completes her road to becoming a sage. Next year's season of "The Affair" will be its last.
The longer than usual episode will delay by a quarter hour this week's "This is America?" (Showtime, 10:15 p.m.).
"The Last Sharknado; It's About Time" (Syfy, 8 p.m.) is the sixth and last installment of fat ever the top series, full of sharks, chainsaws, B-list cameos and excess. Ian Zering and Tara Reid return (the latter in multiples, including a severed head) and they do a whole time traveling thing. What once was camp is now just atrocious.
This may be the last time you see J-Lo in a police costume with the final episode ever of "Shades of Blue" (NBC, 10 p.m.). She ends the third season facing a police commission.
Camille may not be the best journalist, we are learning on "Sharp Objects" (HBO, 9 p.m.).
On "Insecure" (HBO, 10:30 p.m.), Issa gets financial advice.
Alicia faces her past even as she will "Fear the Walking Dead" (AMC, 9 p.m.).
Jesse and Cassidy battle an array of people on "Preacher" (AMC, 10 p.m.).
On "Big Brother" (CBS, 8 p.m.), a new head of household takes power and nominates two for eviction.
"Alaskan Bush People" (Discovery, 9 p.m.) begins its eighth season, with the Wolfpack returning to a new property in the lower 48.
Spencer gets mixed up in a marketing controversy on "Ballers" (HBO, 10 p.m.).
The "Worst Cooks in America" (Food, 9 p.m.) try hibachi.
"Pamela Smart: An American Murder Mystery" (Investigation Discovery, 10 p.m.) looks at the 1990 New Hampshire case in which a teacher's teen lover murdered her husband — the basis of the 1995 Nicole Kidman movie "To Die For." Now 51, and serving life without parole, Smart talks in this special.
"The Real Housewives of Potomac" (Bravo, 8 p.m.) continue their reunion.
Connor learns the truth about Danielle on "Chesapeake Shores" (Hallmark, 9 p.m.).
Fathers have to step up on "Unexpected" (TLC, 10 p.m.).
Michael welcomes Angela to Nigeria on "90 Day Fiancé: Before the 90 Days" (TLC, 8 p.m.).
Tami wants to call of their engagement on "Basketball Wives" (VH1, 10 p.m.).
Karen Pence plots a career boost for her husband on "Our Cartoon President" (Showtime, 10:45 p.m.).
Kristin goes to New York on "Very Cavallari" (E!, 10 p.m.).
An antique cabinet may be one of the "Haunted Things" (Travel, 9 p.m.).
On "Ultimate Ninja Challenge" (Discovery, 10 p.m.), competitors raft through mountain rapids.
Bobby Moynihan, Jon Lovitz, Andy Richter and Ken Marino play "The $100,000 Pyramid" (ABC, 9 p.m.).
Margaret Cho, Tony Hale Justin Baldoni and Ron Funches play "To Tell the Truth" (ABC, 10 p.m.).
Judy Garland Day on Turner Classic Movies means mostly musicals with "Little Nellie Kelly" (6 a.m.), "Presenting Lily Mars" (8 a.m.), "The Clock" (10 a.m.), "Love Finds Andy Hardy" (noon), "For Me and My Gal" (2 p.m.), "The Pirate" (4 p.m.), "In the Good Old Summertime" (6 p.m.), "The Harvey Girls" (8 p.m.), "Girl Crazy" (10 p.m.), "A Star is Born" (11:45 p.m.) and "Judgment at Nurenberg" (3 a.m.).
Baseball includes Toronto at Yankees (TBS, 1 p.m.), Dodgers at Seattle (MLB, 4 p.m.) and Mets vs. Philadelphia (ESPN, 7 p.m.).
Final rounds are played in the Wyndham Championship (Golf, 1 p.m.; CBS, 3 p.m.). Golf's U.S. Amateur has its championship (Fox, 4:30 p.m.).
WNBA has Washington at Minnesota (ESPN2, 7 p.m.).
In the Little League World Series, it's South Korea vs. Mexico (ESPN, 9 a.m.), New York vs. Texas (ESPN, 11 a.m.), Panama vs. Japan (ESPN, 1 p.m.), Michigan vs. Hawaii (ABC, 2 p.m.),
The American Legion World Series has Massachusetts vs. Delaware (ESPNU, 1 p.m.), Michigan vs. Idaho (ESPNU, 4 p.m.) and North Carolina vs. Nevada (ESPNU, 7:30 p.m.).
It's the U.S. championships (NBC, 8 p.m.) in women's gymnastics.
Beach volleyball has the Manhattan Beach Open (NBC, 4:30 p.m.).
ABC: National Security Adviser John Bolton, Bishop David Zubik. CBS: Former CIA director Leon Pancetta, Sen. Kirsten Gllibrand, Rep. Kristi Noem, Congressional candidate Jennifer Wexton of Virginia. NBC: Former CIA director John Brennan, Rudy Giuliani. CNN: former director of national intelligence James Clapper, former director of the CIA and NSA Michael Hayden, former White House homeland security adviser Lisa Monaco, Gov. Steve Bullock, Rep. Karen Bass. Fox News: White House budget director Mick Mulvaney, Sen. Ron Johnson, former Joints Chiefs of Staff chair Mike Mullen.