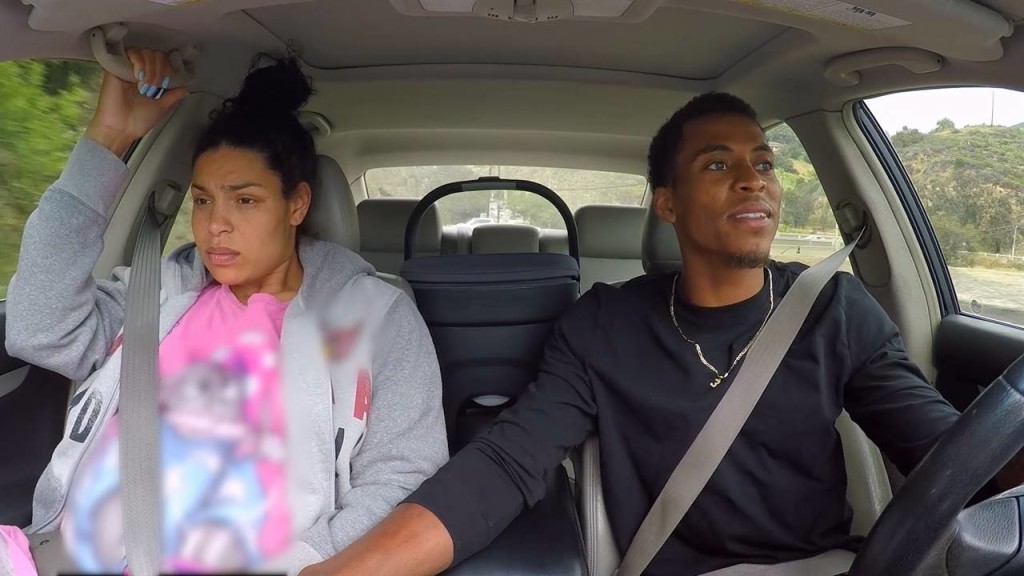 Something other than a song from "American Idol" winner Jordin Sparks, is the story of having a baby son last May in "Jordin Sparks: A Baby Story" (Lifetime, 10 p.m.). Camera teams followed Sparks and her husband, Dana Isaiah before the birth of Dana Isaiah Thomas Jr. in Los Angeles. Days before, she was walking a red carpet. Cameras roll as her water breaks.
A three-night British miniseries, "Save Me" (Starz in Black, 9:30 p.m.) about a man seeking his daughter, who has been gone a decade. Lennie James of "The Walking Dead" stars.
Is it too soon for Sarah Silverman to save the divided country? She tries anyway, on the second season premiere of "I Love You, America" (Hulu, streaming).
The football season kicks off in earnest with Atlanta at Philadelphia (NBC, 8:30 p.m.). It's preceded by an hour-long special, "NFL Kickoff 2018: From Philadelphia" (NBC, 7:30 p.m.) with a performance by Shawn Mendes.
Chicago chefs tackle alligator meat on the new "Bite Club" (Food, 9 p.m.) where local chefs go head to head. Tyler Florence hosts.
MJ is about to dip into her Bridal Bath on "Shahs of Sunset" (Bravo, 9 p.m.).
Slowly learning that "Model Squad" (E!, 8 p.m.) is on every night of the week.
Tom goes on a rescue mission on "Mountain Men" (History, 9 p.m.).
On the first of two episodes of "Bring It!" (Lifetime, 8 p.m.), Coach D looks for a new captain.
Teresa faces her enemy on "Queen of the South" (USA, 9 p.m.).
Traci goes to a wellness retreat on "Braxton Family Values" (WeTV, 9 p.m.).
Sam and Eddie look for a stolen painting on "Take Two" (ABC, 10 p.m.).
A heroin overdose requires parking lot medicine on "Nightwatch Nation" (A&E, 10 p.m.).
Police dogs go after bears on "Northwest Law" (Animal Planet, 10 p.m.).
How can there still be seven contestants remaining on "The Grand Hustle" (BET, 10 p.m.) after all these weeks?
Jump splits aren't easy on "Dallas Cowboys Cheerleaders: Making the Team" (CMT, 10 p.m.).
Dissatisfaction among Franklin's crew reaches new heights on "Snowfall" (FX, 10 p.m.).
On "Shooter" (USA, 10 p.m.), Atlas has a new game plan.
Mario Cantone, Sandra Bernhard, Oliver Hudson, Caroline Rhea, Adam Rodriguez and Eva Marcille play the "Match Game" (ABC, 9 p.m.).
Turner Classic Movies' Black Experience on Film continues with "A Raisin in the Sun" (8 p.m.), "To Kill a Mockingbird" (10:30 p.m.), "A Soldier's Story" (1 a.m.), "Intruder in the Dust" (3 a.m.) and "Roughshod" (4:45 a.m.).
Baseball includes Cleveland at Toronto (MLB, 7 p.m.) and Atlanta at Arizona (MLB, 10 p.m.).
The U.S. Open (ESPN, 7 p.m.) has the women's semifinals.
In college football, it's Kennesaw State at Tennessee Tech (ESPNU, 7 p.m.).
In soccer's UEFA Nations League, it's Germany vs. France (ESPN2, 2:30 p.m.).
Daytime Talk
Kelly Ripa and Ryan Seacrest: Rob Lowe, Why Don't We, Veronica and Vanessa Merrell. The Talk: Aisha Tyler, Keltie Knight, Lidia Bastianich (rerun). Harry Connick: Jason Jones, Natalie Zea, Julienne Hever, Capt. Brittany Catanzaro (rerun). Ellen DeGeneres: Anna Kendrick, Spike Lee, Laura Harrier. Wendy Williams: Chrissy Metz, Jacques Torres (rerun). The Real: Wanda Sykes, Guy Branum (rerun).
Late Talk
Stephen Colbert: Emma Thompson, Troye Sivan. Jimmy Kimmel: Jim Carrey, Andy Cohen, Nathaniel Rateliff & the Night Sweats. Jimmy Fallon: Paul McCartney, Kendall Jenner. Seth Meyers: Jennifer Garner, Stephanie Ruhle, Bebe Rexha, Allison Miller, Pearl Aday. James Corden: Blake Griffin, Paul Feig, Demetri Martin. Carson Daly: Rob Ringle, Aquilo, Terence Nance. Trevor Noah: Maggie Gyllenhaal. Conan O'Brien: Jason Momoa, Amber Heard, Yahya Abdul-Mateen II, Patrick Wilson, James Wan (rerun).