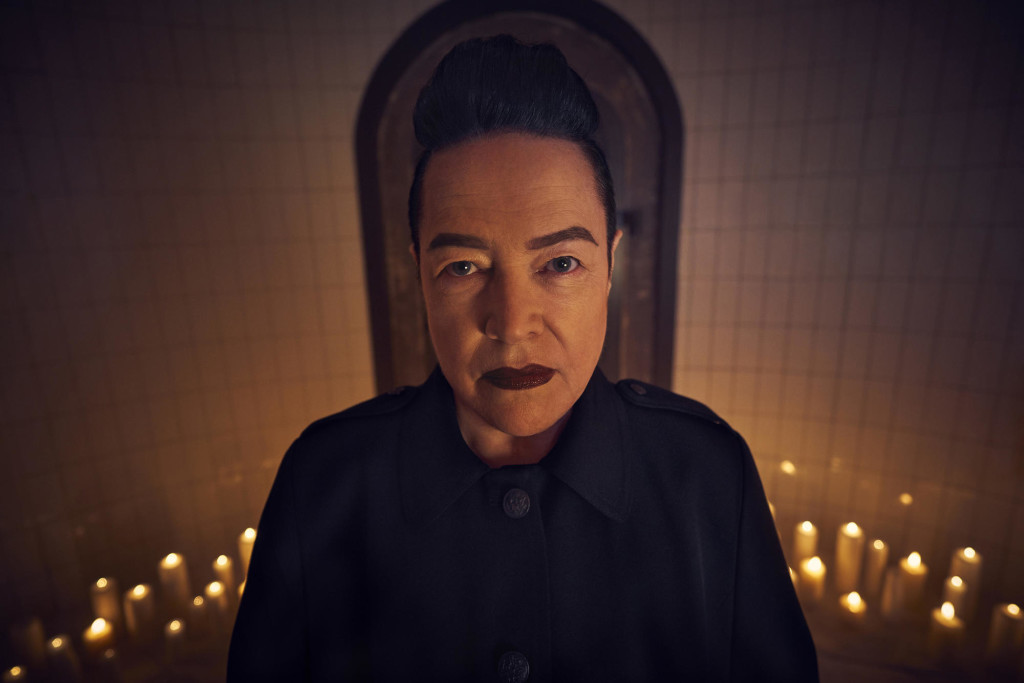 "American Horror Story" (FX, 10 p.m.) begins its eighth season by taking parts from all of its previous season in a new story that begins and ends with the end of the world, "Apocalypse." Much of the past cast is involved, including Kathy Bates, in a nice new hairdo.
A new series is less cheery than the network's usual drug fare. "Dopesick Nation" (Vicepand, 1 p.m.) addresses the heroin epidemic in Florida.
"Castle Rock (Hulu, streaming) ends its first season.
A champion is crowned on "World of Dance" (NBC, 9 p.m.) after the final four compete.
The final episode of "Ancient Invisible Cities" (PBS, 9 p.m.) looks at Istanbul.
"Full Frontal with Samantha Bee" (TBS, 10:30 p.m.) is back with a load of outrages.
The financial crisis a decade ago is recalled in the special "Crisis on Wall Street: The Week That Shook the World" (CNBC, 10 p.m.).
Heather and Ambrose search for Julian on "The Sinner" (USA, 10 p.m.).
A new Italian film from Alessia Cremonini, "On My Skin" (Netflix, streaming), tells the story of a man who died while in police custody in Rome.
Another elimination round is scheduled on "America's Got Talent" (NBC, 8 p.m.).
Hayleigh has another do or die Power of Veto competition on "Big Brother" (CBS, 8 p.m.) and Sam may blow at any minute.
The cast of the 80s sitcom "The Facts of Life" look back at their achievement on "Biography" (Lifetime, 8 p.m.).
Lily makes some more moves after quitting on "Black Ink Crew: Chicago" (VH1, 8 p.m.).
Joanna awaits a whistle-blower on "Burden of Truth" (CW, 8 p.m.).
It's the semifinals on "MasterChef" (Fox, 8 p.m.), where the top five tackle beef.
"Model Squad" (E!, 8 p.m.) hits Paris Fashion Week.
Kristin faces her worst nightmare on the first of two episodes of "Raising Tourette's" (A&E, 9 p.m.).
On "Suits" (USA, 9 p.m.) an old foe backs the firm into a corer.
Brandi plans a rodeo adventure on "The Real Housewives of Rodeo" (Bravo, 9 p.m.).
On "Are You the One?" (MTV, 10 p.m.), Kwasi spills the beans.
Remaining "Castaways" (ABC, 10 p.m.) wonder whether it was all worth it.
Dean Martin is being featured on Wednesdays all month on Turner Classic Movies with "The Young Lions" (8 p.m.), "Some Came Runnings" (11 p.m.), "Rio Bravo" (1:30 a.m.) and "Toys in the Attic" (4 a.m.).
Baseball includes Pittsburgh at St. Louis (MLB, 1 p.m.) and Milwaukee at Cubs (ESPN, 8 p.m.).
The WNBA Finals reaches Game 3 of Seattle at Washington (ESPN2, 8 p.m.).
Daytime Talk
Kelly and Ryan: Blake Lively, "So You Think You Can Dance" winner Hannahlei Cabanilla. The View: Stormy Daniels, Michael Avenatti, Mariska Hargitay, Ice-T. The Talk: Drew Carey. Steve Harvey: Toni Harris. Ellen DeGeneres: LeBron James, Channing Tatum, Dave Matthews Band. Wendy Williams: Jane Lynch, Kate Flannery. The Real: Kim Kardashian (rerun).
Late Talk
Stephen Colbert: Keira Knightley, Rep. Beto O'Rourke, Martha Stewart. Jimmy Kimmel: Christina Aguilera, Paul Scheer, Slash with Myles Kennedy & the Conspirators. Jimmy Fallon: Daniel Radcliffe, Matt Czuchry, Teyana Taylor. Seth Meyers: Maya Rudolph, Fred Armisen, Dominic West. James Corden: Allison Brie, Keegan-Michael Key, Prof. Robert Winston. Carson Daly: Sanaa Lathan, Jamie Wyatt, Science Fair. Trevor Noah: Anna Kendrick. Conan O'Brien: Bob Odenkirk, Zach Cregger, Shooter Jennings (rerun).