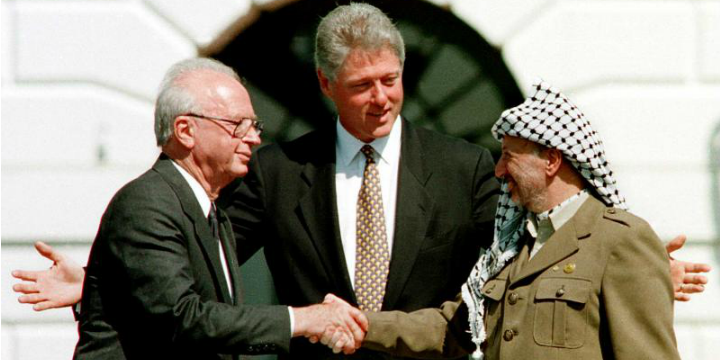 The most disheartening thing about "The Oslo Diaries" (HBO, 8 p.m.), an enlightening documentary that goes behind the secret, even illegal, negotiations that came the closest to finding peace in the Middle East after 25 years of conflict, is that it was initially signed 25 years ago today —and nothing has happened since. Indeed, if anything, the situation has gotten worse with the Palestine Liberation Organization being expelled from Washington this week.
But the documentary serves to remind there was a time when people sought to rise above the bloody conflict (before hardline constituencies on both sides sunk it). Included in the film by Mor Loushy and Daniel Sivan is the final interview with Shimon Peres before his death in 2016 at 93.
Another documentary tonight, "Reversing Roe" (Netflix, streaming) takes a timely look at the effort to overturn the Supreme Court's 1973 ruling on abortion. It's by Ricki Stern and Annie Sunberg, whose previous films include "Marathon: The Patriots Day Bombing" and "Joan Rivers: A Piece of Work."
"Shooter" (USA, 10 p.m.) comes to a merciful end after three seasons, with Nadine and Harris assigned new roles.
On the season finale of "Queen of the South" (USA, 9 p.m.) there is an ultimate showdown in Teresa's effort to take the crown of drug kingpin.
Sam and Eddie try to trap a con man on the season finale of "Take Two" (ABC, 10 p.m.).
On "Snowfall" (FX, 10 p.m.), Lucia and Gustavo plot to leave Los Angeles.
GG advances her divorce plans as everyone else celebrates Persian New Year on "Shahs of Sunset" (Bravo, 9 p.m.).
It's double eviction night on "Big Brother" (CBS, 9 p.m.).
"Snatch" (Crackle, streaming) returns for a second season, as does "Flip or Flop Atlanta" (HGTV< 9 p.m.).
It's Jenni vs. Angelina on "Jersey Shore Family Vacation" (MTV, 8 p.m.).
The six remaining hustlers have to pitch a movie on "The Grand Hustle" (BET, 10 p.m.).
They're helping with hurricane relief on "Model Squad" (E!, 8 p.m.), but for a previous hurricane.
Pamela Anderson, Ali Wentworth, Tisha Campbell-Martin, Adam Carolla and Mark Duplass play th third season finale of "Match Game" (ABC, 9 p.m.).
Turner Classic Movies continues its exploration of the Black Experience on Film with "Anna Lucas" (8 p.m.), "A Warm December" (10 p.m.), "A Patch of Blue" (midnight), "One Potato, Two Potato" (2 a.m.) and "King of Hearts" (4 a.m.).
Thursday Night Football has Baltimore at Cincinnati (NFL, 8:20 p.m.).
Baseball includes Dodgers at St. Louis (MLB, 7 p.m.) and Seattle at Angels (MLB, 10 p.m.).
In college football, it's Boston College at Wake Forest (ESPN, 5:30 p.m.).
Daytime Talk
Kelly Ripa and Ryan Seacrest: Jason Bateman, Shannen Doherty. The View: Norm Macdonald. The Talk: Olivia Munn. Steve Harvey: Lynn Richardson. Ellen DeGeneres: Kristen Bell, Kalen Allen. Wendy Williams: Tamar Braxton. The Real: Common, Andra Day, Ayesha Curry (rerun).
Late Talk
Stephen Colbert: John Heinemann, Alex Wagner, Judy Greer, First Aid Kit. Jimmy Kimmel: Cate Blanchett, Ben Mendelsohn, the Chainsmokers. Jimmy Fallon: Blake Lively, Carrie Underwood. Seth Meyers: Keira Knightley, Neal Brennan, Caitlyn Smith. James Corden: Mel B, Dr. Phil McGraw, Olivia Munn, Good Charlotte. Carson Daly: Michel Gondry, Deafheaven, Shannon Purser. Trevor Noah: Jose Andres. Conan O'Brien: Bill Burr, Regina Hall, Marina Franklin (rerun).