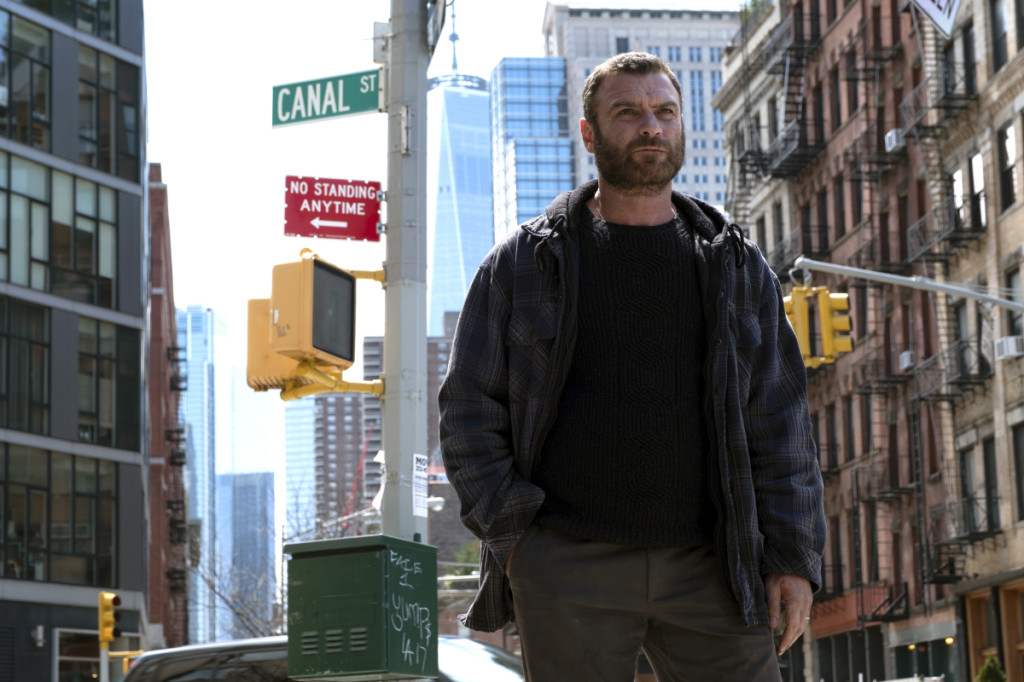 "Ray Donovan" (Showtime, 9 p.m.) begins its sixth season in a new locale: New York, where there's a lot of work for a fixer. But first Liev Schreiber's character has to be pulled out of the East River and established in Staten Island. Soon enough, though, his past seeps through even as Micky plots against him in prison.
Comic actress and professional best friend Busy Philipps gets a new gig tonight: Host of a new talk show, "Busy Tonight" (E!, 9 p.m.) that will get a Wednesday through Wednesday schedule. Her first guest is Mindy Kaling.
It's followed by a trio of women who will jabber about pop culture, "LadyGang" (E!, 10:30 p.m.) with Keltie Knight, Becca Tobin and Jac Vanek, from the podcast of the same name.
A more topical approach is expected from "Patriot Act with Hasan Minah" (Netflix, streaming), a new Sunday night offering from the former "Daily Show" correspondent. He'll be in competition with that other topical Sunday night comedy show from a former "Daily Show" correspondent, "Last Week Tonight with John Oliver" (HBO, 11 p.m.).
Hope the new shows do better than "The Alec Baldwin Show" (ABC, 10 p.m.) which has suffered low ratings since it began this month. His guests tonight: Ricky Gervais and Jeff Bridges.
Walt opens up about his sex life to the guys on a fishing trip on "Camping" (HBO, 10 p.m.).
The kids take up the family business in "Crikey! It's the Irwins" (Animal Planet, 8 p.m.).
Another new dog rescue show begins tonight, but there's been none led by as an exotic woman as Amanda Giese in "Amanda to the Rescue" (Animal Planet, 9 p.m.).
"60 Minutes" (CBS, 7 p.m.) visits Raqqa, Syria, and profiles the new music director of the New York Philharmonic, Jaap van Zweden.
The Red Sox could take it all in Game 5 of the World Series, still on the West Coast, with Boston at Dodgers (Fox,  p.m.).
Sunday Night Football has New Orleans at Minnesota (NBC, 8:20 p.m.). Earlier games include Philadelphia vs. Jacksonville (NFL, 9:30 a.m.), Washington at Giants (Fox, 1 p.m.), Baltimore at Carolina (CBS, 1 p.m.) and Green Bay at Rams (Fox, 4:25 p.m.).
The special "Method of a Serial Killer" (Oxygen, 7 p.m.) looks at the spree of Israel Keyes.
Arachnids in Sheffield cause trouble for "Doctor Who" (BBC America, 8 p.m.).
"The Circus" (Showtime, 8 p.m.) looks at the gubernatorial races in Florida and Georgia.
There's a Halloween theme on "Dancing with the Stars: Juniors" (ABC, 8 p.m.), where Scottie Pippen's daughter Sophia was the latest to go, though Honey Boo Boo still has the lowest judges' scores.
"Madam Secretary" (CBS, 10 p.m.) tries to bring back remains of U.S. soldiers from World II after they are uncovered in Southeast Asia.
Walter leaves before he has the chance to learn about "The Woman in White" (PBS, 10 p.m., check local listings).
God unfriends Miles on "God Friended Me" (CBS, 8 p.m.).
A new Italian family moves to the area on "The Durrells in Corfu" (PBS, 8 p.m., check local listings).
On "Alaska: The Last Frontier" (Discovery, 9 p.m.), a coal seam is on fire.
It's just the right season for the rebooted "Charmed" (CW, 9 p.m.).
On "Kidding" (Showtime, 10 p.m.), Jeff meets the son of his pen pal on death row.
And there's a final showdown on "Halloween Wars" (Food, 9 p.m.).
It's the finale, too, on "Haunted Gingerbread Showdown" (Food, 10 p.m.).
A chance encounter shakes things up on "You" (Lifetime, 10 p.m.).
On "Masterpiece" (PBS, 9 p.m.), Demelza tries to be matchmaker at home while "Poldark" changes his style in Westminster.
An informant is arrested on "NCIS: Los Angeles" (CBS, 9 p.m.).
Candy's movie is almost finished on "The Deuce" (HBO, 9 p.m.).
"The Last Ship" (TNT, 9 p.m.) deals with a hostage situation.
Rick has to reckon for past sins before he goes on "The Walking Dead" (AMC, 9 p.m.).
Who invites their friends to join their 10-year anniversary trip? Toya and Eugene on "Married to Medicine" (Bravo, 8 p.m.).
Ben transforms into the villain Agent Liberty on "Supergirl" (CW, 8 p.m.).
Kim meets with the Parkland shooting survivors on "Keeping Up with the Kardashians" (E!, 9 p.m.).
The Sunday night Mummy focus on Turner Classic Movies ends with "The Mummy's Shroud" (8 p.m.), "Blood from the Mummy's Tomb" (10 p.m.). Then the 2010 documentary "Baby Peggy, the Elephant in the Room" (midnight) leads to two of her silent films, "The Family Secret" (1:15 a.m.) and "Captain January" (2:30 a.m.) on the occasion of Baby Peggy's 100th birthday. (Yes, she's still alive). Later comes Henri-Georges Clouzot classic "Diabolique" (4 a.m.).
Hockey has Edmonton at Chicago (NHL, 6 p.m.).
Auto racing includes NASCAR's First Data 500 (NBC Sports, 2:30 p.m.), the Mexican Grand Prix (ABC, 2:30 p.m.) and the Toyota Nationals (Fox Sports 2, 5 p.m.).
In Canadian football, it's Toronto at Montreal (ESPN2, 1 p.m.).
College soccer includes Michigan State at Indiana (ESPNU, 4 p.m.).
Women's college volleyball includes Mississippi at Alabama (ESPNU, 6 p.m.).
Sunday Talk
CBS: Sens. James Lankford and Chris Coons, Reps. Paul Ryan and Elise Stefanik. NBC: Reps. Steve Stivers and Ben Ray Lujan. CNN: Tom Steyer, Rep. Joseph P. Kennedy III. Fox News: Homeland Security Secary Kirstjen Nielsen, Stivers, Lujan.