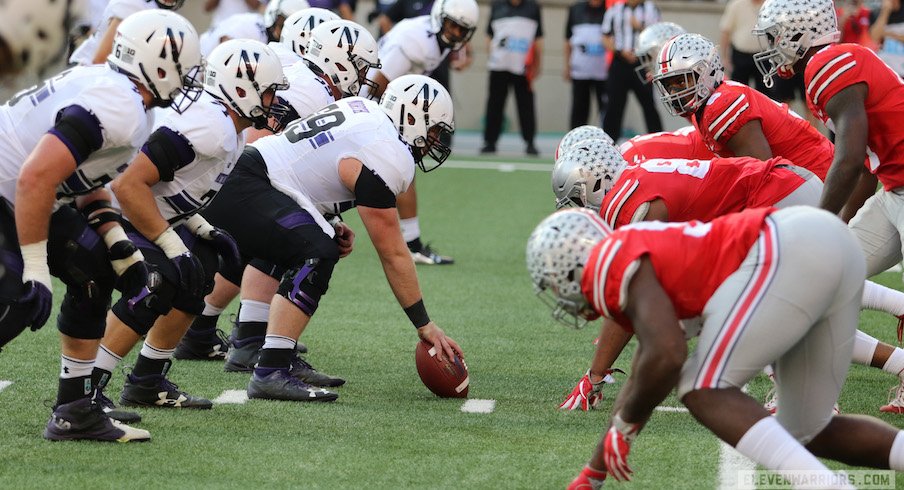 Conference Championship Weekend means a couple of big games on prime time broadcast TV: Clemson vs. Pittsburgh (ABC, 8 p.m.) in the ACC Championship and Northwestern vs. Ohio State (Fox, 8 p.m.) in the Big Ten Championship.
But there are big games all day with Texas vs. Oklahoma (ABC, noon) for the Big 12 championship, Louisiana-Lafayette at Appalachian State (ESPN, noon) in the Sun Belt championship, UAB at Middle Tennessee (CBS Sports, 1:30 p.m.) in the Conference USA championship, Memphis at Central Florida (ABC, 3:30 p.m.) in the American Athletic Conference championship, Alabama vs. Georgia (CBS, 4 p.m.) in the SEC Championship, and Fresno State at Boise State (ESPN, 7:45 p.m.) in the Mountain West championship.
It's not as big or flashy as the Rockefeller event and if the bulbs are not as bright at the 2018 National Christmas Tree Lighting (Reelz, Ovation, 10 p.m.) neither is the star power of the 96th annual event, with such little known performers as Abby Anderson, Anthony Kearns, Dominican Sisters of Mary, Gabby Barrett, John Driskell Hopkins and Joe Gransden, LOCASH, Matthew West, Paul Cardall, Spensha Baker, Thompson Square, and the United States Army Band. Antonio Sabato Jr. hosts. Two years ago, by contrast, the performers included James Taylor, Kelly Clarkson, Chance the Rapper, Yolanda Adams, Garth Brooks, Trisha Yearwood, the Lumineers and Marc Anthony.
"Disney Parks Presents the 25 Days of Christmas Holiday Party" (Disney, 8 p.m.) continues the season of corporate synergy.The original Christmas made-for-TV movie romances won't stop with "Mingle All the Way" (Hallmark, 8 p.m.) with Jen Lilley, Brant Daugherty of "Pretty Little Liars" and Lindsay Wagner.
Another is "A Twist of Christmas" (Lifetime, 8 p.m.) with Vanessa Lachey, Rick Fox and Brendon Zub.
And Emily Osment, Ryan Rottman and Kelly Hu star in "Christmas Wonderland" (Hallmark Movie Channel, 9 p.m.).
Also on tonight: "Elf" (AMC, 9 p.m.) and "The Year Without a Santa Claus" (AMC, 11 p.m.).
The new series "Memories of the Alhambra" (Netflix, streaming) is about a game developer from Korea who travels to Spain to make a artificial reality game about midieval battles and falls in love. With English subtitles.
Dwayne "The Rock" Johnson and a giant ape star in the action film "Rampage" (HBO, 8 p.m.), based on an arcade game, making its premium cable debut.
The acclaimed series "Killing Eve" (Hulu, streaming) has its first season available on a streaming service.
A woman plans to marry her sister's ex-husband on "My Big Fat American Gypsy Wedding" (TLC, 10 p.m.).
On "Married to Medicine" (Bravo, 9 p.m.), Jackie gets help in cooking a meal for Curtis.
"Ghost Adventures" (Travel, 9 p.m.) looks for a demon in Fontana, Calif.
"Murder in the Family with Geraldo Rivera" (Reelz, 9 p.m.) looks at death in the Woody Harrelson family.
The show is called "Murder Made Me Famous" (Reelz, 8 p.m.) But is Aileen Wournos famous?
Turner Classic Movies shows Christmas Classics in prime time weekends all this month, starting with "Beyond Tomorrow" (8 p.m.) and "The Bishop's Wife" (9:45 p.m.). The 12 o'clock noir film is "Crack-Up" midnight), followed by "Magnum Force" (2 a.m.) and "The Ice Pirates" (4 a.m.).
NBA action includes Boston at Minnesota (NBA, 8 p.m.).
Saturday night hockey has Philadelphia at Pittsburgh (NHL, 7 p.m.).
Men's college basketball includes St. John's vs. Georgia Tech (ESPNU (noon), Louisville at Seton Hall (Fox, noon), Oakland at Xavier (Fox Sports 1, noon), UNC Greensboro at Kentucky (ESPN2, 1 p.m.), Gonzaga at Creighton (Fox, 2 p.m.), Kansas State at Marquette (Fox Sports 1, 2:30 p.m.), Memphis vs. Teas Tech (ESPNU, 2:30 p.m.), Villanova at La Salle (ESPN2, 3 p.m.), Purdue at Michigan (ESPN, 3:30 p.m.), Nevada at Southern California (Fox, 4:30 p.m.), N.C. State vs. Vanderbilt (ESPN2, 5 p.m.), Rhode Island at Providence (Fox Sports 1, 5 p.m.), Stanford at Kansas (ESPN, 5:30 p.m.), Temple at Saint Joseph's (NBC Sports, 5:30 p.m.), Cincinnati at UNLV (CBS Sports, 6 p.m.), Stetson at Duke (ESPN2, 7 p.m.), Wake Forest at Richmond (NBC Sports, 7:30 p.m.), Cornell at Syracuse (ESPNU, 8 p.m.), Baylor at Wichita State (CBS sports, 8 p.m.), Oregon at Houston (ESPN2, 9 p.m.) and California at Saint Mary's (ESPNU, 10 p.m.).
Soccer's FIFA Under-17 Women's World Cup final has Spain vs. Mexico (Fox Sports 2, 5 p.m.).
Cindy Lauper plays a 2017 replay of "Austin City Limits" (PBS, 11 p.m., check local listings)
Claire Foy hosts a new "Saturday Night Live" (NBC, 11:30 p.m.). Musical guest is Anderson.