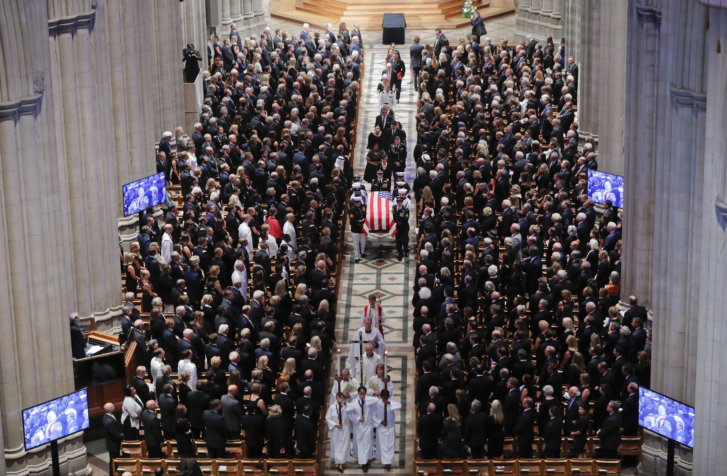 If you're off work today due to the National Day of Mourning, it's only fair that you tune in the Memorial Service for President George H.W. Bush (NBC, CNN, MSNBC, Fox News, 9 a.m.). While cable news coverage begins early, the motorcade won't travel from the Capitol to the National Cathedral until 10 a.m., with the service expected to begin at 11 a.m., with eulogies from his son, the former President George W. Bush, former Canadian Prime Minister Brian Mulroney, former Sen. Alan Simpson, historian and Bush biographer Jon Meacham, and former First Lady Laura Bush. CBS begins coverage at 9:45 a.m.; ABC and PBS at 10 a.m.
Among the specials tonight is "History Remembers George H.W. Bush" (History, 10 p.m.) and a replay of the 2012 documentary "41" (HBO, 8 p.m.).
One of the expected attendees is featured on the taped interview with former senior White House adviser Valerie Jarrett, "A Thousand Words with Michelle Obama" (BET, 9 p.m.).
Regarding our current political situation, one indicator may be the new "Border Live" (Discover, 9 p.m.), which sounds like a variant of "Live PD" (A&E, 8 p.m.) that concerns the chaos on the Mexican border. It will focus on Border Patrol activities, but there are also 5,400 troops down there. And clarity might be threatened by tear gas.
A new season begins for the fabulous-looking, annoyingly fast talking "The Marvelous Mrs. Maisel" (Amazon Prime, streaming), the Emmy darling that begins its second season continuing to spend its bundles of money thrown at it by taking a trip to Paris after Ms. Maisel's mother, intent on leaving her stifling household (or maybe just the nonstop patter). It's great until it's exhausting.
Before she became princess material Meghan Markle once held a briefcase on "Deal or No Deal" (CNBC, 8 p.m.), the game show led by Howie Mandel that moves to cable, where women have an extra motivation to become one of the smiling, suitcase-toting models.
"Full Frontal with Samantha Bee" (TBS, 10:30 p.m.) returns for its first new episode since the midterms.
A new three-part series, "America's Mississippi" (Smithsonian, 8 p.m.), travels down the storied river.
Time for loved ones to visit on "Survivor" (CBS, 8 p.m.).
A massive car pile up has consequences on "Chicago Fire" (NBC, 9 p.m.).
"Star" (Fox, 9 p.m.) gets a legal bind.
Dede's husband gives away her stuff on "Modern Family" (ABC, 9 p.m.).
On "Empire" (Fox, 8 p.m.), financial worries undercut the upcoming showcase.
There are wedding preparations on "Chicago Med" (NBC, 8 p.m.).
Archie takes to the road on "Riverdale" (CW, 8 p.m.).
On "The Goldbergs" (ABC, 8 p.m.), Barry plans a bachelor party.
Franklin has chickenpox on "American Housewife" (ABC, 8:30 p.m.).
The homecoming dance has consequences on "All American" (CW, 9 p.m.).
On "Nightflyers" (Syfy, 10 p.m.), the white rabbit probe puzzles the team.
Teresa's family embarks on another legal battle on "The Real Housewives of New Jersey" (Bravo, 9 p.m.).
Ivar the Boneless wants something done about his nickname on "Vikings" (History, 9 p.m.).
"SEAL Team" (CBS, 9 p.m.) looks for source of a leak.
Will tries to convince other parents to withhold cellphones to young kids on "Single Parents" (ABC, 9:30 p.m.).
Rome opens up to his dad on "A Million Little Things" (ABC, 10 p.m.).
On "Chicago P.D." (NBC, 10 p.m.), Antonio crosses a line.
An overdose epidemic is investigated on "Criminal Minds" (CBS, 10 p.m.).
"The Real Housewives of Dallas" (Bravo, 10 p.m.) begin their reunion episodes.
Sophia Loren is star on Turner Classic Movies tonight in "Marriage – Italian Style" (8 p.m.), "Human Voice" (10 p.m.), "Two Women" (midnight), "Lady L" (2 a.m.) and "Brass Target" (4 a.m.). She's also featured in a 2016 interview "Live from the TCM Classic Film Festival: Sophia Loren" (10:45 p.m.).
Then it's crime dramas all day with "A Dangerous Profession" (6:15 a.m.), "Follow Me Quietly" (7:45 a.m.), "The Tattooed Stranger" (9 a.m.), "Mystery Street" (10:15 a.m.), "Crime Wave" (noon), "While a City Sleeps" (1:15 p.m.), "Scene of the Crime" (3 p.m.), "The Naked City" (4:45 p.m.) and "The Big Combo" (6:30 p.m.).
NBA action includes Philadelphia at Toronto (ESPN, 8 p.m.) and San Antonio at Lakers (ESPN, 10:30 p.m.).
Hockey has Edmonton at St. Louis (NBC Sports, 8 pm.) and Chicago at Anaheim (NBC Sports, 10:30 p.m.).
Men's college basketball includes Lafayette at Connecticut (ESPNU, 6 p.m.), Ohio at Xavier (Fox Sports 1, 6:30 p.m.), Mount St. Mary's at St. John's (Fox Sports 2, 6:30 p.m.), Hartford at Duke (ESPN2, 7 p.m.), VCU at Texas (ESPNU, 8 p.m.), Oklahoma State at Tulsa (CBS Sports, 8 p.m.), Temple at Villanova (Fox Sports 1, 8:30 p.m.), North Carolina-Wilmington at North Carolina (ESPN2, 9 p.m.), TCU at SMU (ESPNU, 10 p.m.), Arkansas at Colorado State (CBS Sports, 10 p.m.) and Washington at Gonzaga (ESPN2, 11 p.m.).
Daytime Talk
Kelly Ripa and Ryan Seacrest: J.K. Simmons, Amber Heard, A Great Big World. The View: Howie Mandel. The Talk: Lori Laughlin, Jessica Radloff, Carrie Ann Inaba. Ellen DeGeneres: Natalie Portman, Padma Lakshmi, Jeff Garlin, Halsey. Wendy Williams: Kenan Thompson. The Real: Dr. Paul Nassif, Dr. Terry Dubrow.
Late Talk
Stephen Colbert: Jeff Daniels, Emily Mortimer. Jimmy Kimmel: Jennifer Aniston, Chris Elliott, Rita Ora. Jimmy Fallon: Anderson Cooper, Andy Cohen, John Legend. Seth Meyers: Howie Mandel, Danielle Macdonald, Mehdi Hasan, Nikki Glaspie. James Corden: Jude Law, Steve Coogan, Sam Morril. Carson Daly: Phil Keoghan, Lawrence, Jose Sarduy. Trevor Noah: Jeremy Scott.