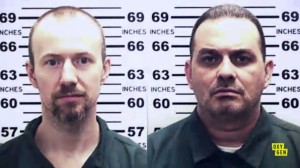 Sudden interest in the June 2015 prison break and 23-day manhunt depicted in Showcase's limited series "Escape at Dannemora" is further explored in the two hour special "Dannemora Prison Break" (Oxygen, 7 p.m.) which features interviews with a couple of the principle figures.
To tide you over until "Crashing" returns for its third season Jan. 20, here's "Pete Holmes: Dirty Clean" (HBO, 10 p.m.), a standup special.
Armando Iannucci's delicious satire "The Death of Stalin" (Showtime, 9 p.m.) makes its premium cable debut, as does the raunchy "Blockers" (HBO, 8:15 p.m.), which is short for Cock Blockers about parents (John Cena and Leslie Mann) trying to stop their teens from having sex. Also making its bow is  Rob Reiner's political "Shock and Awe" (Starz, 8 p.m.) with Woody Harrelson, Tommy Lee Jones and Jessica Biel, about George W. Bush's run up to the 2003 Iraqi war and the Knight Ritter reporters who were on the case.
Kerry Washington and Robert F. Kennedy Jr. are on "Sundays with Alec Baldwin" (ABC, 10 p.m.), which now runs on Saturdays.
Paul Hollywood and Mary Berry try treacle tarts on "The Great British Baking Show" (PBS, 8 p.m., check local listings).
A drag queen wants to remodel her home for her parents on "Sweet Home" (Bravo, 9 p.m.).
Guess what? There are some made-for-TV holiday movies tonight, starting with "Entertaining Christmas" (Hallmark, 8 p.m.) in which Jodie Sweetin tries to impress a small Vermont town and meets a local reporter (Brendan Fehr). In "Country Christmas Album" (Ion, 9 p.m.), a failing country starlet (Hannah Barefoot) is forced to record a new holiday album with a teenage heartthrob (Evan Gamble). And there are sparks there too.
Also on again: "The Santa Clause 2" (AMC, 6 p.m.), "National Lampoon's Christmas Vacation" (8:30 p.m.), "Dr. Seuss' How the Grinch Stole Christmas" (Freeform, 9:15 p.m.).
Guilty pleasure: "Jiminy Glick in Lalawood" (Flix, 8:30 p.m.).
"48 Hours" (CBS, 10 p.m.) looks into the two decade look for Iowa TV anchor Jodi Hulsentruit. Tension grows on "Ready to Love" (Own, 10 p.m.) as men narrow the field to three.
"Ghost Adventures" (Travel, 9 p.m.) goes to Upper Fruitland, N.M.
Turner Classic Movies picks a couple of films less thought of as Christmas classics, "Trail of Robin Hood" (8 p.m.) and "3 Godfathers" (9:30 p.m.). Then comes the noir "Talk About a Stranger" (midnight) and two with Doris Day, "The Thrill of It All" (1:30 a.m.) and "Midnight Lace" (3:30 a.m.).
College football bowl games begin with North Carolina AT&T at Alcorn State (ABC, noon) in the Celebration Bowl, Tulane vs. Louisiana Lafayette (CBS Sports, 1:30 p.m.) in the Cure Bowl, North Texas vs. Utah State (ESPN, 2 p.m.) in the New Mexico Bowl, Fresno State vs. Arizona State (ABC, 3:30 p.m.) in the Las Vegas Bowl, Georgia Southern vs. Eastern Michigan (ESPN, 5:30 p.m.) in the Camellia Bowl and Middle Tennessee vs. Appalachian State (ESPN, 9 p.m.) in the New Orleans Bowl.
Also, there is Maine at Eastern Washington (ESPN2, 2 p.m.) in the FCS semifinal and Ferris State vs. Valdosta State (ESPNU, 4 p.m.) for the Division II championship.
There's some unusual NFL action for a Saturday with Houston at Jets (NFL, 4:30 p.m.) and Cleveland at Denver (NFL, 8:20 p.m.).
Hockey includes Los Angeles at Pittsburgh (NHL, 7 p.m.).
Basketball has Utah at Orlando (NBA, 5 p.m.).
Men's college basketball includes Villanova at Kansas (ESPN, noon), Tennessee at Memphis (ESPN2, noon), SMU at Georgetown (Fox Sports 1, noon), Old Dominion at Syracuse (NBC Sports, noon), Purdue vs. Notre Dame (CBS, 1:30 p.m.), N.C. State vs. Penn State (ESPNU, 2 p.m.), Rutgers at Seton Hall (Fox Sports 1, 2 p.m.), Butler vs. Indiana (CBS, 3:45 p.m.), Charleston at VCU (NBC Sports, 4 p.m.), Utah at Kentucky (ESPN2, 5 p.m.), Southern Mississippi at Wichita State (CBS Sports, 5:30 p.m.), Gonzaga at North Carolina (ESPN2, 7 p.m.), Washington vs. Virginia Tech (ESPNU, 7 p.m.), Auburn at UAB (CBS Sports, 7:30 p.m.), Eastern Kentucky at Xavier (Fox Sports 1, 8 p.m.), USC vs. Oklahoma (ESPNU, 9 p.m.), Baylor at Arizona (ESPN2, 11 p.m.) and LSU at St. Mary's (ESPNU, 11 p.m.).
In rugby's European Champions Cup, it's Bath at Leinster (NBC Sports, 12:30 p.m.).
For the NCAA women's volleyball championship, it's Stanford vs. Nebraska (ESPN2, 9 p.m.).
Khalid and Mac DeMarco play a new "Austin City Limits" (PBS, 11 p.m., check local listings).
Matt Damon hosts a new "Saturday Night Live" (NBC, 1130 p.m.) with Mark Ronson and Miley Cyrus as musical guest.