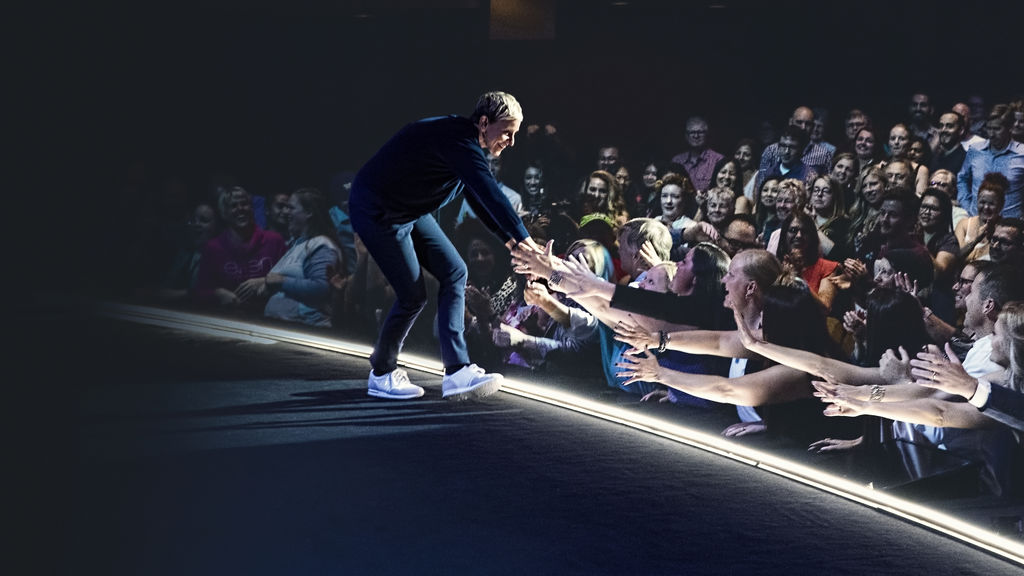 "Ellen DeGeneres: Relatable" (Netflix, streaming) is her first standup comedy special in 15 years, as she reaches for something beyond daytime- and game show host persona in a show taped in Seattle.
It comes alongside a fifth season of the unusual Japanese reality show, "Terrace House: Opening New Doors" (Netflix, streaming).
High school students work to restore the oyster population near New York City's Governors Island in the documentary "Take Back the Harbor" (Discovery, 8 p.m.).
If it seems like there are a lot more ads on this time of year, there probably are (there is a Toyotathon going on, don't you know). And there's even more ads on "Greatest Holiday Commercials Countdown 2018" (CW, 8 p.m.), which endeavors to enumerate the 12 best holiday commercials in U.S. history and a few from abroad.
They're all probably better than the holiday-themed viral videos featured on "Greatest Holiday Video Countdown" (CW, 9 p.m.).
Best of them all will be a compendium of Christmas tales on "Drunk History" (Comedy Central, 10 p.m.) with Ken Marino, Rob Corddry and Colin Hanks.
A winner is named on "The Voice" (NBC, 9 p.m.), with guest performances from Cher, Halsey and someone with two names, John Legend. It comes after a one-hour recap of yesterday's final performances at 8.
A winner is also named on "Ink Master" (Paramount, 10 p.m.).
The charming second season of "The Guest Book" (TBS, 10:30 p.m.) ends with one of the final episodes in the beachside guest house, as Matt Walsh guest stars in a tale with a dark "It's a Wonderful Life" undertone, featuring a guardian angel, Michael Kenneth Williams.
Also ending its second season is "Loudermilk" (AT&T Audience Network, 10 p.m.), with Ron Livingston's character coping with his father's death.
Like every other news program, "Real Sports with Bryant Gumbel" (HBO, 10 p.m.) looks into big stories it covered over the past year.
On a new "Lidia Celebrates America" (PBS, 9 p.m.), chef Lidia Bastianich checks in on holiday traditions across the American midwest.
On "Below Deck" (Bravo, 9 p.m.), Adrian is confused by Laura's flirtations.
Josh Gates looks for Jesse James' treasure on "Expedition Unknown" (Travel, 9 p.m.).
The biggest obstacle on "The Challenge" (MTV, 9 p.m.), may be marriage for CT.
Turner Classic Movies nother dip into the Disney vaults brings out the comedies: Fred MacMurray in "The Absent-Minded Professor" (8 p.m.) and "Son of Flubber" (10 p.m.), Tim Conway in "The World's Greatest Athlete" (midnight), Kurt Russell in "The Strongest Man in the World" (2 a.m.) and Don Knotts in "Gus" (4 a.m.) about a mule who was a field goal kicker. In between are some Goofy cartoons: "Double Dribble" (9:40 p.m.), "The Olympic Champ" (3:40 a.m.) and "How to Play Football" (5:40 a.m.).
During the day, it's the work of director George Stevens, born this date in 1904, with "Alice Adams" (7 a.m.), "The Nitwits" (8:45 a.m.), "Swing Time" (10:15 a.m.), "Quality Street" (12:15 p.m.), "Vivacious Lady" (1:45 p.m.), "Gunga Din" (3:30 p.m.) and "Woman of the Year" (5:45 p.m.).
Hockey has Nashville at Chicago (NBC Sports, 8:30 p.m.).
Basketball includes Lakers at Brooklyn (NBA, 7:30 p.m.).
It's UAB vs. Northern Illinois (ESPN, 7 p.m.) in the Boca Raton Bowl.
Men's college basketball includes Princeton at Duke (ESPN2, 6 p.m.), Appalachian State at Georgetown (Fox Sports 1, 6:30 p.m.), Xavier at Missouri (ESPNU, 7 p.m.), Buffalo at Syracuse (ESPN2, 8 p.m.), Presbyterian at Butler (Fox Sports 1, 8:30 p.m.) and Creighton at Oklahoma (ESPNU, 9 p.m.).
Women's games include Mississippi State at Oregon (ESPN2, 10 p.m.).
Daytime Talk
Kelly Ripa and Ryan Seacrest: Lin-Manuel Miranda, Saoirse Ronan, Amy Nofziger, Jeffrey Dean Morgan. The View: Michael B. Jordan, Kristin Chenoweth (rerun). The Talk: Laurence Fishburne, Nischelle Turner, Carrie Ann Inaba, La Toya Jackson (rerun). Ellen DeGeneres: Ryan Reynolds, Gwen Stefani (rerun). Wendy Williams: Jillian Michaels. The Real: Dionne Warwick.
Late Talk
Stephen Colbert: Emily Blunt, Rep Adam Schiff, St. Paul & the Broken Bones. Jimmy Kimmel: John Cena, Elza Gonzalez, Skylar Grey. Jimmy Fallon: Michelle Obama. Seth Meyers: Amy Adams, Stephan James, Pusha T, Richard Danielson. James Corden: Pharrell Williams, Gwen Stefani, Lin-Manuel Miranda, Emily Blunt. Carson Daly: Craig Robinson, Aubrey Plaza, the Wombats, Andi Matichak (rerun). Trevor Noah: Pusha T.