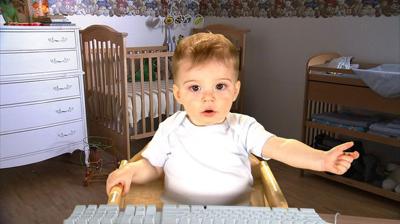 Viewers vote on the "Super Bowl Greatest Commercials" (CBS, 8 p.m.), while there is also a glimpse of this year's ads coming this Sunday. Boomer Esiason and Daniela Ruah host.
Originally scheduled for tonight, the State of the Union will likely now occur in a week, due to the government shutdown. Instead there is "Drunk History" (Comedy Central, 10 p.m.) takes up some baseball stories including the 1919 Black Sox scandal.
Marisa Tomei, Sheryl Sandberg and Kal Penn look at the immigrant past in their families on "Finding Your Roots with Henry Louis Gates Jr." (PBS, 8 p.m., check local listings).
A new stand-up special stars "Gabriel 'Fluffy' Iglesias: One Show Fits All" (Netflix, streaming).
Judge Wilson invites the clerks over for BBQ on "Good Trouble" (Freeform, 8 p.m.).
Shifting football demographics in small-town America is a topic on the 25th season start for "Real Sports with Bryant Gumbel" (HBO, 10 p.m.).
Jake tries marketing makeup for men on "Corporate" (Comedy Central, 10:30 p.m.).
On "My Big Fat Fabulous Life" (TLC, 8 p.m.), Buddy goes missing in Columbus.
Sherloque is looking for a way to get access to Grace's memories on "The Flash" (CW, 8 p.m.).
Two hours of "Ellen's Games of Games" (NBC, 8 p.m.) is two too much.
Surgery finally occurs on "I Am Jazz" (TLC, 9 p.m.), after two seasons of talking about it.
"Carl Weber's The Family Business" (BET, 9 p.m.) closes its first season.
Liz runs tests on Max to gauge his powers on "Roswell, New Mexico" (CW, 9 p.m.).
Pat Spain looks for the Irish Crown Jewels on "Legend Hunter" (Travel, 10 p.m.).
"American Experience" (PBS, 9 p.m., check local listings) reruns a 21 year old report on the Dust Bowl.
Mrs. Adler regrets letting Ms. Cannon help her on "Teachers" (TV Land, 10 p.m.).
On "Project Blue Book" (History, 10 p.m.), Quinn and Hynek are led to a secret program.
The woman in the center of "The Many Sides of Jane" (A&E, 10 p.m.) reconnects with her mother.
On "Below Deck" (Bravo, 9 p.m.), Adrian's idea for a centerpiece with living sea creatures is rejected.
The month-long Thursday night salute to Kathryn Grayson on Turner Classic Movies closes out with the musicals "Show Boat" (8 p.m.), "Lovely to Look At" (10 p.m.), "The Desert Song" (midnight) and "Kiss Me Kate" (2 a.m.). Earlier today are films from Ernst Lubitsch: "The Student Prince in Old Heidelberg" (11 a.m.), "The Merry Widow" (1 p.m.), "Ninotchka" (2:45 p.m.), "The Shop Around the Corner" (4:45 p.m.) and "That Uncertain Feeling" (6:30 p.m.).
NBA action includes New Orleans at Houston (TNT, 8 p.m.) and Philadelphia at Lakers (TNT, 10:30 p.m.).
Hockey has Philadelphia at Rangers (NBC Sports, 7:30 p.m.).
Men's college basketball has Northwestern at Maryland (Fox Sports 1, 7 p.m.), Virginia at N.C. State (ESPN2, 7 p.m.), Kansas at Texas (ESPN, 7 p.m.), North Carolina at Georgia Tech (NBC Sports, 7 p.m.), Georgia at Arkansas (ESPNU, 7 p.m.), Saint Joseph's at Dayton (CBS Sports, 8 p.m.), Ohio State at Michigan (ESPN2, 9 p.m.), Kentucky at Vanderbilt (ESPN, 9 p.m.), Pittsburgh at Clemson (ESPNU, 9 p.m.) and Nevada at UNLV (ESPN2, 11 p.m.).
Daytime Talk
Kelly Ripa and Ryan Seacrest: Matthew Broderick, Padma Lakshmi, Terry & Heather Dubrow. The View: Howard Schultz. The Talk: Marcia Gay Harden, Vanessa L. Williams. Ellen DeGeneres: Courteney Cox, Christina Aguilera Lizzo. Wendy Williams: Michael Bolton, Carla Hall, Michael Yo, Brian Balthazar, Devyn Simone.
Late Talk
Stephen Colbert: Chris Christie, Yvette Nicole Brown. Jimmy Kimmel: Viola davis, Charles P. Pierce, Cypress Hill. Jimmy Fallon: Matthew Broderick, Spike Lee, Maddie Ziegler, Alysa Liu, Yo Gotti with Lil Baby. Seth Meyers: Rosie O'Donnell, Nicolle Wallace, DaniLeigh, Brendan buckley. James Corden: Regina Hall, Eugene Levy, Charlie Day. Carson Daly: Jameela Jamil, Busy Philipps, Lily Allen, Erica Rhodes (rerun). Trevor Noah: Sallie Krawcheck. Conan O'Brien: Stephen Yuen, Corey Rodrigues.