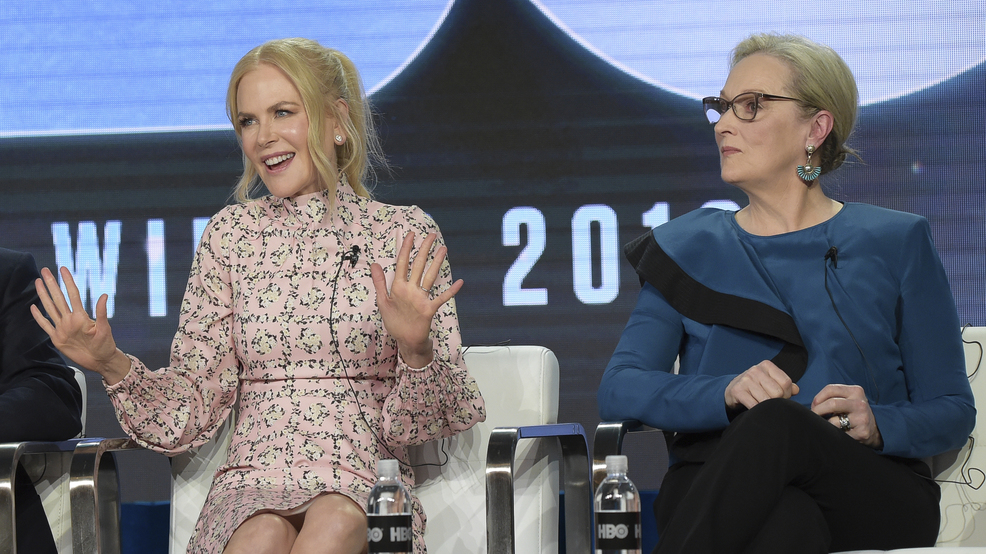 After an afternoon of mostly dour documentaries of fraud, and a bracing limited series about nuclear meltdown
After days of rain, cool weather and clouds, the sun came out at the Television Critics Association winter press tour in Pasadena and in an HBO session kicking off six days of cable and streaming services, HBO brought the stars.
To the already impressive array of stars from "Big Little Lies" returning for a second season in June — Reese Witherspoon, Nicole Kidman, Laura Dern and Shailene Woodley — came a supernova, Meryl Streep herself, who will join the glossy mystery series as Kidman's mother-in-law.
"I loved this show," said the three-time Oscar winner, who has the record for number of nominations. "I was addicted to it. I thought it was an amazing exercise in what we know and what we don't know about people; about family, about friends, how it flirted with the mystery of things — what was unsaid, unshown, unknown was sort of the pull, the gravitational pull of the piece. And it was so exciting. So, when I got the chance to join the crew, I thought, Yeah!"
"Big Little Lies," based on the book of the same name, was always meant to be a single season, says Kidman, who is also an executive producer. But "there was an enormous demand from the audience," Kidman says. "I've never been in something that reached so far, globally."
The new season will do with the aftermath of the first, about dark secrets of domestic abuse, rape and murder in a wealthy seaside community.
"It ended on a very open note of what's going to happen next," says David E. Kelley, its writer and executive producer. "Will the lie have a life? Will it have a malignancy? What will it do to the equation of these friends, these relationships, the marriage? So, there was a lot of fertile storytelling ground to be mined."
"We all had unresolved issues," says Witherspoon of the ensemble's characters. "We've experienced trauma, we see each other's trauma, but how do we cope with it? And how do we go on and how do we carry on? So that was a big theme that we explored in season two."
"This exploration of abuse and its provenance, where it comes from, why it continues, how people survive it, all those questions were in the air," Streep says when season one first aired.  "Big Little Lies," she says, "fed something that was a hunger, that had a ready audience."
Seeing the script, Streep says, "you smell that it's necessary. You really feel like it owns its place and you want to be — you want to contribute to it. You feel like you have something to say about it. This piece, for me, because I have four grown children, I'm playing someone who is dealing with whatever the deficits of her parenting were, and the mysteries in that, and how you can't go back in time and fix something. All those issues, that was interesting to me. And it felt real, honest, honestly investigated. David really understood that part. I felt like I had something to give to this piece."
"It feels very exciting and good for me to be able to portray a character who has had extreme trauma in her life and who now is able to work on the other end of that trauma," says Woodley, the youngest of the central cast of women. "What does it look like once this ghost in her closet is gone? How does she cope from that, and how does she move forward in a way that's healthy for her and her son, while also continuing to co-exist with a bunch of women who maybe aren't in the same boat as her — from her history, from her past — but moving forward are aligned or in commitment to standing with one another, helping one another?"
The seven-episode second season ought to wrap up the story, Kelley says. "We e like where our closure is at the end of Season 2, so that will probably be it."
"That's what you said last time," Kidman says.