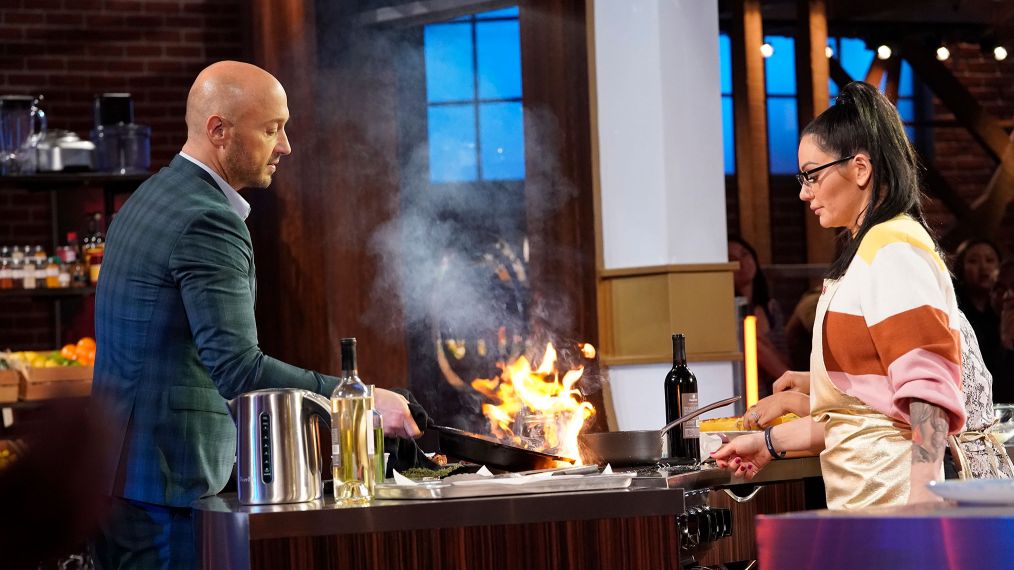 Because there's apparently not enough "MasterChef" spin-offs, here's a new installment "MasterChef Celebrity Family Showdown" (Fox, 8 p.m.), a cooking competition that considers as celebrities such people as Lisa Vanderpump, Snooki and JWoww to be celebrities. Also, Johnny Weir goes up against Tara Lipinski.
A strange season of "Survivor" (CBS, 8 p.m.), clogged with denizens on the Edge of Extinction, reaches its night-long finale.
This actually started streaming yesterday: a live comedy show where contemporary stars such as Tiffany Haddish, Neil Patrick Harris, Taye Diggs, Maria Bamford, Margaret Cho, Ron Funches and others take on classic sketches that appeared a half-century ago on "Laugh-In." Original cast members Lily Tomlin and JoAnne Worley are also part of "Still Laugh-In: The Stars Celebrate" (Netflix, streaming).
Archie, Jughead, Betty and Veronica all receive mysterious invitations on the third season finale of "Riverdale" (CW, 8 p.m.).
People with Tourette's syndrome or autism try to get into the job market on the new series "The Employables" (A&E, 10 p.m.).
"Southern Charm" (Bravo, 8 p.m.), a series full of people who have little of it, returns for a sixth season.
"Full Frontal with Samantha Bee" (TBS, 10:30 p.m.) may have some reaction to new legislation from Alabama and Georgia.
Following a terrific, star-filled vampire council episode last week, Nadja trains Jenna on how to take her victim as Nndor applies for U.S. citizenship on a new episode of "What We Do in the Shadows" (FX, 10 p.m.).
"Nova" (PBS, 9 p.m., check local listings) looks into who first rode horses.
"Jane the Virgin" (CW, 9 p.m.) has a hard time dealing with Rafael avoiding her.
A final season of "Wahlburgers" (A&E, 9 p.m.) begins.
One casualty of the week is "Whiskey Cavalier" (ABC, 10 p.m.), canceled after (not quite) one season.
Smoothie and Hailey take a trip into the past on "Happy!" (Syfy, 10 p.m.).
Caroline has news to share on "Chicago Med" (NBC, 8 p.m.), a serial arsonist case is reopened on "Chicago Fire" (NBC, 9 p.m.), and Antonio tries to take down a major drug dealer on "Chicago P.D." (NBC, 10 p.m.)
Sonja and Barbara head upstate to see Luann's new house on "The Real Housewives of New York City" (Bravo, 9 p.m.).
Couples come and go on "Paradise Hotel" (Fox, 9 p.m.).
They think they know who killed Nolan on "Pretty Little Liars: The Perfectionists" (Freeform, 8 p.m.).
The Wednesday night salute to Paul Newman continues with "Hud" (8 p.m.), "Butch Cassidy and the Sundance Kid" (10 p.m.), "The Life and Times of Judge Roy Bean" (midnight), "The Outrage" (2;15 a.m.) and "The Left-Handed Gun" (4 p.m.). Born this day in 1905, Joseph Cotten hosts earlier today in "From the Earth to the Moon" (8:30 a.m.), "White Comanche" (10:30 a.m.), "Journey Into Fear" (12:15 p.m.), "Gaslight" (1:30 p.m.), "The Man with a Cloak" (3:30 p.m.), "Walk Softly, Stranger" (5 p.m.) and "The Magnificent Ambersons" (6:30 p.m.).
The NBA Eastern Conference Playoffs begin with Toronto at Milwaukee (TNT, 8:30 p.m.).
Stanley Cup Playoffs have San Jose at St. Louis (NBC Sports, 8 p.m.).
Baseball includes Angels at Minnesota (MLB, 1 p.m.), Toronto at San Francisco (MLB, 4 p.m.) and San Diego at Dodgers (MLB, 10 p.m.).
In cycling, the Tour of California (NBC Sports, 4 p.m.) reaches stage 4.
Daytime Talk
Kelly Ripa and Ryan Seacrest: Yara Shahidi, Margo Martingale, George Salazar. The View: Craig Ferguson, Yara Shahidi. The Talk: Anjelica Huston, Ellen K. Ellen DeGneres: Taylor Swift, José Andrés. Wendy Williams: Blac Chyna. The Real: Aisha Hinds, O'Shea Jackson Jr.
Late Talk
Stephen Colbert: Jon Favreau, Jon Lovett, Tommy Vietor, BTS. Jimmy Kimmel: Allison Williams, Patton Oswalt, Tedeschi Trucks Band. Jimmy Fallon: Howard Stern, Of Monsters and Men. Seth Meyers: Margo Martindale, Pkew Pkew Pkew. James Corden: Octavia Spencer, Henry Winkler. Carson Daly: Michael Emerson, T. Hardy Morris, Kathryn Newton. Conan O'Brien: Ron Funches (rerun).