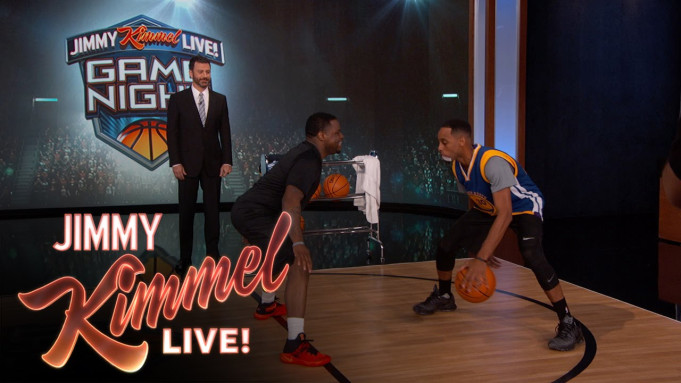 The NBA Finals finally begin — and on foreign soil! It's Game 1 of Golden State Warriors at Toronto Raptors (ABC, 9 p.m.). The start of the series also means the start of the 12th annual prime time "Jimmy Kimmel Live: Game Night" (ABC, 8 p.m.) with his first guests, Jennifer Aniston and Adam Sandler.
The brainiest sport on TV is the National Spelling Bee (ESPN2, ESPNU, 10 a.m., 8:30 p.m.) which has its finals.
Competition is also involved in the grand finale of "RuPaul's Drag Race" (VH1, 9 p.m.).
The last of the 10 episode first season of Jordan Peele's revived "The Twilight Zone" (CBS All Access, streaming) premieres.
In the imported Indian film "Chopsticks" (Netflix, streaming), Mithilia Palkar plays a woman who asks a conman (Abhay Deol) to help recover her stolen car.
The Brazilian documentary series "Bandidos na TV" (Netflix, streaming) is about a TV host accused of killing to up his ratings.
The South Korean film "Svaha: The Sixth Finger" (Netflix, streaming) concerns a Buddhist monk investigating a strange cult.
Jordan "Klepper" (Comedy Central, 10 p.m.) looks into struggles of Native Americans.
The condensed (and cancelled) "Paradise Hotel" (Fox, 8 p.m.) runs its second to last episode.
On "iZombie" (CW, 8 p.m.), Live looks into the death of a wealthy teen.
Cards B is guest judge as the final five become the final four on "Project Runway" (Bravo, 9 p.m.).
On "Life in Pieces" (CBS, 9:30 p.m.), heather is stumped by Sophia's homework.
A crime back in the U.S. calls the duo on "Elementary" (CBS, 10 p.m.) to leave their London home.
Tiffany Haddish and Meghan Trainor join "Martha & Snoop's Potluck Dinner Party" (VH1, 10:30 p.m.).
"Marvel's Cloak & Dagger" (Freeform, 8 p.m.) has a first season finale battle.
Jack is kicked off his Harvard phone plan on the first of two episodes of "A.P. Bio" (NBC, 8 and 8:30 p.m.). It's followed by a pair of episodes of "Abby's" (NBC, 9:30 p.m.).
Pauly invites a fake daughter to the house on "Double Shot at Love with DJ Pauly D & Vinny" (MTV, 8 p.m.).
Murphy feels neglected on "In the Dark" (CW, 9 p.m.).
"Desus & Mero" (Showtime, 11 p.m.) welcome Ava DuVernay.
Big Bird, Darren Criss, Lele Pons and Jason Schwartzman play the season premiere of "Lip Sync Battle" (Paramount, 10 p.m.), which includes a Mariah Carey tribute.
Turner Classic Movies ends its month-long Thursday night series of WWII movies with "The Best Years of Our Lives" (8 p.m.), "Hail the Conquering Hero" (11:15 p.m.), "Till the End of Time" (1:15 a.m.), "Pride of the Marines" (3:15 a.m.) and "The Enchanted Cottage" (5:30 a.m.).
Earlier in the day, the films of director Howard Hawks, born this day in 1896, are showcased with "The Big Sleep" (7 a.m.), "Rio Bravo" (9 a.m.), "Monkey Business" (11:30 a.m.), "Only Angels Have Wings" (1:30 p.m.), "To Have and Have Not" (3:45 p.m.) and "The Outlaw" (5:45 p.m.).
Baseball includes St. Louis at Philadelphia (MLB, 1 p.m.) and Boston at Yankees (MLB, 7 p.m.).
There is first round play in golf's U.S. Women's Open (Fox Sports 1, 2:30 p.m.).
Soccer's FIFA U-20 World Cup has New Zealand vs. Uruguay (Fox Sports 2, noon) and U.S. vs. Qatar (Fox Sports 2, 2:30 p.m.).
College softball's world series begins with Arizona vs. Washington (ESPN, noon), Minnesota vs. UCLA (ESPN, 2:30 p.m.), Oklahoma State vs. Florida (ESPN2, 7 p.m.) and Alabama vs. Oklahoma (ESPN2, 9:30 p.m.).
Daytime Talk
Kelly Ripa and Ryan Seacrest: Jeff Daniels, Daniel Dae Kim, Chris Byrne. The View: Sen. Elizabeth Warren. The Talk: Octavia Spencer, Carnie Wilson. Ellen DeGeneres: Shailene Woodley, Melissa McCarthy, Tiffany Haddish, Elisabeth Moss. Wendy Williams: Devyn Simone, Cassie Post. The Real: Patti Stanger (rerun).
Late Talk
Stephen Colbert: Gayle King, Anthony Mason, Tony Dokoupil, Pete Holmes, the National (rerun). Jimmy Kimmel: Zach Galifianakis, Rep. Nancy Pelosi, Alessia Cara. Jimmy Fallon: Will Smith, Laurie Metcalf, Phil Hanley (rerun). Seth Meyers: Glenn Howerton, Desi Lydic, Craig Finn (rerun). James Corden: Sharon Osbourne, Sam Richardson, Ryan Conner (rerun). Carson Daly: Jared Harris, Morgxn, Diane Guerrero (rerun). Trevor Noah: Christian Siriano. Conan O'Brien: John Bradley (rerun).