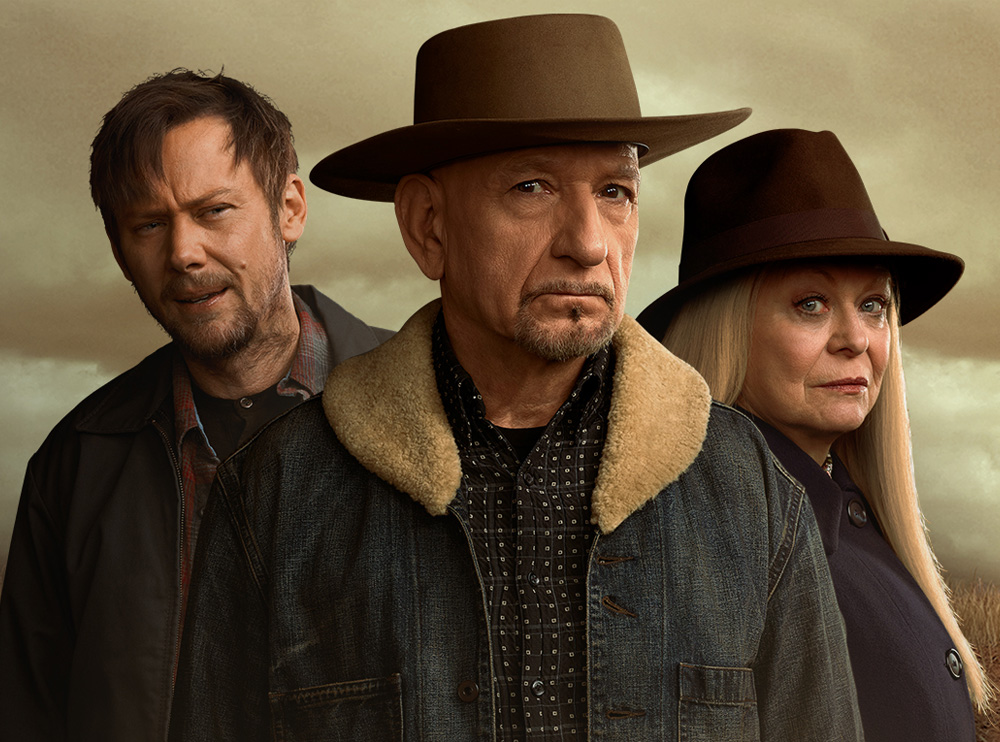 Whenever people ask for a TV recommendation, I have always offered "The Patriot" (Amazon Prime, streaming), Steve Conrad's quirky, low key but effective European spy thriller that has had a couple of seasons (still online, go to it!) and is awaiting a green light for a third.
In the meantime, Conrad takes his same sensibilities, which are footed in deep philosophic considerations, non-conventional plot turns and swell music into a new series I highly recommend, "Perpetual Grace LTD" (Epix, 10 p.m.).
Yes, it has a terrible title (as did "Patriot"), and it was switched from the even worse "Our Lady LTD." But its cast list is remarkable, even in an era of quality TV. Jimmi Simpson, memorable from whatever he's been in, from "Westworld" and "House of Cards" to particularly tasty episodes of "Black Mirror," stars as a somewhat dazed drifter, a former fireman still haunted by his last big mistake.
He runs into a guy who offers a quick buck, ripping off his own parents who themselves are ripping off parishioners in a church scam, and takes him up on it. Like that other rip-off-the-parents thriller "Before the Devil Knows Your Dead," it all goes wrong, in part because the parents are so formidable.
Sir Ben Kingsley seems at first miscast as a rural U.S. preacher, but he represents the kind of outsider the West attracts. Alongside him is Oscar nominee Jacki Weaver ("Silver Linings Playbook"). Together they are more resourceful than expected.
The supporting cast is full of delights, not the least of which is Luis Guzmán as a Mexican lawman, who goes along with the plot so he can go away with his mistress.
Terry O'Quinn is something of a Conrad mainstay because of his ability to show an unerring moral center. Here he's a lawman investigating the son Simpson's character is impersonating. Kurtwood Smith, who like O'Quinn was also in "Patriot," is part of the cast eventually as well.
Conrad specializes in minor characters who make an impression and bring full stories with them. Among them here is a teenage pawn shop operator who is a victim of violence (which the perpetrator is very sorry about).
It was too soon to tell (from two preview episodes) what direction "Perpetual Grace LTD" would go next, but that's one of the great joys of a series that at once seems the best new show of the summer and the least publicized. Will its obscurity make it even more cherished, as was, say, "Rectify"? Will its cult rumblings at least boost it on wider streaming platforms?  Will it attract more subscribers to Epic, whose other notable originals have included the TV adaptation of "Get Shorty"?
One of the striking thing about the series are the sweeping vistas of New Mexico, providing those awesome visuals you might have been missing since "Breaking Bad" ended.
I asked Conrad about the importance of the setting when he was at the TV Critics Association press tour earlier this year.
"Contemporary New Mexico feels an awful lot like the Wild West," he said. "And we've all spent a good deal of time there. And there's just endemic, rampant drug use and a wildness to that place that makes you wonder if anybody's watching. And at the same time, there is this supremely beautiful, natural world that every time you care to look up you can be dazzled by. So those two things exist in that place and they're important texture and fabric for our show which lives in both of those worlds, the ugliness of life down on the ground and then the splendor of the world that we share together. New Mexico is the only place to do that as well as we're doing it."
Said Sir Ben Kingsley, "I feel and appreciate the landscape as Biblical," Kingsley says. "All of us are rooted in very basic, simple, pure archetypes — the Bringer of Chaos, the Bringer of Reason, the Bringer of Violence, the Lost One. They're all on this Biblical landscape which we as actors find tremendously exhilarating and releasing."
Conrad acknowledged the use of O'Quinn as "part of what is now becoming a larger and stronger family of fellow artists who care to continue to work together."
Knowing O'Quinn was in early on, he and Bruce Terris were able to write for his strengths. "If  there is a moral compass in 'Perpetual Grace LTD,' it's Terry's character," Conrad says. "But he has his own complexities and deficiencies that we examine. But he's a lawman and most of our characters are in the midst of breaking the law. So he plays that role, the detective in the noir."
Conrad says the new series is in the tradition of the film noir genre just as "Patriot" was working in the traditions a spy thriller. "But we have a new obligation," he says, in an era when a story can be told over a 10-hour expanse, which is the length of season one, instead of a two hour movie, "which is to explore the possibilities of this new art form."
That allows them to go deeper to explore characters. "At some point, the characters must have these reservoirs of some other element besides 'befuddled,' 'in too deep.' They must grasp some other strengths to get us to the finish line of the story."
And just as they're trying to lure viewers in with the story, they are also trying to do so with the look.
"One of the things I say to our fellow filmmakers is, imagine someone walking by a television— and I would like for there to be images that arrest them," Conrad says. "Like, on their way with the laundry basket from the bedroom to the laundry, I would love for them to stop because the photography is eye-catching.
"I would like for them to wonder for a long while what year this film was created. To puzzle over that. And, I think in the moments where you can make an audience puzzle over that, they start to become absorbed in that world versus their world," he says.
To put it simply, he adds, "We say, 'Does it cast a spell'?"
Likewise, the music is used to build a world, he says.
Music on "Patriot" "became another tool in a toolkit and we were reluctant to walk away from it." Conrad says. So many of the musicians and the composer from that show also work on "Perpetual Grace." "It's not as musical a show as "Patriot," he says, "but there are songs that were written specifically to mine out what we think are the important elements of each episode."
All three of the leads praised the writing of the show and excitement at participating despite some of the elemental hardships.
"I have to say, in my 56 years of acting, this is one of my favorite jobs ever," says Weaver. "And I'd also like to say it's not easy. Most of it is shot on location and sometimes we are actually acting while the snow is coming down and there's an umbrella over the camera. And I keep saying to myself: Imagine what they went through on 'Revenant,' don't complain!"