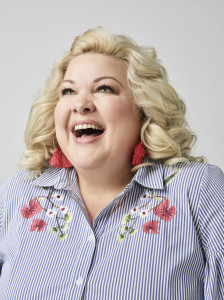 Who are "The Radkes" (USA, 11 p.m.)? It's a family led by former backup singer Melissa Radke, right, a self-described "big, loud Southern mom" and author of "Eat Cake, Be Brave," She also appears to be an annoying parent to her adopted children in the manner of  "Chrisley Knows Best" (USA, 10 p.m.), which precedes it.
A winner is named on the two hour, seventh season finale of "MasterChef Junior" (Fox, 8 p.m.), but other kids are enlisted to dance and be yelled at on a three hour season premiere of "Dance Moms" (Lifetime, 8 p.m.), with Abby coming out of her cancer treatments to do so.
Auditions continue on "America's Got Talent" (NBC, 8 p.m.)
Will.I.am trolls "Songland" (NBC, 10 p.m.) for a new Black Eyed Peas hit.
Kat doubts herself on the eve of her election on "The Bold Type" (Freeform, 8 p.m.).
They're fishing near the Russian line on "Deadliest Catch" (Discovery, 9 p.m.).
On "Games People Play" (BET, 9 p.m.), Marcus and Vanessa are placed at the scene of the crime.
Kyle plans a girls' trips to Provence on "The Real Housewives of Beverly Hills" (Bravo, 9 p.m.).
On "Blood & Treasure" (CBS, 10 p.m.), Danny and Lexi seek Cleopatra's sarcophagus in an Austrian castle.
Lorena throws herself a birthday lunch on "Texicanas" (Bravo, 10 p.m.).
It's Christmas on "Sweet Home Sextuplets" (TLC, 10 p.m.).
"The Last O.G." (TBS, 10:30 p.m.) borrows from Public Enemy for an episode title: "Fight the Power."
Turner Classic Movies shows counter culture films from 50 years ago on the next three Tuesdays, starting with "Woodstock: The Director's Cut" (8 p.m.) — a four-hour version that was shot at the 1969 event — along with "Easy Rider" (midnight), "The Bed Sitting Room" (1:45 a.m.) and "The Big Cube" (3:30 a.m.).
They follow an afternoon of horror on TCM that has "The Curse of Frankenstein" (11 a.m.), "Horror of Dracula" (12:30 p.m.), "Our Mother's House" (2 p.m.), "The Woman in White" (4 p.m.) and "The Haunting" (6 p.m.).
Baseball includes Yankees at Toronto (MLB, 7 p.m.).
It's the men's and women's quarterfinals at the French Open (Tennis, 8 a.m.).
In soccer, the FIFA U-20 World Cup round of 16, it's U.S. vs. France (Fox Sports 2, 11:30 a.m.) and Argentina vs. Mali (Fox Sports 2, 2:30 p.m.).
The college softball world series final has UCLA vs. Oklahoma (ESPN, 8:30 p.m.).
And in women's volleyball, it's South Korea at U.S. (NBC Sports, 8:30 p.m.).
Daytime Talk
Kelly Ripa and Ryan Seacrest: Damian Lewis, Dan White. The View: Rep. Eric Swalwell, Wanda Sykes. The Talk: Gwen Stefani, Brigitte Nielsen. Ellen DeGeneres: Harrison Ford, Dr. Ruth Wertheimer, Lin-Manuel Miranda, Emily Bear. Wendy Williams: Waka Flocka, Tammy Rivera (rerun). The Real: Ron Cephas Jones (rerun).
Late Talk
Stephen Colbert: Emma Thompson, Adam Scott. Jimmy Kimmel: Sophie Turner, James McAvoy, Jennifer Lawrence, Michael Fassbender, Jessica Chasten, Nicholas Hoult, Tye Sheridan, Aloe Blacc. Jimmy Fallon: Lin-Manuel Miranda, the cast of "Hamilton," Jose Andres, Bad Bunny, Jose Feliciano and Ozuna (rerun). Seth Meyers: Bryan Cranston, Eric Stonestreet, Chromeo, Sebastian Thomson (rerun). James Corden: Isla Fisher, Chiwetel Ejiofor, the Jonas Brothers (rerun). Carson Daly: Baron Vaughn, Open Mike Eagle, Feels, Kimrie Lewis (rerun). Trevor Noah: Amber Scorch. Conan O'Brien: Chelsea Handler, Rhys Nicholson.