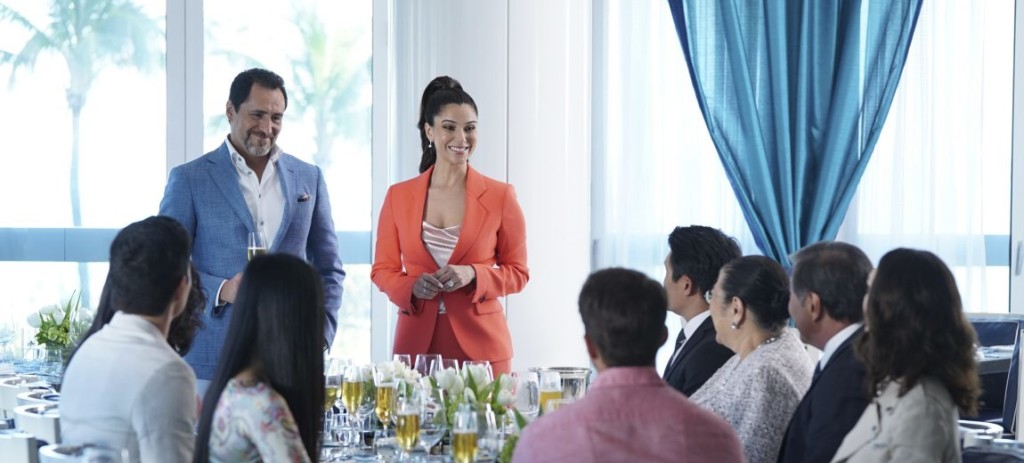 The thing I like about the new summer series "Grand Hotel" (ABC, 10 p.m.) is that it mostly knows what it is: frothy, light, colorful and exaggerated in the style of the telenovelas it emulates. While it has nothing to do with the 1932 classic of the same name, it concerns the ins and out of a big Miami Beach hotel and its controlling family. And aside from the beautiful cast bickering about inheritance there is Demián Bichir (so good in "The Bridge") as the patriarch. Producer Eva Longoria will only be glimpsed.
It will seem all the more substantive after another two hour edition of "The Bachelorette" (ABC, 8 p.m.), on which Luke won't leave and they all go to Latvia. And it will probably be able to be watched the same way — you can leave the room for minutes at a time and not miss anything.
Zachary Levi hosts the 2019 MTV Movie & TV Awards (MTV, 9 p.m.), a show as much about promoting upcoming movies as praising past ones. And it's not even live any more; it was taped Saturday night. Lizzo and Bazzi are scheduled to perform, and special awards will go to Dwayne "The Rock" Johnson and Jada Pinkett Smith.
A new German TV series "Das Boot" (Hulu, streaming) takes up where the well-regarded World War II submarine film left off, concentrating on the French resistance as well as the German U-boat U-612. The large cast includes a few recognizable Americans, including Lizzy Caplan and Vincent Kartheiser. The eight-episode first season is directed by Andreas Prochaska.
The third season of "The Missing" (Netflix, streaming) moves to the online service (as "Designated Survivor" (Netflix, streaming) did earlier this month. This series, which was once on Starz, and is a co production with the BBC, concentrated on a boy who goes missing during vacation. A subsequent season was about a missing girl in Germany. Both relied on Tchéky Karyo as the French detective on both cases. She returns in the third, which also features Tom Hollander and Anastasia Hille.
The sixth (!) season premiere of "Penn & Teller: Fool Us" (CW, 8 p.m.) features David Copperfield.
Even more surprising is the 15th season start for "Whose Line Is It Anyway?" (CW, 9 p.m.). Chris Hardwick is guest.
Los Angeles auditions are set for "So You Think You Can Dance" (Fox, 9 p.m.).
"American Ninja Warrior" (NBC, 8 p.m.) has qualification rounds in Oklahoma City.
Fathers and daughters try to "Beat Shazam" (Fox, 8 p.m.).
Like a reality TV bad penny, here's the painful process of inflicting herself on others in "Kate Plus Date" (TLC, 10 p.m.).
It's blondes all night on Turner Classic Movies with "Bombshell" (8 p.m.), "Contempt" (9:45 p.m.), "The Glass Key" (11:45 p.m.), "Let's Make Love" (1:15 a.m.), "The Swan" (3:30 a.m.) and "Move Over Darling" (5:30 a.m.). During the day, they salute actor Ralph Bellamy, born this day in 1904, with "Flight Angels" (6 a.m.), "Headline Shooter" (7:30 a.m.), "This Man is Mine" (8:45 a.m.), "This Man is Mine" (8:45 a.m.), "Fools for Scandal" (10:15 a.m.), "Footsteps in the Dark" (11:45 a.m.), "Brother Orchid" (1:30 p.m.), "Sunrise at Campobello" (3:15 p.m.) and "The Professionals" (5:45 p.m.).
Baseball includes Tampa Bay at Yankees (MLB, 7 p.m.) and San Francisco at Dodgers (ESPN, 10 p.m.).
Women's world cup soccer includes China vs. Spain (Fox Sports 1, noon), South Africa vs. Germany (Fox, noon), South Korea vs. Norway (Fox Sports 1, 3 p.m.) and Nigeria at France (Fox, 3 p.m.).
Baseball's college world series has Texas Tech vs. Arkansas (ESPN, 2 p.m.) and Michigan vs. Florida State (ESPN, 7 p.m.).
The Concacaf Gold Cup soccer has Curacao vs. El Salvador (Fox Sports 1, 7 p.m.) and Honduras at Jamaica (Fox Sports 1, 9:30 p.m.), It's Japan vs. Chile (Telemundo, 7 p.m.) in the Copa America.
Daytime Talk
Kelly Ripa and Ryan Seacrest: Naomi Watts, John Leguizamo, Anderson Cooper. The View: Eva Longoria, Roselyn Sánchez. The Talk: Bonnie Hunt. The Real: The Game (rerun).
Late Talk
Stephen Colbert: Dax Shepard, Preet Bharara, Lukas Nelson & Promise of the Real. Jimmy Kimmel: Christina Applegate, Anthony Jeselnik, Rob Thomas. Jimmy Fallon: Keegan-Michael Key, Horatio Sanz, Perry Farrell. Seth Meyers: Kevin Bacon, Cobie Smulders, Jordan Klepper, Jessica Bordeaux. James Corden: Tom Hanks, Gillian Anderson, David Blaine, Team USA vs. Team UK Dodgeball with Michelle Obama. Carson Daly: Alyson Hannifin, Joji Deafheaven, Nico Santos (rerun). Trevor Noah: Christine Legarde. Conan O'Brien: Patton Oswalt (rerun).