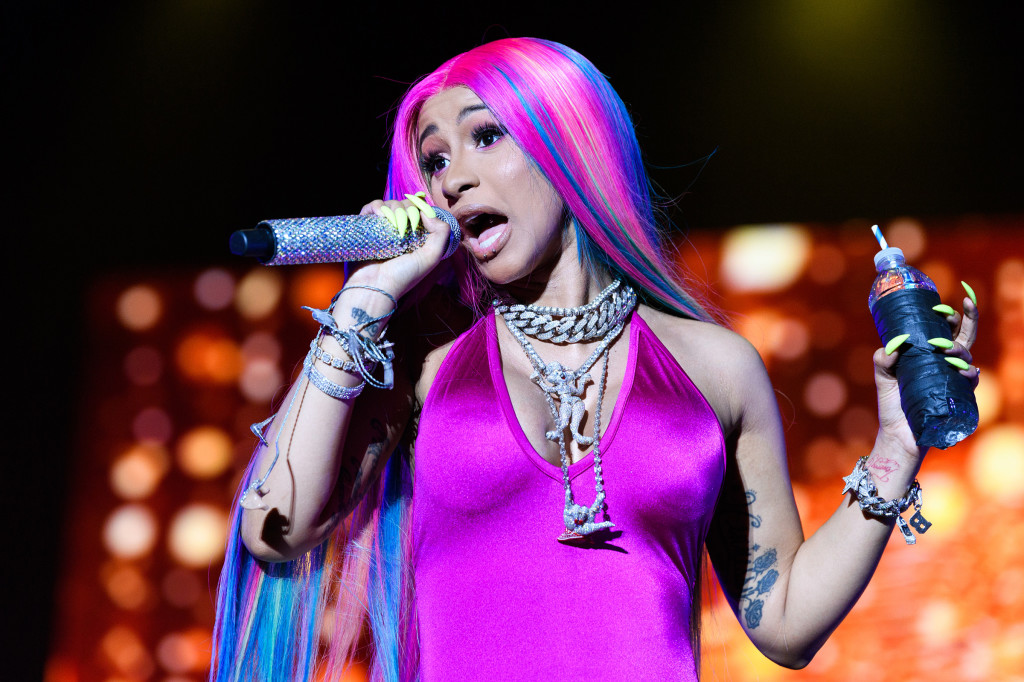 Regina Hall hosts the 2019 BET Awards (BET, 9 p.m.) where Cardi B, above leads in nominations with seven. She'll also perform, as will Lizzo, Migos, DJ Khaled, H.E.R., Mustard, Lil Baby, Kiana Lede, and Lil Nas X, in a dual performance with Billy Ray Cyrus. Mary J. Blige, Tyler Perry and Nipsey Hussle will receive special recognition.
Two episodes end the short second season of "Vida" (Starz, 9 p.m.).
The prospect of death is expected to draw you to the prime time summer stunt programming of "Highwire Live in Times Square with Nik Wallenda" (ABC, 8 p.m.), as siblings Nik and Liana Walled cross the crossroads. Michael Strahan and Erin Andrews stay on the ground and fret.
the 10th anniversary of the singer's death is the occasion for "The Michael Jackson Story" (Reelz, 9 p.m.).
The only British territory occupied by the Nazis is recalled in the documentary "Adolf Island" (Smithsonian, 10 p.m.), which is really about Alderney.
Hope things are happening enough in the park to fill a four night event "Yellowstone Live" (National Geographic, 9 p.m.).
A finale comes for the short season of "Luther" (BBC America, 8 p.m.).
On "Burden of Truth" (CW, 8 p.m.), Joanna has to deal with her father.
"Our Cartoon President" (Showtime 8 p.m.) hosts the Supreme Court at Mar-A-Logo and Bret Kavanaugh gets drunk.
Cassie hosts a dashing stranger named Henry on "Good Witch" (Hallmark, 8 p.m.).
The usual Fox animation is replaced by PBC Fight Night (Fox, 8 p.m.).
"The Weekly" (FX, 10 p.m.) looks how a bicycling couple ran into ISIS abroad.
There are no mothers to cheer in "sMothered" (TLC, 10 p.m.).
A body surfaces on "NOS4A2" (AMC, 10 p.m.).
On "The Spanish Princess" (Starz, 8 p.m.), the Tudor family faces tragedy.
Mary Louise tries to get closer to Jane in "Big Little Lies" (HBO, 9 p.m.).
"City on a Hill" (Showtime, 9 p.m.) is unfolding pretty well.
An auto accident turns out to be murder on "Endeavour" (PBS, 9 p.m., check local listings).
"Claws" (TNT, TBS, 9 p.m.) has been back for a new season.
The rescue mission hits a snag on "Fear the Walking Dead" (AMC, 9 p.m.).
"Keeping Up with the Kardashians" (E1, 9 p.m.) means keeping up with who is cheating on them.
This can't be the first series named for "Ripley's Believe It Or Not!" (Travel, 9 p.m.).
"The Great Food Truck Race" (Food, 9 p.m.) reaches Florida.
Amanda's family lures her back to New York on "American Princess" (Lifetime, 10 p.m.).
On "Jamestown" (PBS, 10:30 p.m., check local listings), a child falls ill.
Still scarred from last week's episode of "Euphoria" (HBO, 10 p.m.).
Turner Classic Movies celebrates tenderfeet in Western musicals in comedies with "Two Guys from Texas" (8 p.m.), "Girl Crazy" (9:45 p.m.) and "An Eastern Westerner" (11:45 p.m.). They are followed by the silent "The Rag Man" (12:30 a.m.) and two from Hiroshi Teshigarhara, "Pitfall" (2 a.m.) and "The Face of Another" (3:45 a.m.).
Baseball includes Houston at Yankees (MLB, 2 p.m.) and Angels at St. Louis (ESPN, 7 p.m.).
Soccer's women's world cup has England vs. Cameroon (Fox Sports 1, Telemundo, 11:30 a.m.) and France vs. Brazil (Fox, 3 p.m.).
Mens soccer's Africa Cup of Nations has Morocco vs. Namibia (beIn Sports, 10:30 a.m.), Senegal vs. Tanzania (beIn Sports, 1 p.m.) and Algeria vs. Kenya (beIn Sports, 4 p.m.). the UEFA Euro Under-21 has Austraia vs. Germany (ESPNU, 3 p.m.). and in the Concacaf Gold Cup it's Canada vs. Cubs (Fox Sports 2, 6 p.m.) and Martinique vs. Mexico (Fox Sports 1, 8:30 p.m.).
Final rounds are played in the Travelers Championship (Golf, 1 p.m.; CBS, 3 p.m.) and in the Women's PGA Championship (NBC, 3 p.m.).
WNBA action includes Washington at Atlanta (ESPN, 1 p.m.) and Connecticut at Chicago (NBA, 6 p.m.).
And there is Big3 Basketball (CBS, 1 p.m.; CBS Sports, 3 p.m.) from Indianapolis.
Motor sports include the Superbike World Championship (beIn Sports, 8 a.m.), the French Grand Prix (ESPN, 9 a.m.), Motocross FIM MX2 (CBS Sports, 10 a.m.), the Rev Group Grand Prix (NBC, 12:30 p.m.) and the Toyota/Save Mart 350 (Fox Sports 1, 3 p.m.).
In women's volleyball, it's U.S. vs. China (NBC Sports, 5:30 p.m.).
And there is the U.S. Women's pro bowling tour (CBS Sports, 5 p.m.).
Sunday Talk
ABC: Sen. Cory Booker, Rep. Mac Thornberry, Adm. Mike Mullen, former chair of the Joing Chief of Staff. CBS: Vice President Mike Pence, Sen. Bernie Sanders, Reps. Adam Smith and Michael McCaul. NBC: President Trump. CNN: Pence, Reps. Adam Schiff, Pramila Jayapal and Michael Waltz, former secretary of HUD Julian Castro. Fox News: Sen. Tom Cotton, Gov. Steve Bullock.