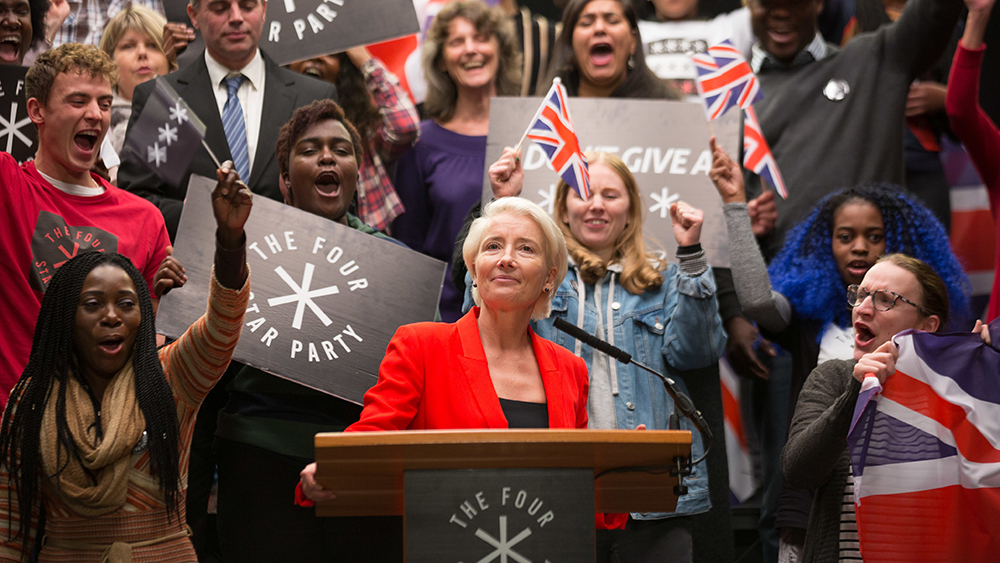 Something unexpectedly good debuts on a summer Monday, with "Years and Years" (HBO, 10 p.m.), a British limited series that projects today's political bad times into a disastrous near future. Seen through the lens of a single extended family in Manchester, it has elements of "Black Mirror." The smart drama from Russel T. Davies ("Doctor Who") features Emma Thompson as an outlier populist political figure.
Heidi and Spencer Pratt return, as do Audrina Patridge and Brody Jenner in the updated series "The Hills: New Beginnings" (MTV, 10 p.m.), which follows the crowd nine years after "The Hills" went off the air. Among those added to the crowd are Mischa Barton of "The O.C." and Brandon Thomas Lee, son of Tommy Lee and Pamela Anderson.
Another former "O.C." star, Adam Brody, co-stars with Sean Bean in the new action series "Curfew" (Spectrum, streaming) about a virus infecting a dystopian future.
The trippy "Legion" (Fx, 10 p.m.) begins its third and final season.
The second season of the animated "Final Space" (Cartoon Network, 11:30 p.m.) moves to another network.
The passion play and drag queen shows are merged in an Arkansas town in the documentary "The Gospel of Eureka," debuting on on "POV" (PBS, 10 p.m., check local listings).
"Smithsonian Time Capsule: Beyond Stonewall" (Smithsonian, 8 p.m.) marks the 50th anniversary of the uprising.
On the new "Martin Clunes: Islands of America" (Acorn, streaming) the host looks at Islands off the coast of the continental U.S., beginning with one that's a state, Hawaii.
Bungee jumping in Latvia is the key to romance on "The Bachelorette" (ABC, 8 p.m.).
"Wedding Cake Championship" (Food, 10 p.m.) has its finale.
Gigi tries to save the place on "Grand Hotel" (ABC, 10 p.m.).
"American Ninja Warrior" (NBC, 8 p.m.) seeks qualifiers in Seattle's Tacoma Dome.
Los Angeles auditions continue on "So You Think You Can Dance" (Fox, 9 p.m.).
On "Kate Plus Date" (TLC, 10 p.m.), maybe it's not the dates that are the problem.
The chef struggles on "Below Deck Mediterranean" (Bravo, 9 p.m.).
"Whose Line Is It Anyway" (CW, 9 p.m.) features Tinashe.
Daddy is about to be released from prison on "Teen Mom" (MTV, 9 p.m.).
Messiah meets his music idol on "T.I. & Tiny: Friends & Family Hustle" (VH1, 9 p.m.).
Ten years after her death comes the reconsideration "Farrah Fawcett: Behind Closed Doors" (Reelz, 9 p.m.).
Scrapp muses his net move on "Love & Hip Hop Atlanta" (VH1 8 p.m.) (change his name?).
"Penn & Teller: Fool Us" (CW, 8 p.m.) should take on the Trump Iran decision-making process.
Kids are stuck on a cruise ship on "Raven's Home" (Disney, 8 p.m.).
The month-long Monday night Hollywood Hair Hall of Fame series on Turner Classic Movies concludes with "The Kid" (8 p.m.), "At the Circus" (9 p.m.), "House of Wax" (10:45 p.m.), "The Adventures of Robin Hood" (12:30 a.m.), "Taxi Driver" (2:30 a.m.) and "Shaft" (4:30 a.m.).
During the day on TCM are nomadic stories "The Big Circus" (6 a.m.), "The Sundowners" (8 a.m.), "Wild Boys of the Road" (10:15 a.m.), "The Wild One" (11:30 a.m.), "The Man Who Found Himself" (1 p.m.), "Born Reckless" (2:15 p.m.), "Honeysuckle Rose" (3:45 p.m.) and "Every Which Way but Loose" (6 p.m.).
Baseball includes White Sox at Boston (MLB, 7 p.m.) and Colorado at San Francisco (ESPN, 10 p.m.).
In the women's world cup soccer, it's U.S. vs. Spain (Fox Sports 1, noon) and Canada vs. Sweden (Fox Sports 1, 3 p.m.).
In men's soccer, it's Ivory Coast vs. South Africa (beIn Sports, 10:30 a.m.), Tunisia vs. Angola (beIn Sports, 1 p.m.), Mali vs. Mauritania (beIn Sports, 4 p.m.) in the Africa Cup of Nations; and Bermuda vs. Nicaragua (Fox Sports 1, 6:30 p.m.) and Haiti vs. Costa Rica (Fox Sports 1, 9 p.m.) in the Concacaf Gold Cup.
Tonight's the night of the NBA Awards (TNT, 9 p.m.) hosted by Shaquille O'Neal.
It's Vanderbilt vs. Michigan (ESPN, 7 p.m.) in game one of the College World Series finals.
Daytime Talk
Kelly Ripa and Ryan Seacrest: Anthony Anderson, Timbaland, Dr. Taz Bhatia, Melissa Etheridge. The View: Olivia Munn. The Talk: Chelsea Handler, Melissa Claire Egan, Mark Grossman, Michelle Stafford. Ellen DeGeneres: Julia Roberts, George Clooney, Michelle Obama (rerun). Wendy Williams: Karen Huger (rerun). The Real: Esai Morales, April Ryan (rerun).
Late Talk
Stephen Colbert: Tom Holand, Andrew Yang. Jimmy Kimmel: Tom Hanks, Pamela Adlon (rerun). Jimmy Fallon: Chrissy Teigen, Bashir Salahuddin, Diallo Riddle, Aldous Harding. Seth Meyers: Olivia Munn, Ramy Youssef, Matt Maeson, Jon Wurster. James Corden: Chelsea Handler, Ginnifer Goodwin, Tom Odell (rerun). Carson Daly: Eliza Coupe, Aurora, Anna Konkle and Maya Erskine (rerun). Trevor Noah: Elaine Welteroth. Conan O'Brien: Jean-Claude Van Damme, Sam Morrill (rerun).