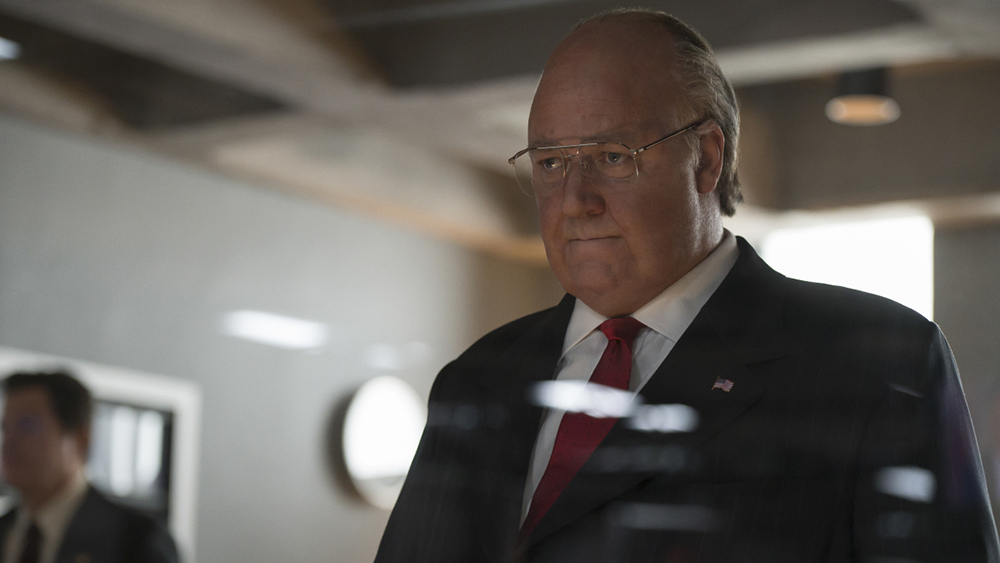 Russell Crowe is unrecognizable stuffed into a fat suit to portray the menacing Roger Ailes in the new seven-part series "The Loudest Voice" (Showtime, 10 p.m.), based on the Gabriel Sherman book of the same name.
It begins with Ailes being courted to run a new network for Rupert Murdoch (Simon McBurney) and his decision to cater it to conservatives, so that they would never turn the channel. By next week's episode two, Fox News is a valued mouthpiece and ready-made propaganda machine for the Bush administration.
Further proof of his effect? Things like "The Next Revolution with Steve Hilton" (Fox News, 9 p.m.), "Life, Liberty & Levin" (Fox News, 10 p.m.) and such one-sided investigations as "Scandalous: Chappaquiddick" (Fox News, 8 and 11 p.m.).
Emma Greenwell and Olivia Munn star in the new spy thriller "The Rook" (Starz, 8 p.m.), based on the book by Daniel O'Malley about an intelligence agency for people with superpowers.
The new "What Just Happened??! with Fred Savage" (Fox, 9:30 p.m.) at least has an amusing premise: it's a parody of an after show about a series that doesn't exist, "The Flare." Rob Lowe and Kevin Zegers are guests on the first show.
Alan Cumming returns for a second season of "Instinct" (CBS, 9 p.m.), with Travis Van Winkle joining the cast as a detective.
"The Weekly" (FX, 10 p.m.) looks into Trump's costly inauguration.
A triple murder marks the finale of "Endeavour" (PBS, 9 p.m., check local listings).
Meryl Street's Mary Louise continues to create havoc on "Big Little Lies" (HBO, 9 p.m.).
Jackie looks for his missing informant on "City on a Hill" (Showtime, 9 p.m.).
"Big Brother" (CBS, 8 p.m.) makes its Sunday night debut.
Joanna and Billy try to get Luna out on bail on "Burden of Truth" (CW, 8 p.m.).
It's the Chainsmokers vs. 5 Seconds of Summer and Boris Kodjoe & Nicole Ari Parker vs. Roselyn Sanchez & Eric Winter on "Celebrity Family Feud" (ABC, 8 p.m.).
Martha wins as mayor of Middleton on "Good Witch" (Hallmark, 8 p.m.).
"Our Cartoon President" (Showtime, 8 p.m.) confronts climate change.
The auditions on the gospel competition "Sunday Best" (BET, 8 p.m.) narrow the field from 20 to 12.
Monique takes an underwater pregnancy photo on "The Real Housewives of Potomac" (Bravo, 8 p.m.).
On "Fear the Walking Dead" (AMC, 9 p.m.), Althea chases a story.
Rain washes out festival day on "American Princess" (Lifetime, 10 p.m.).
"The Great Food Truck Race" (Food, 9 p.m.) travels to Tampa.
Nobody joins pep club on "Euphoria" (HBO, 10 p.m.).
Vic is questioned by police on "NOS4A2" (AMC, 10 p.m.).
Maria forms a plan on "Jamestown" (PBS, 10:30 p.m., check local listings).
Anna Camp, Joel McHale, Ron Funches and Kirstie Alley play "To Tell the Truth" (ABC, 10 p.m.).
Dorothy McGuire and Robert Young star in "Claudia" (TCM, 8 p.m.) and its sequel "Claudia and David" (TCM, 10 p.m.). They are followed by the silent "The Thief of Bagdad" (midnight) and two from Carlos Saura, "Cria Cuervos" (2:45 a.m.) and "Deprisa, Deprisa" (4:45 a.m.).
It's Yankees vs Boston (ESPN, 10 a.m.) in another game from London.
Other baseball includes Cubs at Cincinnati (MLB, 1 p.m.), Dodgers at Colorado (4 p.m.) and Atlanta at Mets (ESPN, 7 p.m.).
Plus there's the All-Star selection show (ESPN, 5:30 p.m.).
Final rounds are played in the Rocket Mortgage Classic (Golf, 1 p.m.; CBS, 3 p.m.) and the U.S. Senior Open (Fox, 2 p.m.)
Auto racing has the Austrian Grand Prix (ESPN2, 9 a.m.) and NASCAR's Camping World 400 (NBC Sports, 3 p.m.).
Soccer's Africa Cup of Nations has Madagascar vs. Nigeria (beIN, noon) and Uganda vs. Egypt (beIN, 3 p.m.).
The Concacaf Gold Cup quarterfinals have Jamaica vs. Panama (Fox Sports 1, 5:30 p.m.) and U.S. vs. Curacao (Fox Sports 1, 8:30 p.m.). and the AEFA Euro U-21 final has Spain vs. Germany (ESPN2, 2:30 p.m.).
Sunday Talk
ABC: Sen. Bernie Sanders, former Housing Secretary Julián Castro. CBS: White House economic adviser Larry Kudlow, Sens. Lindsey Graham and Amy Klobuchar and former Rep. Beto O'Rourke. NBC: Sen Cory Booker, Castro, Sen John Barrasso. CNN: Klobuchar, Castro. Fox News: Kudlow, Democratic National Committee chair Tom Perez.