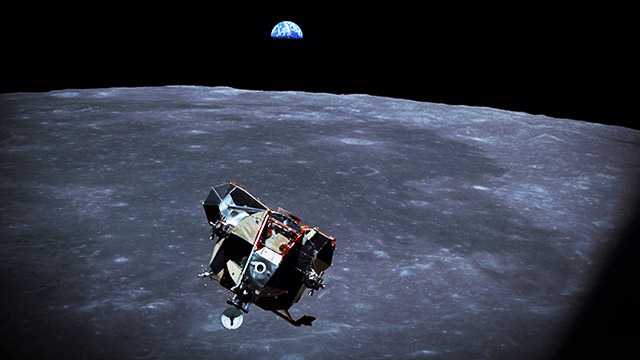 The 50th anniversary of the moon landing is July 20, but it will take nearly two weeks to get all the specials in. "Chasing the Moon" is a three-part documentary on "American Experience" (PBS, 9 p.m., check local listings) that steps back to look at all the steps to reach the seemingly-impossible goal.
"The Armstrong Tapes" (National Geographic, 9 p.m.) is a documentary about the man who made that first step on the mon, Neil Armstrong, who wasn't known to give a lot of interviews.
Oddly, it's paired with a documentary about the 1986 mission that stalled the space program "Challenger Disaster: The Final Mission" (National Geographic, 10 p.m.).
The moon of another planet is considered in the documentary "Explorer: Journey to Europa" (National Geographic, 8 p.m.) that turns the attention toward Jupiter.
There is also a space-themed "Antiques Roadshow" (PBS, 8 p.m., check local listings).
Miss Trump's Fourth of July speech? "Chuck Norris' Epic Guide to Military Vehicles" (History, 9 p.m.) won't be too far off.
It comes alongside a doc about the abandoned development of a civilian craft, the 30th anniversary Corvette, in "The Lost Corvette" (History, 10 p.m.).
Speaking of which, "Fast N' Loud" (Discovery, 9 p.m.) returns for a 15th season.
"Scream" (VH1, 9 p.m.), the TV series made from the movie franchise, switches networks from MTV and has a new format: Three two-hour episodes, starting tonight.
"The Bachelorette" (ABC, 8 p.m.) reaches hometown visits for the final four – and goofy Luke is still among them.
The final qualifying round on "American Ninja Warrior" (NBC, 8 p.m.) is in Cincinnati.
"So You Think You Can Dance" (Fox, 9 p.m.) ends its auditions in Los Angeles.
A Marine is accused of helping a Guantanamo escape on "The Code" (CBS, 9 p.m.).
"Years and Years" (HBO, 9 p.m.) continues its near-future drama, with the deported Viktor forced to flee Kiev.
Sky is still missing on "Grand Hotel" (ABC, 10 p.m.).
In "The Hills: New Beginnings" (MTV, 10 p.m.), Heidi tires of party promotion.
Robert has second wedding jitters on "Divorce" (HBO, 10 p.m.).
The episode descriptions are getting more and more terse for the final season of "Legion" (FX, 10 p.m.). Tonight's: "A family history".
It's Christmas in July on "Holiday Baking Championship" (Food, 9 p.m.) and "Cupcake Championship" (Food, 10 p.m.).
Ashley shots a new music video on "Below Deck Mediterranean" (Bravo, 9 p.m.).
Tokyo talks to her mom on "Love & Hip Hop Atlanta" (VH1, 8 p.m.).
The month-long Monday salute to Glenn Ford on Turner Classic Movies continues with "The Lady in Question" (8 p.m.), "Gilda" (9:30 p.m.), "The Loves of Carmen" (11:30 p.m.), "Affair in Trinidad" (1:15 a.m.), "The Doctor and the Girl" (3:15 a.m.) and "Young Man with Ideas" (5 a.m.).
During the day on TCM, it's all horror with "Scared to Death" (6 a.m.), "Nosferatu" (7:15 a.m.), "Vampyr" (9 a.m.), "Spooks Run Wild" (10:15 a.m.), "Dead Men Walk" (11:30 a.m.), "White Zombie" (12:45 p.m.), "The X from Outer Space" (2 p.m.), "Little Shop of Horrors" (3:30 p.m.), "The Brain That Wouldn't Die" (4:45 p.m.) and "The Cremators" (6:15 p.m.).
Baseball's All-Star activity is the Home Run Derby (ESPN, ESPN2, 8 p.m.).
The NBA summer league has Philadelphia vs. Oklahoma City (ESPNU, 3 p.m.), Dallas vs. Sacramento (NBA, 3:30 p.m.), Detroit vs. Indiana (ESPNU, 5 p.m.), Washington vs. Brooklyn (NBA, 5:30 p.m.), Toronto vs. San Antonio (ESPNU, 7 p.m.), Boston vs. Cleveland (NBA, 7:30 p.m.), Minnesota vs. Milwaukee (ESPNU, 9 p.m.), Chicago vs. New Orleans (NBA, 9:30 p.m.), Charlotte vs. China (ESPNU, 11 p.m.) and Lakers vs. Golden State (NBA, 11:30 p.m.).
Wimbledon (ESPN2, 6 a.m.; ESPN, 8 a.m.) reaches its round of 16.
In soccer's Africa Cup of Nations, it's Mali vs. Ivory Coast (beIN Sports, 11:50 a.m.) and Ghana vs. Tunisia (beIN Sports, 2:50 p.m.).
The Tour de France (NBC Sports, 6:30 a.m.) finally hits France, with a 134-mile stage 3 from Binche, Belgium to Epernay.
Daytime Talk
Kelly Ripa and Ryan Secarest: Kumail Nanjiani, Bernadette Peters. The View: Andrew Yang. Ellen DeGeneres: Judge Judy Sheindlin, Pharrell Williams (rerun). Wendy Williams: Melissa Garcia.
Late Talk
Stephen Colbert: James Corden, Zoe Kravitz, Lewis Capaldi (rerun). Jimmy Kimmel: Tracy Morgan, Patrick Mahoomes II, Gwen Stefani, Megan Thee Stallion. Jimmy Fallon: Kate Beckinsale, Ralph Macchio, Rudy Francisco (rerun). Seth Meyers: Olivis Munn, Ramy Youssef, Matt Maeson (rerun). James Corden: Colin Farrell, Woody Harrelson, Zachary Levi (rerun). Carson Daly: Jameela Jamil, Rupert Grint, William Elliott Whitmore, Joey King (rerun). Conan O'Brien: Kevin Bacon.