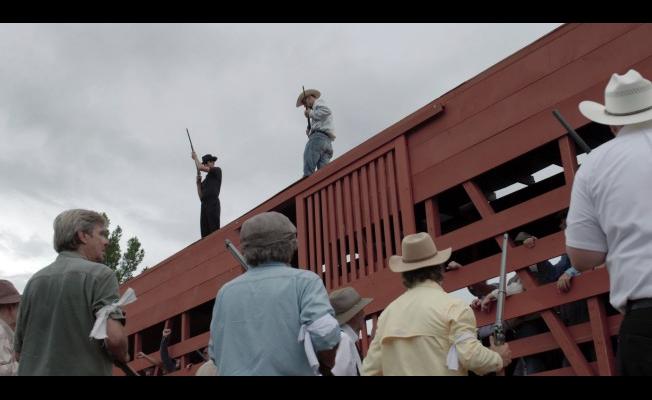 Speaking of deportation, Robert Greene's haunting "Bisbee '17" looks at the 1917 Bisbee Deportation when 1,200 immigrant miners in Arizona were taken from their homes by a deputized force, shipped to the desert on cattle cars and left to die, while the community kept the deadly secret for a century. Partly based on a 100th anniversary re-enactment by the community, the film makes its timely premiere on "POV" (PBS, 10 p.m., check local listings).
National Geographic is doing Discovery Channel's Shark Week even better by having multiple weeks — three of them in their sixth annual SharkFest, with shark programming on both it and its sister network Nat Geo Wild. Once, their focus was more in awe of the big fish; now they seem to going along with their competitor in simply instilling fear with new titles like "When Sharks Attack" (National Geographic, 8, 9 and 11 p.m.; midnight) and "Great Shark Chow Down" (National Geographic, 10 p.m. and 1 a.m.).
There are only about 80 unprovoked shark attacks a year and one death; there's a greater risk of dying from 18 other things including lightning and fireworks. Your lifetime risk of being killed in a shark attack is 1 in 3,748,067 according to the National Safety Council.  Nonetheless, there is also "Tiger Shark Terror" (3 p.m.), "Big Sharks Rule" (4 p.m.), "Shark vs. Tuna" (5 p.m.) and "Shark vs. Predator" (6 p.m.).
The first kids' show to feature an Alaska Native as lead character debuts today with "Molly of Denali" (PBS, check local listings). The animated series, a co-production wit Canada, follows 10-year-old Molly, an Alaska Native from the fictional village of Qyah, who helps her family run the Denali Trading Post.
On the new "Girls Cruise" (VH1, 9 p.m.) Lil' Kim takes a group of friends that include Chilli, Mya and Tiffany Panhilason on a boat around the Caribbean.
They'll never cross paths with  "Below Deck Mediterranean" (Bravo, 9 p.m.), where a new steward arrives.
On "Divorce" (HBO, 10 p.m.), Frances and Robert navigate their son's college application process.
A fantasy suite in Greece is calling on "The Bachelorette" (ABC, 8 p.m.) where the names of the finalists sound as if they were on "The Beverly Hillbillies" — Jed, Luke and Tyler.
On "Years and Years" (HBO, 9 p.m.), events heat up across Europe in 2026 as Emma Thompson looks to become prime minister.
Javi reveals his big secret on "Grand Hotel" (ABC, 10 p.m.).
"London Kills" (Acorn TV, streaming) returns for a second season, resolving the cliffhanger from the crime drama's inaugural season.
The Spanish series "Todo Por El Juego" has been added to the cable company's streaming roster as "Side Games" (Spectrum, streaming) about a soccer club owner who becomes entangled with the mob.
The first set of callbacks come on "So You Think You Can Dance" (Fox, 9 p.m.).
On "American Ninja Warrior" (NBC, 8 p.m.), trials continue.
A second season starts for "Worst Bakers in America" (Food, 9 p.m.).
On the new episode of "Legion" (FX, 10 p.m.), according to its own description, "Time is preyed upon"
Kate finds a couple of people with whom she might want to go on a second date on "Kate Plus Date" (TLC, 10 p.m.).
Scrappy deals with his accident on "Love & Hip Hop Atlanta" (VH1, 8 p.m.).
One guy has already been banished from "Love Island" (CBS, 8 p.m.).
On "Raven's Home" (Disney, 8 p.m.), Levi makes a documentary.
Street magicians get their shot on "Penn & Teller: Fool Us" (CW, 8 p.m.).
Catelynn celebrates Mother's Day on "Teen Mom" (MTV, 9 p.m.).
On "The Hills: New Beginnings" (MTV, 10 p.m.), Spencer and Heidi are back to old habits: fighting.
This month's Monday night salute to Glenn Ford on Turner Classic Movies continues with "The Fastest Gun Alive" (8 p.m.), "Jubal" (9:45 p.m.), "3:10 to Yuma" (11:45 p.m.), "Cowboy" (1:30 a.m.), "Cimarron" (3:15 a.m.) and "The Sheepman" (5:45 a.m.).
During the day it's mostly screwball comedies with "The Golden Fleecing" (6 a.m.), "Baby Face Harrington" (7:15 a.m.), "Another Face" (8:30 a.m.), "Petticoat Larceny" (9:45 a.m.), "Central Park" (12:30 p.m.), "Sidewalks of New York" (1:45 p.m.), "Double Dynamite" (3:15 p.m.), "Go Chase Yourself" (4:45 p.m.) and "Every Little Crook and Nanny" (6:15 p.m.). But there is also a crime drama in the middle of all that, "Tough Guy" (11 a.m.).
Baseball includes San Francisco at Colorado (MLB, 2 p.m.), Dodgers at Philadelphia (ESPN, 7 p.m.) and Houston at Angels (MLB, 10 p.m.).
It's Minnesota vs. Memphis (ESPN2, 9 p.m.) in the NBS summer league championship game.
Stage 10 of the Tour de France (NBC Sports, 8 a.m.) runs from runs from Saint-Flour to Albi before a one-day rest.
Daytime Talk
Kelly Ripa and Ryan Seacrest: Joel McHale, Ryan Eggold, Gone West with Colbie Caillat. The View: Kumail Nanjiani, Dave Bautista. The Talk: Norah O'Donnell. Ellen DeGeneres: Colin Farrell, Sophia Lillis (rerun). Wendy Williams: Devyn Simone, Ashlee Glazer. The Real: B2K (rerun).
Late Talk
Stephen Colbert: Ricky Gervais, X Ambassadors. Jimmy Kimmel: Shailene Woodley, Mike Epps, Garth Brooks. Jimmy Fallon: Joel McHale, Fran Liebowitz, Denzel Curry. James Corden: Anna Paris, Kanal Nayyar, Shaggy (rerun). Carson Daly: Kim Dickens, HalfNoise, Harvey Guillen (rerun). Conan O'Brien: Liam Cunningham (rerun).