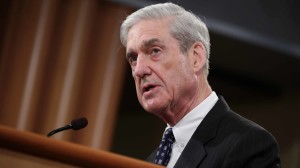 It's not often that testimony before Congress commands live coverage from the broadcast networks as well as the cable news outlets, but today's Testimony by Robert Mueller (CSPAN, CNN, MSNBC, ABC, NBC, CBS, 8:30 a.m. and noon) before the House Judiciary and Intelligence committees will give the widest coverage yet to the troubling findings of the Mueller Report and Russia's interference in the 2016 election.
Among its many analysts will likely be "Full Frontal with Samantha Bee" (TBS, 10:30 p.m.).
That election is also at the centerpiece of timely new documentary "The Great Hack" (Netflix, streaming). The film by Jehane Noujaim and Karim Amer shows how people willingly give away private information and privacy through social media participation, focusing particularly on the activities of Cambridge Analytica and Facebook.
The concluding half of "Who Killed Garrett Phillips?" (HBO, 8 p.m.) leads to the trial and uneasy aftermath.
"Nova" (PBS, 9 p.m., check local listings) looks at origins of the planets in a report narrated by Zachary Quinto. It follows another early look at the skies in "Ancient Skies" (PBS, 8 p.m.) and a later look on the red planet on a second episode of "Nova" (PBS, 10 p.m.).
In the new comedy "South Side" (Comedy Central, 10:30 p.m.), creators Diallo Riddle and Bashir Salahuddin play a pair of community college graduates and would-be entrepreneurs in Chicago. It's shot on location in the Englewood neighborhood there.
Among all the reality show competitions, there hasn't been one for horseback riding until now, on "The Last Cowboy" (Paramount, 10 p.m.).
Franklin puts his business plan in motion on "Snowfall" (FX, 10 p.m.).
Bradley Whitford was nominated for an Emmy for his performance as Commander Lawrence in "The Hamdmaid's Tale" (Hulu, streaming), a character who remains in hot water in tonight's episode.
"Married at First Sight" (Lifetime, 8 p.m.) is opposite a slower approach on "Love Island" (CBS, 8 p.m.) and, later, on "Are You the One?" (MTV, 9 p.m.).
There's an immunity challenge involving Alaskan king crabs on "MasterChef" (Fox, 8 p.m.).
Whammies continue to be avoided on "Press Your Luck" (ABC, 8 p.m.). More games tonight include "Card Sharks" (ABC, 9 p.m.) and "Match Game" (ABC, 10 p.m.), whose players are Chris Parnell, Kym Whitley, Rob Riggle, Caitlyn Jenner, Jay Pharoah and Sarah Chalke.
Suicide rattles the campus on "grown-ish" (Freeform, 8 p.m.).
With alpha males Jack and Jackson up for eviction by Cliff, the power of veto competition is planned on "Big Brother" (CBS, 9 p.m.).
On "Queen Sugar" (OWN, 9 p.m.), Nova's renewed relationship falters.
Charlotte goes to a boxing party on the latest episode of "Harlots" (Hulu, streaming).
Problems pop up in the publishing of the book by "Jane the Virgin" (CW, 9 p.m.).
"Southern Charm" (Bravo, 9 p.m.) goes skiing on the Rockies.
The firm faces repercussions on "Suits" (USA, 9 p.m.) and "Pearson" (USA, 10 p.m.) has its second episode.
On "Krypton" (Syfy, 10 p.m.), General Zod seeks control of a dominating weapon.
A pyromanic is on the loose on "The InBetween" (NBC, 10 p.m.).
Liza and Charles go to a microdosing retreat on "Younger" (TVLand, 10 p.m.).
"The Strongest Man in History" (History, 10 p.m.) has a strongman competition in Cody, Wyo.
The legacy of 20th Century Fox, the longtime studio being absorbed by the Walt Disney Company, is saluted this Wednesday and next on Turner Classic Movies, starting with "Bright Eyes" (8 p.m.), "Laura" (9:30 p.m.), "All About Eve" (11:15 p.m.), "Gentleman's Agreement" (1:45 a.m.), "The Black Swan" (4:15 a.m.) and "The Agony and the Ecstasy" (5:45 a.m.).
Baseball includes Boston at Tampa Bay (MLB, noon), Chicago at San Francisco (MLB, 3:45 p.m.), Yankees at Minnesota (ESPN, 8 p.m.) and Angels at Dodgers (MLB, 11 p.m.).
WNBA action has Washington at Minnesota (NBA, 1 p.m.).
It's Day 1 of the Pan American Games (ESPNU, 10 a.m.).
The Tour de France (NBC Sports, 6:30 a.m.) reaches Stage 17.
Daytime Talk
Kelly Ripa and Ryan Seacrest: Fred Savage, Laurie Gelman, Eugenio Derbez. The Talk: Kristin Chenoweth (rerun). Ellen DeGeneres: Sarah Paulson, Caroline Quentin, Piers Taylor, Tamera Mowry-Housley, Loni Love, Jeannie Mai, Adrienne Houghton (rerun). Wendy Williams: Loretta Devine. The Real: Wayne Brady (rerun).
Late Talk
Stephen Colbert: Chris Wallace, Jamie Bell. Jimmy Kimmel: Danny McBride, Margaret Qualley, Rascal Flatts. Jimmy Fallon: Naomi Watts, Mike Birbiglia, Midland. Seth Meyers: Billy Eichner, Hobo Johnson. James Corden: Sutton Foster, Eddie Izzard, Dave Ross. Carson Daly: Eliza Coupe, Aurora, Anna Konkle, Maya Erskine (rerun). Trevor Noah: Gina Torres. Conan O'Brien: Thomas Middleditch (rerun).