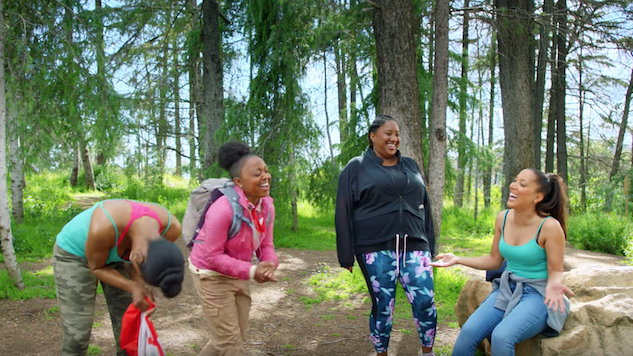 Even in a heyday of TV comedy there hasn't been anything quite like "A Black Lady Sketch Show" (HBO, 11 p.m.), a show with high production values and an even higher level of talent. It's from the creative and versatile Robin Thede, produced by Issa Rae, with writers, a director and most of the cast all black women. The core four are Thede with Ashley Nicole Black, Gabrielle Dennis and Quinta Brunson, abetted by a wealth of stars clearly clamoring to be part of it, which includes in the first episode, Laverne Cox, Angela Bassett, Nicole Byer, Kelly Rowland and Gina Torres, addressing issues and attitudes not often reflected on TV let alone better comedy shows.
Angela Bassett also appears, alongside Patricia Arquette and Felicity Huffman, in a new movie "Otherhood" (Netflix, streaming), about women who decide to take a road trip to see their adult sons in New York. From "Sex and the City" writer Cindy Chuck, it's also in theaters this weekend.
The life and legacy of sci-fi writer Ursula K. Le Guin is explored on a new "American Masters" (PBS, 9 p.m., check local listings).
A second season starts for the series "Derry Girls" (Netflix, streaming).
The new reality series "Racing Wives" (CMT, 10 p.m.) follows women connected to the stock car racing circuit.
Another set of women eschew feminism and want to become underpaid frills for an NFL team in the 14th season start for "Dallas Cowboys Cheerleaders: Making the Team" (CMT, 9 p.m.).
"Marvel's Agents of S.H.I.E.L.D." (ABC, 8 p.m.) ends its season with some desperate time travel to hell and back.
Rick gets even more spiritual after the Malibu fire on "Shangri-La" (Showtime, 9 p.m.).
"Real Time with Bill Maher" (HBO, 10 p.m.) returns with a new episode, with Marianne Williamson, Jennifer Granholm, Buck Sexton and Josh Barro.
Colin plans to sacrifice himself on "MotherFatherSon" (Starz, 10 p.m.).
Shark Week offers "Isle of Jaws: Blood Brothers" (Discovery, 8 p.m.), the illusionist "Andrew Mayne: Ghost Diver" (Discovery, 9 p.m.) and "I Was Prey: Shark Week" (Discovery, 10 p.m.).
There may be a traitor among the trio in "Killjoys" (Syfy, 10 p.m.).
"Love Island" (CBS, 8 p.m.), the most streamed show in network history, has been renewed for a second season next summer.
A third season starts for Justin Simien's smart comedy "Dear White People" (Netflix, streaming), an adaptation of his film of the same name about black students at an Ivy League school, starring Logan Browning, Ashley Blaine Featherson and DeRon Horton.
The star of the day on Turner Classic Movies' summer of stars is a lesser-known one: The 1930s and '40s  contract player Ruth Hussey, in "Rich Man, Poor Girl" (6 a.m.), "Spring Madness" (7:15 a.m.), "Within the Law" (8:30 a.m.), "Fast and Furious" (9:45 a.m.), "H.M. Pulham, Esq." (11:15 a.m.), "Pierre of the Plains" (1:15 p.m.), "Susan and God" (2:30 p.m.), "Tender Comrade" (4:30 p.m.), "The Facts of Life" (6:15 p.m.), "The Philadelphia Story" (8 p.m.), "The Uninvited" (10 p.m.), "Our Wife" (midnight), "Married Bachelor" (2 a.m.), "Blackmail" (3:30 a.m.) and "Free and Easy" (5 a.m.).
Baseball includes Milwaukee at Cubs (MLB, 2 p.m.) and Boston at Yankees (MLB, 7 p.m.).
WNBA action includes Washington at Seattle (NBA, 10 p.m.).
In the World Team Tennis semifinals, it's San Diego vs. Springfield (CBS Sports, 7 p.m.) and New York vs. Philadelphia (CBS Sports, 10 p.m.).
It's Day 2 of the X Games Minneapolis (ESPN, 9 p.m.), Day 3 of the U.S. swimming championships (NBC Sports, 8 p.m.) and Day 10 of the Pan American Games (NBC Sports, 8 p.m.).
Daytime Talk
Kelly Ripa and Ryan Seacrest: Colin Cowie Rosie Perez, Tamron Hall. The View: Bill de Blasio, Charlene McCray. The Talk: Linda Perry. Ellen DeGeneres: Lupita Nyong'o, Tig Notaro, Jason Sudeikis, Chaka Khan (rerun). Wendy Williams: Michael Yo, Ashlee Glazer (rerun). The Real: Tank (rerun).
Late Talk
All reruns: Stephen Colbert: Tim McGraw, Jon Meecham, Tessa Thompson, Jessie Reyez with 6lack . Jimmy Kimmel: Brad Pitt, Leonardo DiCaprio, Margot Robbie, Quentin Tarantino, Keith L. Williams, Tal Wolkenfeld. Jimmy Fallon: Chance the Rapper, Jennifer Lopez, David Crosby, Cameron Crowe. Seth Meyers: John Leguizamo, Rep Hakeem Jeffries, the Jonas Brothers, Raghav Mehrotra. James Corden: Charlize Theron, Seth Rogen. Carson Daly: Pablo Schreiber, Robert DeLong, Madeline Brewer.