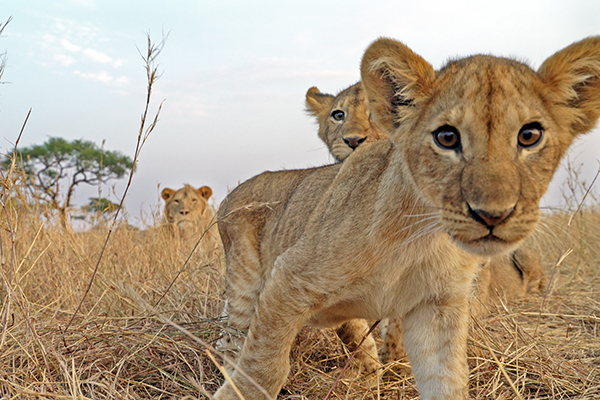 What looks like another gorgeous look at the natural world, the series "Serengeti" (Discovery, 8 p.m.) has some unusual provenance. it's from Simon Fuller, the former Spice Girls manager who created the "Pop Idol" franchise that became "American Idol" here. Lupita Nyong'o narrates. The African animals that were tracked for years were given names, but unlike the recent version of "The Lion King" they don't talk. (Don't be surprised if they end up in a roaring competition though – too pitchy, dog!"
Speaking of singers, the country version of that field, lately expanded by someone with the longest running No. 1 in history, Lil Nas X, celebrates itself at the "CMA Fest" (ABC, 8 p.m.), recorded last month at Nashville's Nissan Stadium, where "Old Town Road" will indeed be performed, with Billy Ray Cyrus. Also scheduled: Miranda Lambert, Brooks & Dunn, Keith Urban, Brothers Osborne with Brooks & Dunn, Florida Georgia Line and Kirks Bentley. And some one-time duets: Kelsea Ballerini with The Chainsmokers, Tim McGraw with Luke Combs, Maren Morris and Brandi Carlile, and Carrie Underwood with Joan Jett.
The winter formal marks the first season finale of "Euphoria" (HBO, 10 p.m.).
"Preacher" (AMC, 9 p.m.) returns for its fourth and final season, with two episodes. Dominic Cooper and Ruth Negga star.
A fourth season also begins for the topical "Patriot Act with Hasan Minhaj" (Netflix, streaming).
The host couldn't receive his second consecutive Television Critics Association Award in Beverly Hills Saturday because he was preparing for tonight's "Last Week Tonight with John Oliver" (HBO, 11:05 p.m.). It better be good.
Also last week at TCA, CBS execs shrugged off questions on the tendency of houseguests on "Big Brother" (CBS, 8 p.m.) kicking out people of color first. But they gave a producer bias training when he coached the only black female in the cast (presumably to talk more black").
"Perpetual Grace LTD" (Epix, 9 p.m.) is reaching its first season finale.
Sexual harassment and a divisive presidential election mark the latest episode of "The Loudest Voice" (Showtime, 10 p.m.).
Tonight's edition of "The Movies" (CNN, 9 p.m.) looks at the 1960s.
"The Weekly" (FX, 10 p.m.) profiles the Democratic party's progressives.
Jackie has a high and a low on "City on a Hill" (Showtime, 9 p.m.).
On "Grantchester" (PBS, 9 p.m., check local listings), Will asks for Georgie's help.
"Unexpected" (TLC, 10 p.m.) returns for a third season with McKayla having another baby.
A street artist may have a murder clue on "Instinct" (CBS, 9 p.m.).
"Pennyworth" (Epix, 10 p.m.) returns with a second episode.
Martha discovers the original Middleton town charter on "Good Witch" (Hallmark, 8 p.m.).
On "The Real Housewives of Potomac" (Bravo, 8 p.m.), Monique's due date is approaching.
Five hopefuls are backed by the New Direction Gospel Choir on "Sunday Best" (BET, 8 p.m.).
"Top Gear" (BBC America, 8 p.m.) tries out the most luxurious SUV.
Myfanwy returns to her childhood home on "The Rook" (Starz, 8 p.m.).
A wealthy Detroit family is at the center of "Murder in the Thirst" (BET, 9 p.m.).
"Southern Charm: New Orleans" (Bravo, 9 p.m.) goes to Destin, Fla.
The restaurant's tip structure is reconsidered on "Sweetbitter" (Starz, 9 p.m.) and the staff isn't happy.
"What Just Happened???! With Fred Savage" (Fox, 9:30 p.m.) gets a special call from Fred's wife.
Issa Rae and Robin Thede are on a new episode of "Watch What Happens Live with Andy Cohen" (Bravo, 10 p.m.).
"90 Day Fiance: Before the 90 Days" (TLC, 8 p.m.) begins a new season.
Shirley Temple is the star of the day on Turner Classic Movies with "Adventures in Baltimore" (6 a.m.), "Honeymoon" (7:30 a.m.), "That Hagen Girl" (9 a.m.), "Almost a Bride" (10:30 a.m.), "Kathleen" (12:15 p.m.), "The Story of Seabiscuit" (2 p.m.), "Fort Apache" (3:45 p.m.), "The Bachelor and the Bobby-Soxer" (6 p.m.), "Rebecca of Sunnybrook Farm" (8 p.m.), "Wee Willie Winkie" (9:30 p.m.), "Susannah of the Mounties" (11:30 p.m.), "The Poor Little Rich Girl" (1 a.m.), "Heidi" (2:30 a.m.) and "The Little Princess" (4:15 a.m.).
Baseball includes Milwaukee at Cubs (TBS, 2:20 p.m.) and Boston at Yankees (ESPN, 7 p.m.).
Final rounds are played in the Women's British Open (Golf, 7 a.m.; NBC, 11:30 a.m.), and the Wyndham Championship (Golf, 1 p.m.; CBS, 3 p.m.).
WNBA action has Connecticut at New York (NBA, 3 p.m.) and Seattle at Los Angeles (NBA, 5 p.m.).
Auto racing includes the Hungarian Grand Prix (ESPN2, 9 a.m.), NASCAR's Go Bowling at the Glen (NBC Sports, 3 p.m.) and the NHRA Northwest Nationals (Fox, 4 p.m.).
U.S. swimming championships (NBC, 4 p.m.) is in Day 5; X Games Minneapolis (ABC, 1 p.m.) is in Day 4; and the Pan American Games (ESPNU, 11 a.m.) are on day 12.
In Olympic qualyfining volleyball, it's U.S. vs. Argentina (NBC, 2 p.m.).
Sunday Talk
ABC: Acting White House chief of staff Mick Mulvaney, former Housing Secretary Julián Castro, former Vice President Al Gore, Rep. Veronica Escobar. CBS: Rep Will Hurd, Sens. Bernie Sanders, Michael Bennet and Tim Scott. NBC: Sen. Cory Booker, Gov. Steve Bullock, White House economic adviser Larry Kudlow. CNN: Booker, Kudlow, former Rep. Beto O'Rourke, Mayor Pete Buttigieg. Fox News: Buttigieg, White House trade adviser Peter Navarro.