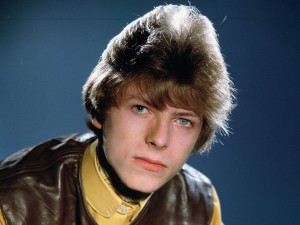 The last of a trilogy of documentaries on David Bowie looks at the early part of his career when he was still known as Davie Jones (before the Monkees reared their head). Well, he'd change personas a few time through his storied rock career, as noted in "David Bowie: Finding Fame" (Showtime, 9 p.m.).
The third season of "Glow" (Netflix, streaming) begins, and with a great addition: Geena Davis, playing a casino executive in Las Vegas, the new locale for the series.
Mahershala Ali, Chance the Rapper, Selena Gomez, Joe Jonas, Bill Nye, Natalie Portman, Meghan Trainor and Eddie Vedder tae part in the fifth annual WE Day (ABC, 8 p.m.), hosted by Neil Patrick Harris, in which students celebrate the impact they have on local and global issues.
There's no salute yet to D.A. Pennebaker, the documentary giant who died this month at 94. But IFC is showing two episodes of its "Documentary Now!: (IFC, 11 and 11:30 p.m.) that paid homage to a couple of his works, "Original Cast Album: Company" and "The War Room."
The Vienna Philharmonic is joined by pianist Yuj Wang in their annual summer concert on "Great Performances" (PBS, 9 p.m., check local listings). Selections include Gershwin's "Rhapsody in Blue" and Sousa's "The Stars and Stripes Forever."
A new five part documentary series "The Family" (Netflix, streaming), looks into a shadowy religious group known as the Fellowship that wields more power than you realize in Washington, D.C. One of their activities: the National Prayer Breakfast.
Another five-part documentary, this one produced by Jay-Z, series looks at the rapper Meek Mill's journey through the criminal justice system after a 2007 drug and gun conviction. It's called "Free Meek" (Amazon, streaming).
Terry McAuliffe, Richard Engel, Tom Nichols, Catherine Ramped and Anthony Scaramucci are guests on a new "Real Time with Bill Maher" (HBO, 10 p.m.).
Popping back for a special after a two decade absence is the cartoon character of the 90s, "Rocko's Modern Life: Static Cling" (Netflix, streaming).
Have you tried "A Black Lady Sketch Show" (HBO, 11 p.m.)?
Fifth graders turn detectives to solve neighborhood crimes on the new series "The InBestigators" (Netflix, streaming).
On the Brazilian import "Sintonia" (Netflix, streaming) teens in a Sao Paulo slum pursue their dreams.
A fourth season starts for the Spanish import "Cable Girls" (Netflix, streaming) about switchboard operators in 1920s Madrid.
On "Killjoys" (Syfy, 10 p.m.), a breakout from a maximum security prison is the plan.
Engineers restore an amphibious vellum that the Allies used on D-Day on "Masters of Disaster" (Discovery, 10 p.m.).
The tournament continues on "BattleBots" (Discovery, 8 p.m.)
Jedi Yoo, Murry SawChuck and Lefty are among the magicians on "Masters of Illusion" (CW, 8 p.m.).
Performers on "The Big Stage" (CW, 8:30 p.m.) include Lady Light Laser Girl and 34th and Phunk.
THere's a season finale for "What Would You Do?" (ABC, 9 p.m.), and I didn't even know it was on again.
Caden leaves rehab on "MotherFatherSon" (Starz, 10 p.m.).
The Devil's Tower is investigated on "The UnXplained" (History, 10 p.m.).
How about a day of Red Skelton? It happens on Turner Classic Movies, with "Merton of the Movies" (6 a.m.), "The Great Diamond Robbery" (7:30 a.m.), "The Show-Off" (8:45 a.m.), "Watch the Birdie" (10:15 a.m.), "A Southern Yankee" (11:30 a.m.), "Ship Ahoy" (1:15 p.m.), "Texas Carnival" (3 p.m.), "Bathing Beauty" (4:30 p.m.), "Neptune's Daughter" (6:15 p.m.). "Whistling in the Dark" (8 p.m.), "Whistling in Dixie" (9:30 p.m.), "Whistling in Brooklyn" (11 p.m.), "The Yellow Cab Man" (12:30 a.m.), "Du Barry Was a Lady" (2:15 a.m.) and "The Clown" (4:15 a.m.).
It's Tampa Bay at Pittsburgh (NFL, 7:30 p.m.) in preseason football.
Baseball includes Oakland at White Sox (MLB, 3 p.m.) and Cleveland at Minnesota (MLB, 8 p.m.).
WNBA action has Connecticut at Minnesota (CBS Sports, 8 p.m.) and Chicago at Las Vegas (CBS Sports, 10:30 p.m.).
Tennis has the Rogers Cup quarterfinals (ESPN2, noon and 6:30 p.m.; Tennis, 12:30 p.m.).
Little League playoffs have Minnesota vs. Missouri (ESPN, 11 a.m.), Connecticut vs. Rhode Island (ESPN, 1 p.m.), Washington vs. Idaho (ESPN, 3 p.m.), Illinois vs. Michigan (ESPN, 5 p.m.), New Jersey vs. Washington D.C. (ESPN, 7 p.m.) and Arizona vs. California (ESPN, 9 p.m.).
Canadian football has Ottawa at Edmonton (ESPN2, 10 p.m.).
It's Day 2 of the U.S. gymnastics championships (NBC Sports, 8 p.m.), and Day 18 of the Pan American Games (ESPNU, 10 a.m.).
Daytime Talk
Kelly Ripa and Ryan Seacrest: Fred Savage, Eugenio Derbez, Jeremy Jacobwitz. The View: David Letterman (rerun). The Talk: Mindy Kaling, Vanessa Williams (rerun). Ellen DeGeneres: Ed O'Neill, Sofia Vergara, Julie Bowen, Ty Burrell, Jesse Tyler Ferguson, Eric Stonestreet, Sarah Hyland, Ariel Winter, Nolan Gould, Rico Rodriguez (rerun). Wendy Williams: Jerry O'Connell (rerun). The Real: Alfonso Ribeiro (rerun).
Late Night
All reruns. Stephen Colbert: Mindy Kaling, Seth Green. Seth Meyers: John Oliver, CC Sabathia, Mini Mansions, Jeff Quay. James Corden: Liiy Collins, Charles Melton, NCT 127. Carson Daly: Lance Roddick, Mattiel, Mike Moh.