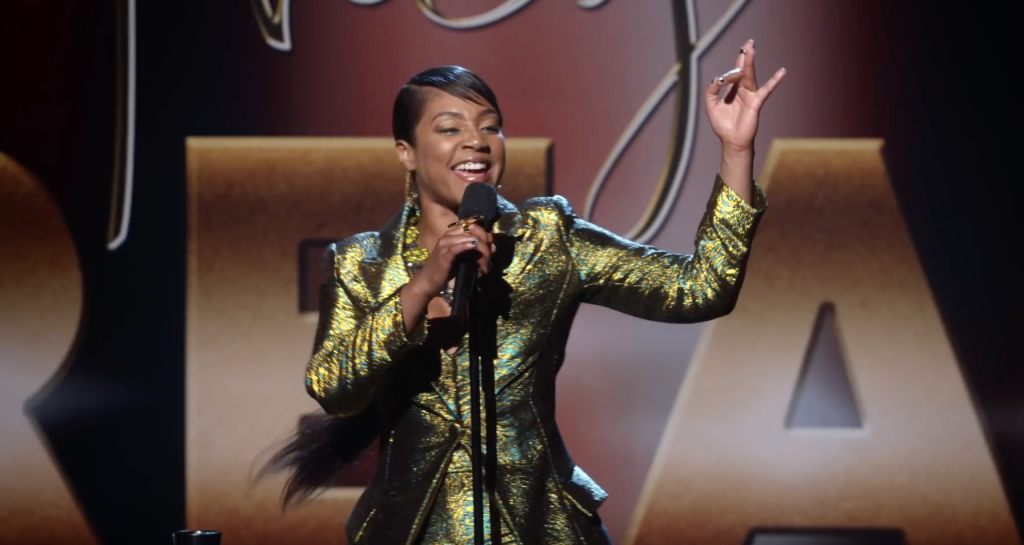 The comedienne whose career flourished in a hurry now takes the opportunity to spread around her opportunity with the six-part "Tiffany Haddish Presents: They Ready" (Netflix, streaming), with six of her favorite comics doing half hour sets. They include Tracey Ashley, Flame Monroe, Aida Rodriguez, Chaunte Wayans, April Macie and Marlo Williams. Also honing comedy this summer: the network competition "Bring the Funny" (NBC, 10 p.m.).
It took more than four hours for the first roses to be handed out on "Bachelor in Paradise" (ABC, 8 p.m.), it may be a while before the women hand their first flowers out.
Blanca is devastated by an unexpected loss on "Pose" (FX, 10 p.m.).
"Adam Ruins Everything" (truTV, 10 p.m.) returns with bug eating, border security and SWAT teams among the topics.
Quarterfinals come for "America's Got Talent" (NBC 8 p.m.).
Lizzie Borden is the first case investigated with modern high tech devices in the new series "Mysteries Decoded" (CW, 9 p.m.).
"Family Pictures USA" (PBS, 8 p.m.), which apparently running its episode on consecutive days, concentrates on Detroit.
There are consecutive episodes, too, of "The Food That Built America" (History, 9 p.m.), which turns its attention to McDonald's.
Crab fishing ain't what it used to be on "Deadliest Catch" (Discovery, 9 p.m.), causing some unexpected alliances.
A new season of "The Real Housewives of Orange County" (Bravo, 9 p.m.) begins with reverberations from last season's region episodes.
The "Undercover Billionaire" (Discovery, 10 p.m.) is not only not rich yet, he's being sent to the hospital.
Nate goes on a Russian Bride tour on "The Detour" (TBS, 10:30 p.m.).
There is quinceañera planning on "Alternatino with Autoro Castro" (Comedy Central, 10:30 p.m.).
Lil' Kim shows how to be big on stage on "The Next Best Thing" (BET, 10 p.m.).
"Miz & Mrs" (USA, 10 p.m.) go to a Renaissance Fair.
Camp begins in "Hard Knocks: Training Camp with the Oakland Raiders" (HBO, 10 p.m.).
Tough guy character actor Brian Donlevy is featured all day on Turner Classic Movies with "Another Face" (6 a.m.), "Barbary Coast" (7:15 a.m.), "Billy the Kid" (9 a.m.), "An American Romance" (10:45 a.m.), "The Beginning or the End" (1 p.m.), "Impact" (3 p.m.), "A Cry in the Night" (5 p.m.), "The Quatermass Xperiment" (6:30 p.m.), "The Great McGinty" (8 p.m.), "Beau Geste" (9:30 p.m.), "The Glass Key" (11:45 p.m.), "Hangmen Also Die" (1:30 a.m.) and "Heaven Only Knows" (4 a.m.).
Baseball includes Cubs at Philadelphia (MLB, 7 p.m.).
Daytime Talk
Kelly Ripa and Ryan Seacrest: Jimmy Kimmel, Yaya Shahidi, Gwendoline Christie. The View: Ricky Gervais (rerun). The Talk: Gayle King (rerun). Ellen DeGeneres: Milo Ventimiglia, Florida Georgia Line (rerun). Wendy Williams: Bevy Smith, Robert Verdi, Lloyd Boston, Jorge Cruise (rerun). The Real: Yvette Nicole Brown, Mark Dacascos (rerun).
Late Talk
Stephen Colbert: Jada Pinkett Smith, Rep. Ayanna Presley, Goo Goo Dolls. Jimmy Kimmel: Henry Winkler, Roselyn Sanchez, Daniel Caesar. Jimmy Fallon: Henry Golding, Jonathan Groff, Rick Ross with Swizz Beatz. Seth Meyers: Danny McBride, Yvonne Strahovski, Marianne Williamson, Nate Smith. James Corden: RuPaul, David Oyelowo, Alfie Allen. Carson Daly: Ben Barnes, Badflower, Rory Culkin (rerun). Trevor Noah: Burna Boy. David Spade: Dennis Miller, Jo Koy, Punkie Johnson. Conan O'Brien: Tom Cruise (rerun).