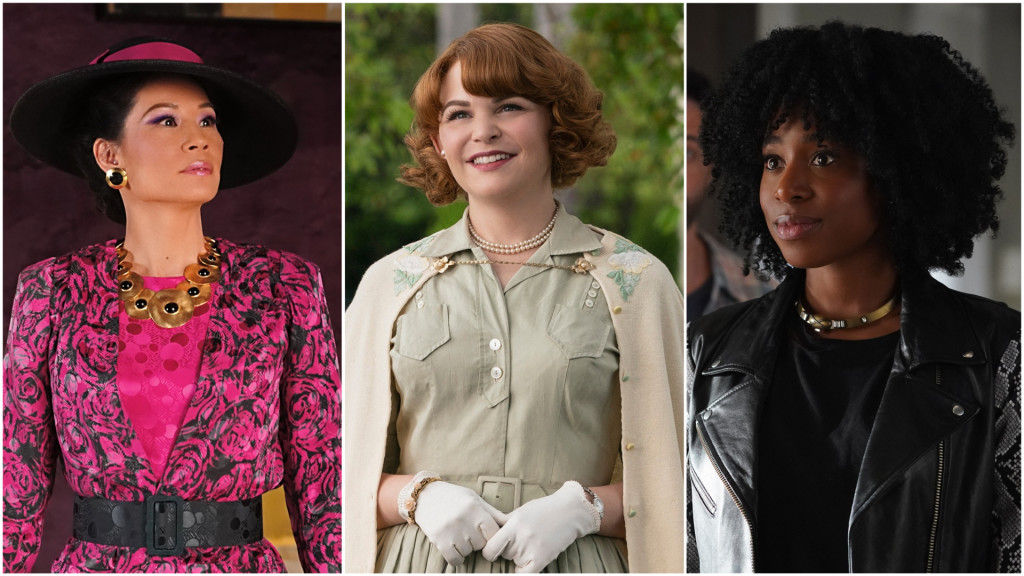 Marc Cherry's fascination with desperate housewives continues in his move to streaming services, where his high-gloss soaps of matrimony and murder continues with "Why Women Kill" (CBS All Access, streaming), which switches between three women in three different decades —Ginnifer Goodwin in the 60s, Lucy Liu  in the 80s and Kirby Howell-Baptiste today, each occupying the same house in their era and all dealing with unfaithful husbands.
"Elementary" (CBS, 10 p.m.) ends its seven-season run with Holmes and Watson's final battle with Odin Reichenbach.
On the second to last episode of "Baskets" (FX, 10 p.m.), Christine Baskets goes to Sacramento, though her apple pie is not allowed through security
On "Jersey Shore family Vacation" (MTV, 8 p.m.), the Situation's wedding grins on.
Marley the Pig introduces the challenge on "MasterChef" (Fox, 8 p.m.).
"Big Brother" (CBS, 9 p.m.) votes to evict either Cat or Cliff.
There's a trip to Talon's childhood home on "The Outpost" (CW, 8 p.m.).
"Family Food Fight" (ABC, 9 p.m.) has its finale.
There's more live diagnosis on "Chasing the Cure" (TNT, TBS, 9 p.m.).
Among the stories on "Two Sentence Horror Stories" (CW, 9 and 9:30 p.m.) is an abusive husband who returns as a ghost.
"Ex on the Beach" (MTV 9 p.m.) has outlasted "Love Island."
A women's surf competition turns deadly on "Reef Break" (ABC, 10 p.m.).
Teresa's allies must decide without her on "Queen of the South" (USA, 10 p.m.).
Rod Steiger is star all day on Turner Classic Movies, in "Teresa" (6 a.m.), "Cry Terror!" (8 a.m.), "The Loved One" (9:45 a.m.), "The Unholy Wife" (noon), "Back from Eternity" (2 p.m.), "The Sergeant" (4 p.m.), "Al Capone" (6 p.m.), "In the Heat of the Night" (8 p.m.), "A Fistful of Dynamite" (10 p.m.), "The Big Knife" (12:30 a.m.), "The Harder They Fall" (2:30 a.m.) and "Run of the Arrow" (4:30 a.m.).
Baseball includes Dodgers at Miami (MLB, 3 p.m.) and Mets at Atlanta (MLB, 7 p.m.).
Preseason football includes Oakland at Arizona (ESPN, 8 p.m.).
In tennis, the Western & Southern Open (Tennis, 11 a.m.), ESPN2, 1 p.m.and 9 p.m.) reaches the round of 16.
In the Little League World Series it's Australia vs. Curacao (ESPN, 1 p.m.), Rhode Island vs. Virginia (ESPN, 3 p.m.), South Korea vs. Venezuela (ESPN, 5 p.m.) and Minnesota vs. Kentucky (ESPN2, 7 p.m.).
NASCAR runs its UNOH 200 (Fox Sports 1, 8:30 p.m.).
Daytime Talk
Kelly Ripa and Ryan Seacrest: Gabrielle Union, Craig Ferguson, Johnny Galecki. The View: Idris Elba (rerun) The Talk: Patricia Arquette, Boris Kodjoe (rerun). Ellen DeGeneres: Adam Sandler (rerun). Wendy Williams: E.L. James (rerun). The Real: Jay Ellis (rerun).
Late Talk
Stephen Colbert: Kirsten Dunst, Adam DeVine, Lee Pace. Jimmy Kimmel: Gerard Butler, David Alan Grier, the Avett Brothers. Jimmy Fallon: John Travolta, Marlon Wayans, Mary Beth Keane, Caroline Jones. Seth Meyers: Jake Tapper, MJ Rodriguez, Nate Smith. James Corden: Michael Douglas, Will Forte, Nicole Byer. Carson Daly: Natalie Morales, Haelos, Grave Van Dien (rerun). Trevor Noah: Mark Sanford. David Spade: Todd Glass, Robin Thede, Josh Wolf. Conan O'Brien: Orlando Bloom, Cara Delevingne (rerun).