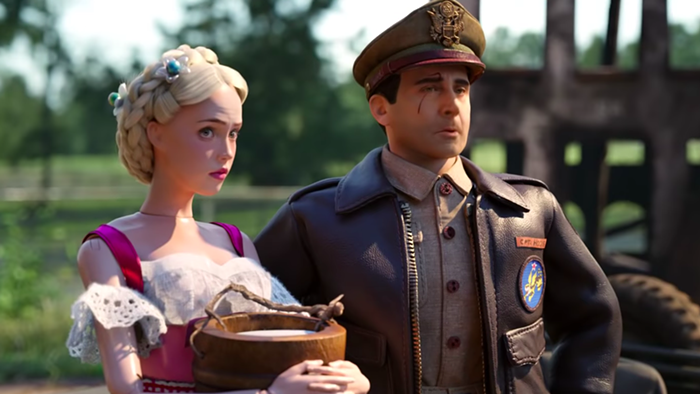 Steve Carrell stars in Robert Zemeckis' "Welcome to Marwan" (HBO, 8 p.m.), making its premium cable debut. It's based on the true story of a man who created a doll fantasy World War II world after some trauma – one told in a 2010 documentary, "Marwencol." Also in the cast: Marritt Wever, Diane Kruger, Leslie Mann and Janelle Monáe.
Also making its cable debut is the family film about a wayward pup, "A Dog's Way Home" (Starz, 8 p.m.). Based on the book of the same name, it stars Ashley Judd and Edward James Oleos.
A second season starts for "Maigret" (Ovation, 7 p.m.), the mystery yarn set in 1950s Paris, starring Rowan Atkinson, dropping his Mr. Bean bit to play the titular detective.
Prime time broadcast networks are again dominated by college football with Clemson at Syracuse (ABC, 7:30 p.m.) and Oklahoma at UCLA (Fox, 7:30 p.m.). The day's many other games are listed below.
There is supposed to be a bigger travel budget now, but you'll be thinking as Merritt Patterson and Jack Turner fall in love in Ireland in the new "Forever in My Heart" (Hallmark, 9 p.m.) that they are actually in Canada the whole time.
Lifetime's obsession with the pep squad continues with yet another cheerleader movie, "The Cheerleader Escort" (Lifetime, 8 p.m.) in which the squad is enticed into moneymaking activities other than a bake sale. Alexandra Beaton, Damon Runyan and Cynthia Preston star.
A sardine migration is featured on "Planet Earth: Nature's Great Events" (BBC America, 9 p.m.).
A replay of the concert "Country Music: Live at the Ryman" (PBS, 8 p.m., check local listings) is meant to get you ready for Ken Burns' latest epic, coming Sunday.
Also getting a replay tonight: the successful premiere of "A Very Brady Renovation" (HGTV, 9 p.m).
Tracy wants to "Say Yes to the Dress" (TLC, 8 p.m.), but only if it's black.
Martell moves upstairs to keep the marriage together on "Love & Marriage: Huntsville" (OWN, 9 p.m.).
On "The Vet's Life" (Animal Planet, 10 p.m.), a dalmatian has a tumor.
Concerns of the mind, body and soul are discussed on "Black Women OWN the Conversation" (OWN, 10 p.m.).
"Friday" (Paramount, 7 p.m.) is paired with "Next Friday" (Paramount, 9 p.m.).
A couple of films from Akira Kurosawa on Turner Classic Movies tonight pairs his classic "Rashomon" (8 p.m.) with "Throne of Blood" (9:45 p.m.). The noir film at 12 is appropriately "Nocturne" (midnight). It's followed by two from the Marx Brothers, "Duck Soup" (2 a.m.) ant "The Cocoanuts" (3:30 a.m.).
The second week of college football begins at noon with games including Ohio State at Indiana (Fox), Pittsburgh at Penn State (ABC), Kansas State at Mississippi State (ESPN), Arkansas State at Georgia (ESPN2), Miami, Ohio at Cincinnati (ESPNU), N.C. State at West Virginia (Fox Sports 1) and Maryland at Temple (CBS Sports).
It's Mexico at Notre Dame (NBC, 2:30 p.m.) followed by all these games at 3:30 p.m.: Alabama at South Carolina (CBS), Southern Cal at BYU (ABC), Stanford at Central Florida (ESPN), Oklahoma State at Tulsa (ESPN2), Memphis at South Alabama (ESPNU), East Carolina at Navy (CBS Sports) and Army at UTSA (NFL).
Then comes Iowa at Iowa State (Fox Sports 1, 4 p.m.), Florida at Kentucky (ESPN, 7 p.m.), Kent State at Auburn (ESPN2, 7 p.m.), Lamar at Texas A&M (ESPNU, 7 p.m.), Texas at Rice (CBS Sports, 8 p.m.), Northern Illinois at Nebraska (Fox Sports 1, 8 p.m.), Portland State at Boise State (ESPN2, 10:15 p.m.) and Texas Tech at Arizona (ESPN, 10:30 p.m.).
Baseball includes Pittsburgh at Cubs (MLB, 2 p.m.), Milwaukee at St. Louis (MLB, 7 p.m.) and Tampa Bay at Angels (MLB, 10 p.m.).
Basketball very late tonight has France vs. Australia (ESPN2, 4 a.m.) in the FIBA World Cup third place game.
NASCAR's Rhino Pro Truck Outfitters 300 (NBC Sports, 7:30 p.m.) is run.
Chris Stapleton and the Turnpike Troubadours play an "Austin City Limits" (PBS, 11 p.m., check local listings) from last year.
The John Mulaney-hosted "Saturday Night Live" (NBC, 11:30 p.m.) with Thomas Rhett as musical guest is rerun.