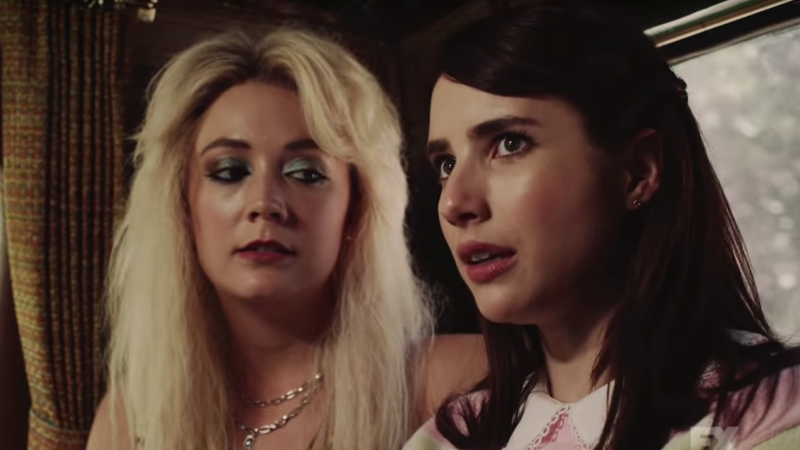 The new season of "American Horror Story: 1984" (FX, 10 p.m.) is so subtitled not out of an Orwell homage, but to salute slasher films of the 1980s. Accordingly, it deals with a bunch of young camp counselors. Among the returning cast members are Emma Roberts, Sarah Paulson and Billie Lourd. New cast members include Matthew Morrison and Angelica Ross. It's the first time Evan Peters hasn't been a part of the series, which is now in its ninth season.
Couples who have been hiding their relationships for fear of backlash, come out in the open, and further, on a new TV series, "Forbidden Love" (Lifetime, 10 p.m.).
If you haven't been able to stay up to 1:35 a.m. this week to see the replacement to Carson Daly, there's a prime time introduction in the special "A Little Late with Lilly Singh" (NBC, 10 p.m.).
In the imported South Korean series "When the Camellia Blooms" (Netflix, streaming) a mother defies social expectations and falls in love.
A new show of TMI profiles inexperienced adults: "Virgin Diaries" (TLC, 10 p.m.).
A winner is named on "America's Got Talent" (NBC, 8 p.m.). It's the finale, too, on "MasterChef" (Fox, 8 p.m.).
"Full Frontal with Samantha Bee" (TBS, 10:30 p.m.) may invoke Corey Lewandowski, if she can stomach it.
Down to the final four on "Big Brother" (CBS, 8 p.m.), Nicole has put Jackson and Holly on the block, Cliff has betrayed her, and now there's a veto competition whose winner will determine the final three.
Rockabilly rears its head on "Country Music" (PBS, 8 and 10 p.m.), with Elvis Presley and Johnny Cash rising out of Sun Records. Ray Charles sings country western and Patsy Cline becomes a star.
Kareem develops tasty mild sauce meatballs on the first of two episodes of "South Side" (Comedy Central, 10 p.m.).
Mike helps Harvey move on from a personal loss on "Suits" (USA, 10 p.m.).
Later, Jessica is split between her personal and professional life on "Pearson" (USA, 10 p.m.).
"Hypnotize Me" (CW, 9 p.m.) victims do Vegas things.
Decision day comes on "Married at First Sight" (Lifetime, 8 p.m.). Then there's a reunion at 8:30 p.m. to see how it's all going two months later.
"Basketball Wives" (VH1, 8 p.m.) go to Costa Rica.
An 11 year old boy becomes haunted by a board game on "Psychic Kids" (A&E, 10 p.m.). Then, a camera crew exploits him.
"Ghost Hunters" (A&E, 9 p.m.) go to a seminary Madison, Ohio.
D'Andra has a hair emergency on "The Real Housewives of Dallas" (Bravo, 9 p.m.).
"Black Ink Crew" (VH1, 9 p.m.) sticks around Memphis; "Black Ink Crew Compton" (VH1, 10 p.m.) go up to Big Bear Lake.
United Artists movies of the 1960s are on all day on Turner Classic Movies with "Lillies of the Field" (5:15 a.m.), "Yours, Mine and Ours" (7 a.m.), "The Children's Hour" (9 a.m.), "The Miracle Worker" (11 a.m.), "Inherit the Wind" (1 p.m.), "A Hard Day's Night" (3:15 p.m.), "It's a Mad, Mad, Mad, Mad World" (5 p.m.), "The Pink Panther" (8 p.m.), "West Side Story" (10 p.m.), "Tom Jones" (12:45 a.m.), "Midnight Cowboy" (3 a.m.) and "In the Heat of the Night" (5 a.m.).
Baseball includes Mets at Colorado (MLB, 4 p.m.) and Philadelphia at Atlanta (ESPN, 7 p.m.).
Preseason hockey includes Florida vs. Montreal (NHL, 7 p.m.).
Women's college volleyball includes Purdue at Kentucky (ESPNU, 7 p.m.).
Daytime Talk
Kelly Ripa and Ryan Seacrest: Sara Gilbert, Bailey Munoz. The View: Chelsea Handler. The Talk: Liv Tyler. Ellen DeGeneres: Renee Zellweger, Katy Perry, Peter Weber. Kelly Clarkson: Paula Abdul, Simon Cowell, Randy Jackson, Ryan Seacrest, Justin Guarini. Wendy Williams: Tamar Braxton. The Real: Tracee Ellis Ross.
Late Talk
Stephen Colbert: Billy Crystal, Thomas Rhett. Jimmy Kimmel: Zach Galifianakis, Lake Bell, Fitz and the Tantrums. Jimmy Fallon" Dennis Miller, Tyler "Ninja" Blevins, Residente with Bad Bunny. Seth Meyers: Chelsea Handler, Sara Gilbert, Tove Lo, Yesod Williams. James Corden; Kirsten Dunst, Billy Porter, Andrew Orolfo. Lilly Singh: Tracee Ellis Ross. Trevor Noah: Jodi Kantor, Megan Twohey. David Spade: Jim Gaffigan, Sarah Tiana, Fred Armisen.