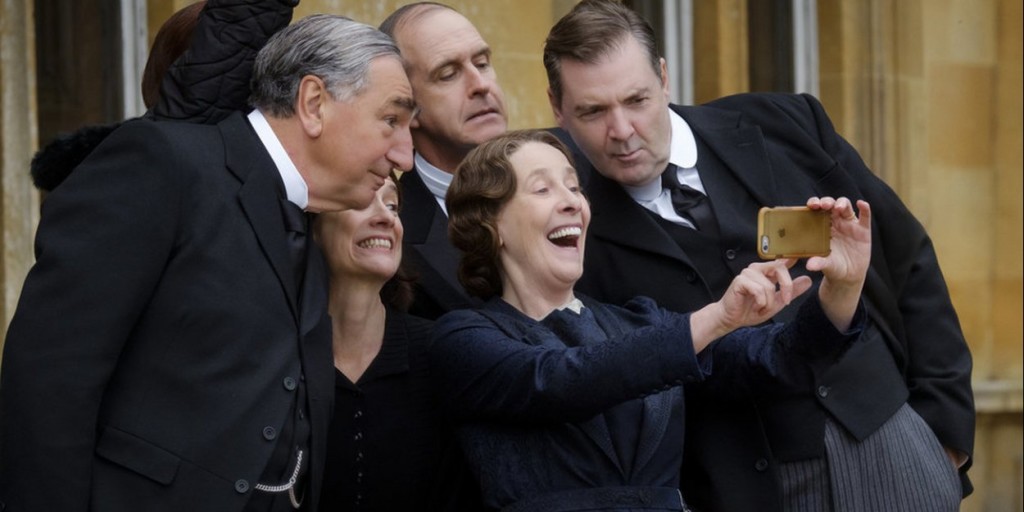 It was grown and nurtured by public television, where it became its biggest hit. But the pre-arty for its motion picture debut is being held on a competing commercial network. "Return to Downton Abbey: A Grand Event" (NBC, 8 p.m.) features the beloved cast members and the just as beloved setting, Highclere Castle. The actors chat about the impact of the series on the eve of the big screen debut.
Another show about another show — TV this time — precedes it, with "The Paley Center Salutes 'The Good Place'" (NBC, 9 p.m.). Stars and creators of the critically-acclaimed but not widely watched series talk about the show, which is going into its final season.
Both specials are kind of taking up space before the actual fall TV season starts, after the Emmys on Sunday. Which may the reason there's a two hour special on "The Last Days of Phil Hartman" (ABC, 9 p.m.), the brilliant comic actor on "Saturday Night Live" (and graphic designer) who was shot dead by his wife in 1988.
On the new "Five Day Biz Fix" (CNBC, 9 p.m.), a husband-and-wife team redesigns a small business in less than a week.
Everybody is starting their own streaming service, and by everyone, I mean BET, which inaugurates BET+ , which begins with two new titles, a comedy series "Bigger" (BET+, streaming) starring Layne Roberts about a young woman's love life, and an adaptation of "First Wives Club" (BET+, streaming) by "Girls Trip" writer Tracy Oliver, with Jill Scott, Ryan Michelle Bathe and Michelle Buteau.
There's a breather from "Country Music" tonight – you're half way through! It resumes on Sunday. But that gulf is filled with the thematically simpatico "American Masters" (PBS, 9 p.m., check local listings) from earlier this year about Charley Pride.
The crowd is thinning on "Big Brother" (CBS, 9 p.m.); the finale isn't until Wednesday.
Rachel Brosnahan goes to Peru to advance education on the latest episode of "Activate: The Global Citizen Movement" (National Geographic, 10 p.m.).
Ann Curry continues "Chasing the Cure" (TBS, TNT, 9 p.m.).
"Mr. Inbetween" (FX, 10 p.m.) solves some problems.
Not to be confused with the Netflix hit is the new real estate show, "Stager Things" (HGTV, 8 p.m.).
Ronnie's relationship isn't going that well on "Jersey Shore Family Vacation" (MTV, 9 p.m.).
A funeral home turned tattoo parlor sounds about right on "The Dead Files" (Travel, 8 p.m.).
"Two Sentence Horror Stories" (CW, 9 p.m.) has its first season finale.
Janzo tries to find a cure on "The Outpost" (CW, 8 p.m.).
"Million Dollar Listing New York" (Bravo, 9 p.m.) has a disco-themed open house.
Hardie Albright, a frequent supporting player of the 30s and 40s, who later became an acting teacher, and is now all but forgotten, is featured during the day on Turner Classic Movies in "Jewel Robbery" (7 a.m.), "The Match King" (8:15 a.m.), "The Purchase Price" (9:45 a.m.), "So Big" (11 a.m.), "A Successful Calamity" (12:30 p.m.), "The House on 56th Street" (2 p.m.), "The Working Man" (3:15 p.m.), "Two Heads on a Pillow" (4:45 p.m.) and  "Angel on My Shoulder" (6 p.m.).
Tonight, the James Bond movies continue to be played in order on TCM, with the five films in the series released between 1977 and 1985: "The Spy Who Loved Me" (8 p.m.), "Moonraker" (10:15 p.m.), "For Your Eyes Only" (12:30 a.m.), "Octopussy" (3 a.m.) and "A View to a Kill" (5:15 a.m.).
Thursday night football has Tennessee at Jacksonville (NFL, 8:20 p.m.).
Baseball includes Philadelphia at Atlanta (MLB, noon), San Diego at Milwaukee (MLB, 4 p.m.) and St. Louis at Cubs (Fox, 7 p.m.).
WNBA Playoffs have Los Angeles at Connecticut (ESPN2, 6:30 p.m.) and Las Vegas at Washington (ESPN2, 8:30 p.m.).
College football has Houston at Tulane (ESPN, 8 p.m.).
In preseason hockey, it's Boston at Philadelphia (NHL, 7 p.m.) and Vegas at Los Angeles (NHL, 10:30 p.m.).
Daytime Talk
Kelly Ripa and Ryan Seacrest: Taraji P. Henson, Iain Ermitage. The View: Hugh Bonneville, Laura Carmichael, Jim Carter, Michelle Dockers, Allen Leech. The Talk: Megan Fox. Ellen DeGeneres: Dax Shepard, Sarah Hyland. Kelly Clarkson: Meghan Trainor, Ron Funches. Wendy Williams: Bellamy Young. The Real: Lamar Odom, Sabrina Parr.
Late Talk
Stephen Colbert: Taraji P. Henson, Aasif Mandvi. Jimmy Kimmel: Nikolaj Coster-Waldau, Hugh Bonneville, Maren Morris. Jimmy Fallon: Sylvester Stallone, Cedric the Entertainer, Mark Normand. Seth Meyers: Glenn Howerton, Andrew Yang, Margaret Atwood, Yesod Williams. James Corden: Michelle Dockery, Max Greenfield. Lilly Singh: Chelsea Handler. Trevor Noah: Edward Snowden. David Spade: Drew Carey, Fortune Feimster, Nikki Glaser. Conan O'Brien: D'Arcy Carden.