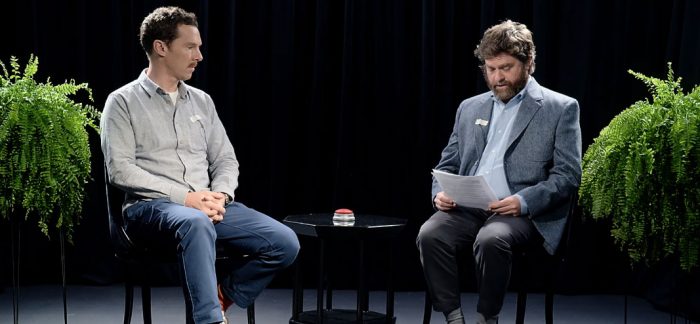 His series "Baskets" may be gone, but here's Zach Galifianakis at his best, throwing out rude questions to his guest in a feature length version of the series he formerly made online (and once snared Obama). Celebrities abound, too, on "Between Two Ferns: The Movie" (Netflix, streaming) including Keanu Reeves, Brie Larson, Hailee Seinfeld, Matthew McConaughey, Benedict Cumberbatch, David Letterman, Paul Rudd, Tiffany Haddish, Rashida Jones and Jon Hamm.
Another film debuting on the service is the documentary "Inside Bill's Brain: Decoding Bill Gates" (Netflix, streaming).
Matt Groening's satirical fantasy animated series "Disenchantment" (Netflix, streaming) begins a new season in Dreamland, with the voices of Abbi Jacobson, Eric Andre and Nat Faxon.
The gearhead series "Fastest Car" (Netflix, streaming) is also back.
The new international procedural series "Criminal" (Netflix, streaming) takes place sole inside the police interview room in the UK, an idea so good it was also tried in three other European countries, resulting in "Criminal France" (Netflix, streaming), "Criminal Germany" (Netflix, streaming) and "Criminal Spain" (Netflix, streaming).
From the East comes the South Korean series "Vagabond" (Netflix, streaming), about a stuntman who gets in an airplane crash and discovers a national scandal.
The new documentary series "Peaking" (CW, 9 p.m.) features extreme sports athletes, starting with Bay Area surfer Peter Mel, preparing for the Big Wave World Title, and at 9:30, Canadian snowboarder Mark McMorris.
A fourth season starts on "Live PD" (A&E, 9 p.m.). There must be a broken tail light out there somewhere.
Four more victims are discovered in Louisiana and an investigative journalist becomes involved on "Murder in the Bayou" (Showtime, 9 p.m.).
The 1918 massacre of 15 Mexican men at a small Texas border town is recalled on "Voces" (PBS, 10 p.m., check local listings).
Samantha Power, Sarah Haider, Andrew Sullivan Tim Naftali and Heather McGee are guests on "Real Time with Bill Maher" (HBO, 10 p.m.).
A new season starts for the sketch comedy series "Hot Date" (Pop,10 p.m.). Executive produced by Will Arnett and based on the College Humor web series, it stars Emily Axford and Brian Murphy.
There's another former "American Idol" finalist os on "The Big Stage" (CW, 8:30 p.m.), Elliot Yamin.
Chris Funk and Miss Katalin are among the "Masters of Illusion" (CW, 8 p.m.).
Things are yet to be completely ironed out on "Couples Therapy" (Showtime, 10 p.m.).
Dutch is in the midst of a final showdown on "Killjoys" (Syfy, 10 p.m.).
Turner Classic Movies' Friday Night football spotlight continues with "Jim Thorpe — All American" (8 p.m.), "Knute Rockne All American" (10:15 p.m.), "Return to Campus" (12:15 am.). Then comes two cult films from Paul Bartel: "Eating Raoul" (2:15 a.m.) and "Private Parts" (3:45 a.m.).
During the day, it's all secret agent stuff from the mid-1960s, with "Matchless" (7:30 a.m.), "The Liquidator" (9:30 a.m.), "The Defector" (11:30 a.m.), "The Double Man" (1:30 p.m.), "To Trap a Spy" (3:30 p.m.) and "Ice Station Zebra" (5:15 p.m.).
Baseball includes St. Louis at Cubs (MLB, 2 p.m.), Philadelphia at Cleveland (ESPN, 7 p.m.) and Colorado at Dodgers (ESPN, 10 p.m.).
College football has Florida International at Louisiana Tech (CBS Sports, 8 p.m.), Air Force at Boise State (ESPN2, 9 p.m.) and Utah at Southern California (Fox Sports 1, 9 p.m.).
Preseason hockey has Rangers at New Jersey (NHL, 7 p.m.).
NASCAR runs its GoBowling 250 (NBC Sports, 7:30 p.m.).
Daytime Talk
Kelly Ripa and Ryan Seacrest: Sylvester Stallone. The View: Margaret Atwood. The Talk: Marg Helgenberger, Simone Missick, Dove Cameron. Ellen DeGeneres: Wanda Sykes, Demi Burnett. Kelly Clarkson: Tracee Ellis Ross, Hayley Kiyoko, Dr. Sandra Lee. The Real: Tommie Lee.
Late Talk
Jimmy Kimmel: Chelsea Handler, JD Pardo, Trisha Yearwood (rerun). Jimmy Fallon: Paul Giamatti, Chrissy Metz, Sheryl Crow with Chris Stapleton. Seth Meyers: Kelly Clarkson, Bashir Salahuddin, Diallo Riddle, CJ Hauser, Terri Lyne Carrington (rerun). James Corden: Josh Gad, Michaela Watkins, Will Ferrell (rerun). Lilly Singh: Tracee Ellis Ross (rerun).