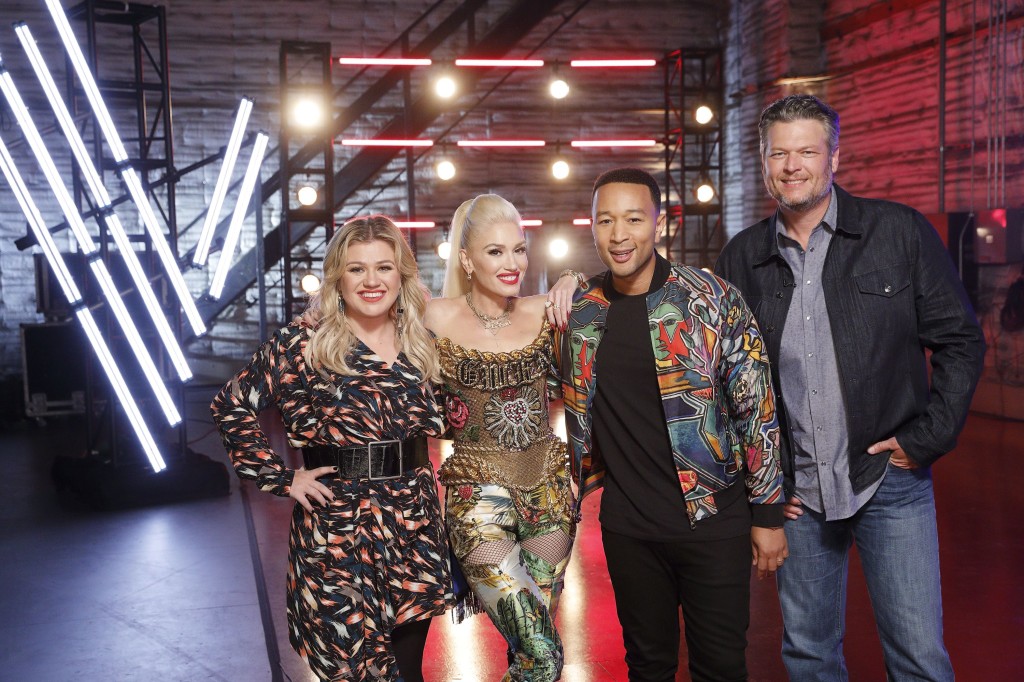 Gwen Stefani rejoins the panel for the 17th season of "The Voice" (NBC, 8 p.m.), alongside Kelly Carlson, John Legend and Blake Shelton. And the blind auditions begin
Emergency responders on last year's season premiere of "9-1-1" (Fox, 8 p.m.) had to deal with an L.A. earthquake. For the season three start, it's a tsunami, slamming  the Santa Monica Pier, and nearly sinking the Ferris Wheel.
"Country Music" (PBS, 8 and 10 p.m.) moves into the late 60s and early 70s, with a spotlight on Kris Kristofferson, Bob Dylan's trip to Nashville and the country rock of the Byrds.
"The Good Doctor" (ABC, 10 p.m.) proposes radical surgery to save a woman's life in the show's third season premiere.
Monday Night Football has Chicago at Washington (ESPN, 8:15 p.m.).
It's still a big deal when Paul McCartney returns to the Ed Sullivan Theatre. He does so tonight on the season premiere of "The Late Show with Stephen Colbert" (CBS, 11:35 p.m.).
Sometimes it's just surprising what shows have survived to have new season premieres. For example, "The Neighborhood" (CBS, 8 p.m.) and "Bull" (CBS, 10 p.m.).
The first day of fall means the start of another "Halloween Baking Championship" (Food, 9 p.m.) and the "Halloween Cake-Off" (Food, 10 p.m.).
On "The Deuce" (HBO, 9 p.m.), Abby befriends a graffiti artist.
Avishai and Yinon spend their first days in prison on "Our Boys" (HBO, 10 p.m.).
On "Lodge 49" (AMC, 10 p.m.), Ernie sees someone from his past.
There's an outbreak on "The Terror" (AMC, 9 p.m.).
If Sean Spicer wasn't the worst dancer on last week's premiere of "Dancing with the Stars" (ABC, 8 p.m.), he certainly was the worst press secretary.
Lucy Darling and Nestor Hato are on "Penn & Teller: Fool Us" (CW, 8 p.m.).
"Below Deck Mediterranean" (Bravo, 9 p.m.) prepares for the final charter of the season.
The kitchen gets some attention on "A Very Brady Renovation" (HGTV, 9 p.m.).
For the next two Mondays, Turner Classic Movies looks at how Hollywood has treated disabilities, with the documentary "CinemAbility: The Art of Inclusion" (8 p.m.) followed by "Freaks" (10 p.m.), "Bride of Frankenstein" (11:15 p.m.), "The Hunchback of Notre Dame" (12:45 a.m.), "Johnny Belinda" (3 a.m.) and "The Unknown" (4:45 a.m.).
During the day, they salute Mickey Rooney, born this day in 1920, with "Down the Stretch" (6 a.m.), "The Devil is a Sissy" (7:15 a.m.), "Thoroughbreds Don't Cry" (9 a.m.), "Love is a Headache" (10:30 a.m.), "A Yank at Eton" (midnight), "The Big Wheel" (1:45 p.m.), "Quicksand" (3:30 p.m.), "A Slight Case of Larceny" (5 p.m.) and "24 Hours to Kill" (6:15 p.m.).
Baseball includes Boston at Tampa Bay (MLB, 7 p.m.) and St. Louis at Arizona (MLB, 10 p.m..).
Preseason hockey has Philadelphia at Boston (NHL, 7 p.m.) and Anaheim at Los Angeles (NHL, 10:30 p.m.).
Daytime Talk
Kelly Ripa and Ryan Seacrest: John Goodman, Robert Iger. The View: Robert Iger. The Talk: Billy Gardell, Folake Olowofoyeku, Lisa Ling. Ellen DeGeneres: Oprah Winfrey, Lil Nas X. Kelly Clarkson: Trisha Yearwood, Erin Moriarty. Wendy Williams: Melissa Garcia. The Real: Blac Chyna, Amanda Seales.
Late Talk
Stephen Colbert: Paul McCartney. Jimmy Kimmel: Kristen Stewart, Naomi Scott, Ella Balinska, Elizabeth Banks, Freddie Highmore, Cage the Elephant. Jimmy Fallon: Gwen Stefani, Ben Platt, Zac Brown Band. Seth Meyers: Hasan Minhaj, Liza Koshy, Jade Bird. James Corden: Rob Corddry, Lake Bell, Anna Drezen. Lilly Singh: Jessica Alba. David Spade: Joel McHale, Maria Bamford, Erik Griffin. Conan O'Brien: Jeffrey Dean Morgan.