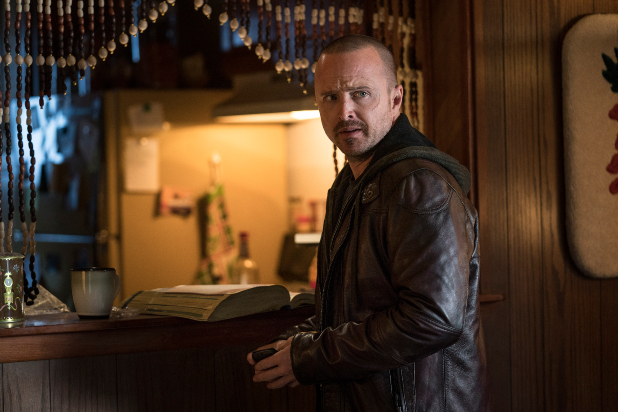 Not since "Deadwood: The Movie" or "Twin Peaks: The Return" has there been as much anticipation for a feature length sequel to a beloved show as "El Camino: A Breaking Bad Movie" (Netflix, streaming).
Written and directed by Vince Gilligan, creator of the original, excellent series "Breaking Bad" — and its top-notch, ongoing prequel, "All About Saul" — it's the story of Aaron Paul's character Jesse Pinkman, following his escape from captivity at the end of the series and trying to find a way forward. First to help are his old pals Badger and Skinny Pete (Matt Jones and Charles Baker) but a surprising amount of other old cast members pop up in flashbacks, including Jonathan Banks, Jesse Plemons, Krysten Ritter and, yes, Bryan Cranston. Mostly, there is well-crafted tension that will make you miss the series more.
Also premiering online is the thriller "Fractured" (Netflix, streaming), in which Sam Worthington and Lily Rabe suddenly lose their daughter on a family trip.
A second season starts for "Insatiable" (Netflix, streaming), the middling comedy with Debby Ryan, Dallas Roberts and Alyssa Milano about a teen who loses weight and seeks revenge on those who bullied her.
The revived "Charmed" (CW, 8 p.m.) has its second season premiere, with Mel, Maggie and Macy taking over the duties of the Elders.
It comes alongside the third season start of "Dynasty" (CW, 9 p.m.), which begins with bodies being pulled from the Carrington Estate lake just before the fundraiser.
The National League Championship Series begins with Washington at St. Louis (TBS, 8 p.m.).
The romantic French series "Plan Coeur" (Netflix, streaming), also known as "The Hook Up Plan," returns for a second season. It's about a woman who begins dating a male escort her friends hired for her.
From Japanese director Sion Sono comes "The Forest of Love" (Netflix, streaming) a film about a man who manipulates people and becomes a subject for a group of filmmakers.
The Hispanic Heritage Awards (PBS, 10 p.m.) taped Oct. 1 at the Kennedy Center in Washington, D.C., is broadcast. Honorees include Eugenio Derbez, Residente, Alejandro Fernandez and Sylvia Acevedo. Among the performers are Los Tigres del Norte, Mon Laferte, Amara La Negra and Nella Rojas.
Howard Stern, Amy Klobuchar, Ben Domenech, John Heinemann and Shawna Thomas are on "Real Time with Bill Maher" (HBO, 10 p.m.).
Grandma Huang considers retirement on "Fresh Off the Boat" (ABC, 8:30 p.m.).
Alex rescues Max on "Van Helsing" (Syfy, 10 p.m.).
In the new series "Gabby Duran & the Unsettables" (Disney, 9 p.m.), a young woman is hired to babysit extraterrestrial children.
Scott Yoo traces Handel's experiences in Italy on "Great Performances" (PBS, 9 p.m., check local listings).
Mercenaries storm the estate on "Magnum P.I." (CBS, 9 p.m.).
"Taken at Birth" (TLC, 9 p.m.) concludes with some exhumation and DNA tests.
A socialite isn't what she seems on "Blue Bloods" (CBS, 10 p.m.).
"Ghost Nation" (Travel, 10 p.m.) promises to be at least better than FoxNation.
The issue of race arrises on "Couples Therapy" (Showtime, 10 p.m.).
"Friday Night SmackDown" (Fox, 8 p.m.) has its annual draft.
There's an environmental battle in the school cafeteria on "American Housewife" (ABC, 8 p.m.).
A 1980s plane crash into the ocean is rediscovered on "Hawaii Five-0" (CBS, 8 p.m.).
On "The Blacklist" (NBC, 8 p.m.), the search continues for Red.
The locations in the latest Travel Channel showcase, "Portals to Hell" (Travel, 8 p.m.) frankly don't sound that appealing.
Owen auditions for the school musical "Just Roll with It" (Disney, 8:30 p.m.).
A made for TV thriller "Erasing His Dark Past" (Lifetime Movie Network, 8 p.m.) concerns a woman whose new husband dies in a plane crash and leaves behind some secrets. Laurie Fortier and Michael Welch.
Turner Classic Movies continues its Friday night Godzilla focus with "Ghidorah, the Three-Headed Monster" (8 p.m.), "Invasion of Astro-Monster" (9:45 p.m.), "Son of Godzilla" (1 a.m.) and "Destroy All Monsters" (2:45 a.m.).
Earlier, it's a slew of George Stevens movies, with "I Remember Mama" (7:15 a.m.), "Penny Serenade" (10 a.m.), "The More the Merrier" (12:15 p.m.), "A Place in the Sun" (2:15 p.m.) and "Giant" (4:30 p.m.).
Preseason basketball includes Utah at New Orleans (NBA, 8 p.m.).
Hockey has Anaheim at Columbus (NHL, 7 p.m.).
College football has Lafayette at Princeton (ESPNU, 7 p.m.), Colorado State at New Mexico (CBS Sports, 8 p.m.), Virginia at Miami (ESPN,  8 p.m.) and Colorado at Oregon (Fox Sports 1, 10 p.m.).
Canadian football has Ottawa at Toronto (ESPNews, 7 p.m.).
Soccer has France vs. Iceland (ESPN2, 2:30 p.m.) and Cuba vs. U.S. (Fox Sports 1, 7 p.m.).
Men's college hockey has Air Force at Notre Dame (NBC Sports, 7 p.m.).
Daytime Talk
Kelly Ripa and Ryan Seacrest: Anne Hathaway, Alfre Woodard, Liza Koshy. The View: en. Rand Paul. The Talk: Adam Lambert. Ellen DeGeneres: Nick Cannon, Nicole Scherzinger, Joshua Radin. Kelly Clarkson: Erin Andrews, Brandi Chastain, Simone Boyce, Breckynn Willis. Wendy Williams: Eddie Jackson. The Real: Alfonso Ribeiro, Tisha Campbell.
Late Talk
Stephen Colbert: Sen. Elizabeth Warren, Barry Williams, Maureen McCormick, Christopher Knight, Eve Plumb, Mike Lookinland, Susan Olsen (rerun). Jimmy Kimmel: Gwyneth Paltrow, Evan Funke, Luna (rerun). Jimmy Fallon: Jennifer Lopez, Russell Westbrook, Ryan Hamilton (rerun). Seth Meyers: Woody Harrelson, Kieran Culkin, Bobby Flay (rerun). James Corden: Greg Kinnear, Judy Greer, Bazzi (rerun). Lilly Singh: Jim Gaffigan, Antoni Porowski (rerun).