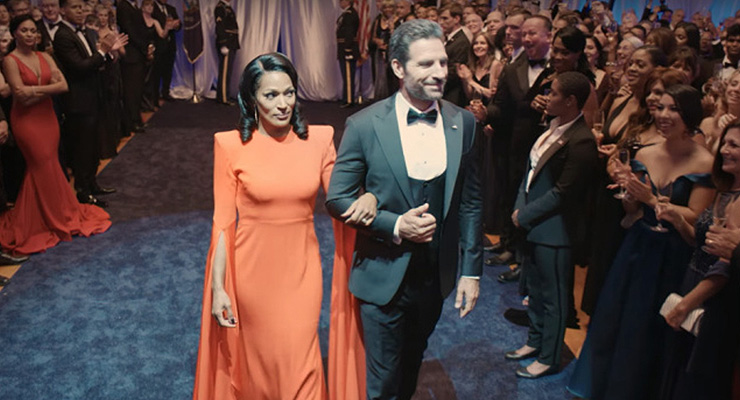 Tyler Perry's latest soap takes an upstairs/downstairs look at the White House. "The Oval" (BET, VH1, 9 p.m.), written, produced and directed by Perry, stars Ed Quinn and Kron Moore(above) as the first couple. Javon Johnson and Ptosha Storey are the White House butler and his wife. As it begins, plans are made for the inaugural ball, but tragedy strikes.
It's paired with another new series written, produced and created by Perry: "Sistas" (BET, VH1, 10 p.m.), starring KJ Smith, Ebony Obsidian, Mignon Von and Novi Brown as single women from different walks of life.
In the new series "Breakfast, Lunch & Dinner" (Netflix, streaming), Momofuku chef David Chang visits four different locales with famous people, tasting local cuisine. They include Kate McKinnon in Cambodia, Vancouver with Seth Rogen, Los Angeles with Lena Waithe and Chrissy Teigen in Morocco.
In the four-part miniseries "The Cry" (Sundance, 11 p.m.) stars Jenna Coleman of "Doctor Who" fame, as a mother who loses her baby while visiting family in Australia. Based on the Helen FitzGerald novel of the same name, the UK?Australian co-production also stars Ewen Leslie, and was previously seen on the streaming service Sundance Now.
The Stephen King series "Castle Rock" (Hulu, streaming) returns for a second season, with Tim Robbins joining the cast. The show which picks up on various King stories, will touch on themes from "Salem's Lot" and particularly "Misery," this time with Lizzy Caplan in the old Kathy Bates role. Also featured: Elsie Fisher of "Eighth Grade."
A new "Nova" (PBS, 9 p.m., check local listings) looks at self-driving cars.
Not exactly a merge, but a tribal swap occurs on "Survivor" (CBS, 8 p.m.).
They royal specials just keep coming. The latest, "Harry & Meghan: An African Journey" (ABC, 10 p.m.), focuses on the trip to the continent by the Duke and Duchess of Sussex.
"It's Always Sunny in Philadelphia" (FXX, 10 p.m.) goes to the zoo.
Rumors start to circulate about Maggie on "Chicago Med" (NBC, 8 p.m.). There are a couple of car accidents on "Chicago Fire" (NBC, 9 p.m.). Locals won't talk to police about a murder on "Chicago P.D." (NBC, 10 p.m.).
Archie and Veronica hold a car wash fundraiser on "Riverdale" (CW, 8 p.m.).
On "The Goldbergs" (ABC, 8 p.m.), Erica wants no visitors on parents weekend. Flu hits "Schooled" (ABC, 8:30 p.m.).
There's a new "Full Frontal with Samantha Bee" (TBS, 10:30 p.m.).
A nor'easter hits "Nancy Drew" (CW, 9 p.m.).
"SEAL Team" (CBS, 9 p.m.) suffers some mission training disagreements.
Brandi hosts a funeral on "The Real Housewives of Dallas" (Bravo, 9 p.m.).
On "Single Parents" (ABC, 9:30 p.m.), Will becomes coach of Sophie's soccer team.
Have the horrors concluded on "American Horror Story: 1984" (FX, 10 p.m.)?
A drug cartel is after Deacon's family on "S.W.A.T." (CBS, 10 p.m.).
Turner Classic Movies' month-long parade of short movies on Wednesdays continues with "Swiss Miss" (6 a.m.), "The Bohemian Girl" (7:15 a.m.), "The Affairs of Dobie Gillis" (8:30 a.m.), "We're in the Money" (9:45 a.m.), "Walking on Air" (11 a.m.), "Beat the Band" (12:15 p.m.), "Hips, Hips, Horray" (1:30 p.m.), "Boy! What a Girl" (2:45 p.m.), "Time Out for Rhythm" (4 p.m.), "Private Buckaroo" (5:15 p.m.), "Little Miss Broadway" (6:30 p.m.), "Duck Soup" (8 p.m.), "The Bank Dick" (9:30 p.m.), "Sons of the Desert" (11 p.m.), "A Family Affair" (12:30 a.m.), "Fast Company" (2 a.m.), "Whistling in Dixie" (3:15 a.m.), "You Said a Mouthful" (4:30 a.m.) and "Alibi Ike" (5:45 a.m.).
Game 2 of the World Series has Washington at Houston (Fox, 8 p.m.), with the Nats up 1-0.
NBA action includes Boston at Philadelphia (ESPN, 7:30 p.m.) and Denver at Portland (ESPN, 10 p.m.).
Hockey has Pittsburgh at Tampa Bay (NBC Sports, 8 p.m.).
Daytime Talk
Kelly Ripa and Ryan Seacrest: Aaron Paul, Camila Mendes. The View: Cameron Douglas, Shooter Jennings. The Talk: Elton John. Ellen DeGeneres: Ali Wong, Dr. Mehmet Oz. Kelly Clarkson: Sharon Osbourne, Thomas Lennon. Wendy Williams: Tyrese Gibson. The Real: Angie Martinez, Taye Diggs, Amanda Seales.
 Late Talk
Stephen Colbert: Ronan Farrow, Andrea Savage. Jimmy Kimmel: Sen. Bernie Sanders, Bill Murray, Ellie Kemper, the National. Jimmy Fallon: Michael Douglas, Kathryn Hahn, Jenny Lewis. Seth Meyers: Jessica Biel, Jesse Plemons, Brooks Wheelan, Terence Higgins. James Corden: Demi Moore, Maggie Gyllenhaal, Jay Larson. Lilly Singh: Justin Hartley, Lea Michele. Trevor Noah: Tyler Blevins (rerun). David Spade: Brad Williams, Eleanor Kerrigan, Adam Ray (rerun). Conan O'Brien: Tim Robbins.