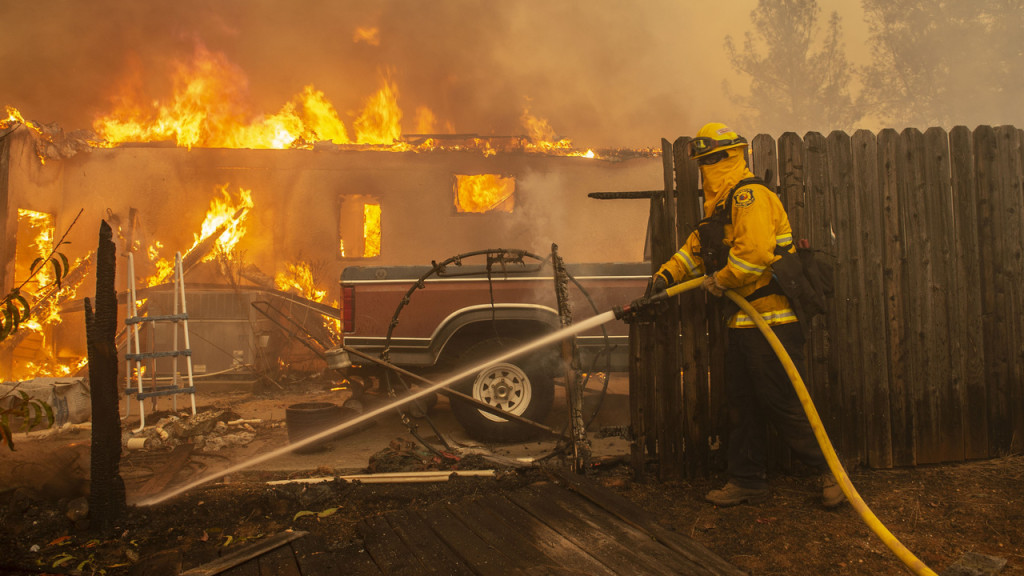 Even as California is engulfed in flames again this year with the Getty Fire, "Frontline" (PBS, 10 p.m., check local listings) takes an inside look at the 2018 Camp Fire there that began a one year ago next week. The deadliest fire in California history killed more than 85 people, destroyed almost 19,000 homes and caused an estimated $16.5 billion in damage. Jane McMullen's "Fire in Paradise" tries to find blame for the fire, which was sparked by a failed power line and had a delayed evacuation order. Climate change may make such fires more frequent, it concludes.
A documentary, "Any One of Us" (HBO, 9 p.m.), follows pro mountain biker Paul Basagoitia's path to recovery after a spinal cord injury.
The World Series returns to Texas for Game 6 with Washington at Houston (Fox, 8 p.m.) and no
The comic, former talk show host and "Celebrity Apprentice" winner presents his first standup comedy special "Arsenio Hall: Smart & Classy" (Netflix, streaming).
Halloween infuses just about every sitcom tonight, from "The Conners" (ABC, 8 p.m.) and "Blesss This Mess" (ABC, 8:30 p.m.) to "Mixed-ish" (ABC, 9 p.m.) and "Black-ish" (ABC, 9:30 p.m.). But also "The Flash" (CW, 8 p.m.).
A new episode of "RetroReport" (PBS, 9 p.m., check local listings) looks at sex ed and Napster.
Knockout rounds continue on "The Voice" (NBC, 8 p.m.).
There's a plane crash on "The Resident" (Fox, 8 p.m.), and someone from the hospital is on board.
A look back at the first six seasons of "The Curse of Oak Island" (History, 9 p.m.) precedes the start of season seven next week.
Edwards meets an asset on "Treadstone" (USA, 10 p.m.).
"The Real Housewives of Orange County" (Bravo, 9 p.m.) celebrate Vicki's birthday.
Vengeance is the plan again on "Mayans M.C." (FX, 10 p.m.), whose creator Kurt Sutter was fired by the network earlier this month.
Sisters feud on "New Amsterdam" (NBC, 10 p.m.).
On "Emergence" (ABC, 10 p.m.), Piper's visions are getting more intense.
Kate and Toby make time for their marriage on "This is Us" (NBC, 9 p.m.).
Residual effects of "The Purge" (USA, 9 p.m.) continue.
John and Lyla go on a special ops mission on "Arrow" (CW, 9 p.m.).
A replay on "Finding Your Roots" (PBS, 8 p.m., check local listings) looks at the genealogy of Carly Simon, Christopher Walken and Fred Armisen.
On "Total Divas" (E!, 10 p.m.), Ronda Rousey riles up the others with a viral video.
Travel Channel's usual fare may seem to be more resonant before Halloween, with "Most Terrifying Places in America" (Travel, 8 and 10 p.m.).
But one network goes all Michael Myers with a day of "Halloween" (AMC, 9 a.m., 5 and 9 p.m.), "Halloween 4: The Return of Michael Myers" (AMC, 11 a.m.), "Halloween 5: The Revenge of Michael Myers" (AMC, 1 p.m.), "Halloween 6: The Curse of Michael Myers" (3 p.m.), "Halloween H20: 20 Years Later" (AMC, 7 p.m.) and "Halloween: Resurrection" (AMC, 11:30 p.m.).
Julie Andrews co-hosts a night of her films on Turner Classic Movies, in  conjunction with her new book "Home Work: A Memoir of My Hollywood Years," with "Thoroughly Modern Millie" (8 p.m.), "Victor/Victoria" (11 p.m.), "That's Life!" (1:30 a.m.) and "The Americanization of Emily" (3:30 a.m.).
Earlier in the day are mystery suspense stories "Double Deal" (6 a.m.), "Nocturne" (7:15 a.m.), "The Red House" (8:45 a.m.), "Cry Wolf" (10:30 a.m.), "Born to Kill" (noon), "And One Was Beautiful" (1:45 p.m.), "The Seventh Victim" (3 p.m.), "The Night Visitor" (4:15 p.m.) and "Dead Ringer" (6 p.m.).
Hockey includes Tampa Bay at Rangers (NBC Sports, 7:30 p.m.).
Basketball has Atlanta at Miami (NBA, 7:30 p.m.) and Memphis at Lakers (NBA, 10:30 p.m.).
FIFA Under-17 World Cup soccer has Nigeria vs. Ecuador (Fox Sports 2, 4 p.m.) and New Zealand at Brazil (Fox Sports 2, 7 p.m.).
It's Seattle at Los Angeles FC (ESPN, 10 p.m.) in the Major League Soccer Western Conference final.
Daytime Talk
Kelly Ripa and Ryan Seacrest: Henry Golding, Bear Grylls, Sara Lynn Cauchon. The View: Kristene Chapa, Grace Chapa. The Talk: Edward Norton. Ellen DeGeneres: Ewan McGregor, Howie Mandel. Kelly Clarkson: Max Greenfield, Shin Lim. Wendy Williams: Lori Bergamotto. The Real: Jerry Springer, Amanda Seales.
Late Talk
Stephen Colbert: Jennifer Aniston, Thomas Middleditch. Jimmy Kimmel: Ewan McGregor, Linda Hamilton, Caamp. Jimmy Fallon: Jason Momoa, Rhett & Link, Daniel Humm. Seth Meyers: Emma Thompson, Taran Killam, Jeremy O. Harris. James Corden: Hailee Steinfeld, Mallrat. Lilly Singh: Jim Gaffigan, Antoni Porowski (rerun). Trevor Noah: Noname. David Spade: Jon Lovitz, Christina Pazsitzky, Bert Kreischer. Conan O'Brien: Aaron Paul.